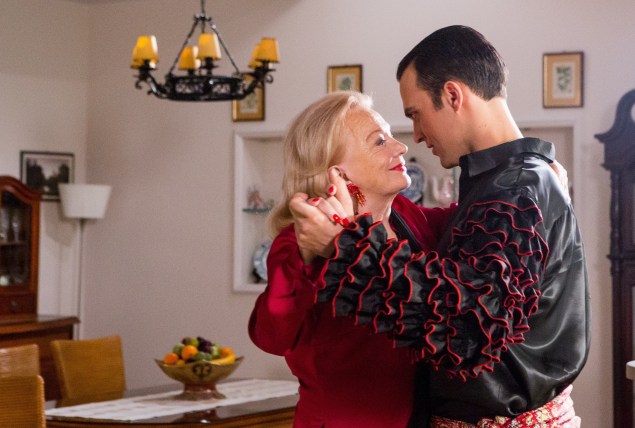 Six Dance Lessons in Six Weeks, adapted by playwright Richard Alfieri and director Arthur Allan Seidelman from their short-lived but popular Broadway comedy, is not an especially vital or memorable cornerstone in the archives of American comedy, but it's chock full of witty one-liners and a guaranteed crowd-pleaser. On the stage, it was an engaging vehicle for the great Polly Bergen and Mark (Star Wars) Hamill. The movie stars ripe, lovable and legendary Gena Rowlands, one of the most ravishing octogenarians in cinema, and affable, gym-pumped hunk Cheyenne Jackson. Their surprising charisma and enormous charm adds up to a big chunk of entertainment value.
---

SIX DANCE LESSONS IN SIX WEEKS ★★★
(3/4 stars)

Written by: Richard Alfieri
Directed by: Arthur Allan
Starring: Gena Rowlands, Cheyenne Jackson and Julian Sands
Running time: 107 min.

---
It's a two-hander about the rich, lonely and rigid widow of a Baptist minister who buys a beautiful Florida condo with an ocean view and then fills in the blank spaces and empty days of her retirement years with total boredom, and the troubled, flamboyant and angry gay dance instructor who arrives for weekly sessions of bitchy tea and sympathy.
Their initial meeting is a washout. In fact, they hate each other at first sight, but eventually, the self-described "passive-aggressive queen with bad attitude," and the client he labels a "tight-assed old biddy," mellow and melt their protective veneers until she learns to jitterbug, tango, waltz, cha-cha and disco, he learns to trust, and both of them learn the healing, restorative powers of friendship. In a follow-the-dots formula for sitcom heaven, they manage to work their way through a series of compromises that prove people can change after all, "or maybe they just finally let us see who they really are." What they learn from each other about diversity, tolerance, fair play and finding purpose goes far beyond the fox trot.
It feels contrived, but Six Dance Lessons in Six Weeks is the kind of pleasant comedy with feel-good, fortune cookie philosophy that should keep community dinner theaters busy for years. The sun-dried Florida beaches and palm trees are lovingly captured by vintage camera king Vilmos Zsigmond, and in small supporting roles there are enough contributions by polished pros Rita Moreno, Julian Sands, Anthony Zerbe and Jacki Weaver to make pebbles look like diamonds. The play isn't much, but the main reason to see it in its present incarnation is the chemistry of the two stars. They are knockouts, dispensing small savory moments like Christmas cookies, in stylish, high-spirited turns of vigor, versatility and just the proper mix of humor and humanity. You won't find actors of their eminence in summer stock. How lucky we are that they dropped in for the holidays.