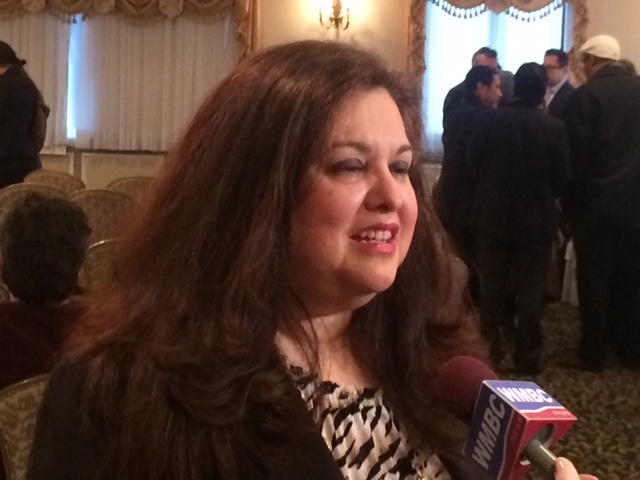 ELIZABETH – State Assemblywoman Annette Quijano (D-20) confirmed that she would seek reelection in 2015.
"Yes, I'm running. I haven't finished my work yet," said Quijano, who has served in the Assembly since 2008 and has been the deputy majority leader since 2012, at the Noches de Colombia restaurant in Elizabeth on Wednesday before a press conference in support of comprehensive immigration reform.
Quijano specifically noted that she wanted to work on the passage of bills that have particular meaning for her.
"I have a driving privilege bill that is meant to help people in the immigrant community who cannot prove residency," Quijano, of Elizabeth, said. "I'm also working on a domestic violence bill that would require those convicted [of violent offenses] to have mandatory counseling. Giving people the framework to handle their anger better is beneficial to everyone."
Quijano also intends to focus on wage protection legislation and reform of notary public requirements and penalties.
There has been some speculation about who will hold what Assembly seats in LD 20, with state Assemblyman Joe Cryan (D-20), who became the acting Union County sheriff following the death of Ralph Froehlich in July and was elected for a full three-year term as sheriff in November, soon to vacate his seat.
Among the names listed as possible contenders for Cryan's seat are Roselle Mayor Jamel Holley, Union County Freeholder Mohamed S. Jalloh of Union, Hillside Mayor Angela Garretson and Elizabeth Councilwoman Patricia Perkins-Auguste.
But according to one prominent Union County Democratic power broker, Quijano's seat is safe.
"Of course I support her candidacy," said state Sen. Ray Lesniak (D-20). "She's a hard worker. She takes her job very seriously, and she's very effective."