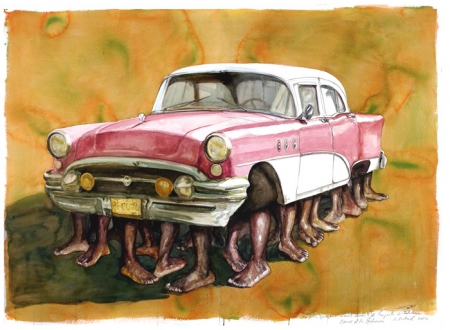 "There are people who have been waiting 50 years for this," said art collector Howard Farber. But Mr. Farber, who is one of the leading, if not the leading, collector of Contemporary Cuban art in America, has just been waiting almost 15 years.
Reached at his home, Mr. Farber said he was surprised and delighted at the news that President Obama is seeking to normalize relations with the nation just 90 miles from Miami.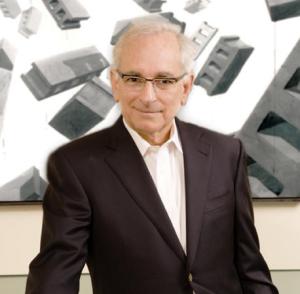 Over the past 15 years, Mr. Farber and his wife Patricia have amassed the Farber collection of about 200 works. They went down to the island at about the turn of the last century and were struck by the variety and virility of the avant-garde work produced in Havana since the embargo, said Mr. Farber, primarily work done in the 1980s and 1990s.
After that, the couple began to ease off collecting contemporary Chinese art – a hobby which had proven highly rewarding, in several ways — and go full Cuban. They now own dozens of paintings, toured many in a 2007-2010 exhibition a Cuba Avant-Garde: Contemporary Cuban Art from The Farber Collection, and he now publishes Cuban Art News, and gives out the Cuban Art Awards.
"I'm quite shocked," Mr. Farber said of the formal reconciliation between the two countries. "It's the type of thing that I've been waiting for… There are some fabulous artists down there who have waited a long time: they've been stuck on an island, and we've been stuck in [this] country."
The Farber Collection includes work by celebrated Cuban artists such as Kcho, Manuel Mendive, and Los Carpinteros.
While it's not too hard to get to Cuba by obtaining a special permit, or by flying in through Canada or Mexico, transporting canvas has always been prohibitively complicated.
"Buying art from Cuba has always been difficult—or, I should say that it's easy to buy the art, but how do you get it back here?" said. Mr. Farber. "Some of the early works I got, the route we took to get them back, I wish they had frequent flyer miles! The whole world has been supporting Cuban art except the United States, because it's so difficult to get there and back."
The policy shift should change things quickly (even if, at the moment, the embargo on shipping more than $400 in goods have not yet been lifted). The streams of tourists are going to hop on quick flights early and often, and when the collectors come along with them, it's going to be a gold rush.
"Ninety percent of the people have never seen new Cuban works except at some fairs, and they haven't seen a great variety," he said. "You're going to get tourists, and you're going to get art collectors. This is going to make collectors try and find out more about it, and that's what's important. It won't be hiding in the shadows anymore."
But while today's historic developments certainly end the bitter staring contest between the two countries, not every restriction has been lifted: you can't technically just travel to Cuba as a tourist, not quite yet. So there's still work to be done.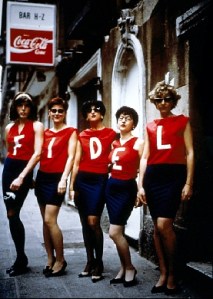 The President's move could also impact the art world's biggest event, the annual Art Basel Miami Beach. Previously, the hoops that visitors have to jump through to get to Havana have put off the finicky, and so the tradewinds have carried art stars to St. Barths or Tulum instead.
Now, thanks to President Obama's decision to restore full diplomacy with our cigar-loving frenemies, that could all change.