Those who managed to snag a First Choice VIP card to Art Basel Miami Beach lined up this morning here in Miami outside the convention center, sunglasses planted on their heads, and at 11:00, they strolled in en masse to see, towering above the opening scene, a revolving neon Martin Creed installation—the word PEOPLE lit up in green and going in circles. It's part of the Gavin Brown's Enterprise booth, and he could have chosen any number of Creed works to spin above the maze-like grid of gallery spaces here—others display words such as FEELINGS, MOTHERS, SHIT, THINGS, FUCK OFF—but PEOPLE seems appropriate for this particular art fair.
All art fairs are big odes to fortunes won and kept and padded, but Art Basel Miami Beach seems to be the flashiest, the most celeb-heavy, the most distracting. Perhaps this is best seen at night on the stretch of Collins between the W South Beach and The Delano, but it's here, too, at the early portion of the fair.
See, look, there's Owen Wilson parked on a bench at Gavin Brown's Enterprise, taking in a series of works by Bjarne Melgaard.
"Do you surf?" Mr. Wilson softly asked someone sitting next to him.
The actor pointed to the man's hat, a hat that did have a distinctly beach-y vibe.
"Do I… what?"
"Do you surf, man!"
"Oh, I don't know? Yes?" he said, confused. After a few seconds, Mr. Wilson thanked Mr. Brown and rejoined his chaperone for the morning, the
billionaire Peter Brant, who was talking to fellow billionaire Steven A. Cohen, who still buys multimillion-dollar paintings even after paying $1.2 billion to settle criminal charges for securities fraud. No big deal. Chump change.
"What do you think?" Mr. Brant said, leaning into Mr. Cohen.
They were staring at the booth for Sadie Coles HQ, one of the more intriguing booths here—Ms. Coles had installed a torrent of lime green ceramic Urs Fischer raindrops throughout the space. Onlookers swiftly took selfies.
"I know people who would buy this, but I hate it!" Mr. Cohen said.
Mr. Brant, who owns quite a few works by Mr. Fischer, shrugged.
And what of the other people, or PEOPLE, who were here, doing some art shopping and getting people-watched? Michelle Williams, the actress, was getting a little tour of the Mitchell-Innes & Nash booth by dealer Josie Nash, nodding politely and conferring with stylist Kate Young after hearing about a particular work. She stopped in front of an excellent de Kooning, a steal at $900,000. Michelle Williams had a "Shoplifters of the World Unite!" tote bag. Michelle Williams passed on the de Kooning.
In the Regen Projects booth, Owen Wilson disengaged in a hug with a familiar-looking scrawny guy and when he turned around, we saw it was Tobey Maguire, standing with old buddy Lukas Haas and a non-famous member of their infamous crew, the Pussy Posse. But where was the ringleader…
"Leo wants us to go see something in H12," said the unidentified posse member, who had a somewhat unfortunate L.A. Dodgers tattoo on the back of his neck. Ah, so that's where Mr. DiCaprio was, at Barbara Gladstone! But, alas, a Regen Projects dealer had wheeled Mr. Maguire over to a Glenn Ligon, and proceeded to explain it, receiving nods from the actor, who seemed really into it.
"It's funny, because when Tobey gets into a groove, he's like…" said the tattooed posse member, jabbing at his phone, presumably sending angry emojis to Leo.
"Word," said a heavily bearded Lukas Haas, who stuck a cigarette in his mouth.
Eventually, Mr. Maguire disengaged from the Regen Projects dealer and walked over to Ms. Gladstone's booth, and while Mr. DiCaprio wasn't there, Diddy was. "Where's the wife?" Diddy said to Mr. Maguire, referring to the jewelry designer Jennifer Meyer.
"Oh, she's back home," the Spider-Man actor said, bashfully.
"Well, tell her I say what up!" Diddy said excitedly. Then the posse went off to find Leo or whatever while Diddy stayed, and fixed his gaze upon a deep black Anish Kapoor installation.
"Oh Barbara, this is wonderful," said Maria Brito, the art advisor who's helped Diddy build a collection that includes works by Basquiat, Ai Weiwei, and Tracey Emin. It was £900,000, and Diddy went on his way.
Of course, there were plenty of booths eye-catching enough to make you stop craning your head to try and get a good view of the moneyed masses and movie stars. I quite enjoyed the Tom Sachs installation at Sperone Westwater, "James Brown Listening Station," part of the artist's solo show at the gallery in 2011. It's a turntable set up on speakers blasting soul tunes, with a liquor cabinet unspooled on top. Sounds like the sort of really fun, really fulfilling party that we'll never see in Miami. And then there was Darren Bader at Andrew Kreps: the floor full of random objects scattered around, "Sexyback" playing silently off iPod speakers, a male model sitting amid the mess watching TV on an iPad.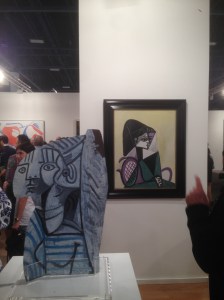 But naturally the center of gravity here was the Gagosian Gallery booth—it even smells fantastic in there, somehow. Larry's buyers have better perfume? Anyway, he had some Koons, some Twombly, some Ruscha. But not for long.
"I sold a Koons, I sold a Twombly, I sold a Ruscha," Mr. Gagosian told me, his white buzz cut cropped carefully as ever, the blue linen jacket a perfect crisp, alligator smile creeping across his face.
"Yeah, I've had a good day so far," he said. He declined to mention prices.
He did seem a little tired—wait, did I see Larry at Le Baron the night before? No, I did not see Larry at Le Baron the night before.
Around Mr. Gagosian were the subjects in his court: Alberto Mugrabi, Jean Pigozzi in a shirt from his LimoLand clothing line, Aby Rosen, Mr. Cohen, and Tommy Hilfiger.
"Let's buy the Coke bottle, let's do it, let's buy the Coke!" Mr. Gagosian said to Mr. Hilfiger as he left the booth.
He was referring to a Warhol print of a bottle of Coca-Cola, a few inches tall, priced at $4.5 million.
"We'll see, Larry," Mr. Hilfiger laughed as he walked off.
As the people started to leave and those with passes for later hours poured in, diluting the original crop of primo dealers and buyers and rappers and actors, I spotted on the ground a Artist VIP card, which gives you access to basically everything. Instead of snagging it myself, I walked by and watched to see what would happen. Would people pick it up? Not care? Was this an installation? A performance? Who knows. Art Basel director Marc Spiegler walked by, looked at it, and kept on going, and 15 minutes later, it was still there.