"I think it was the next natural progression, being in the industry for so long," Lynnette Marrero, one of New York City's top cocktail consultants, says of her recent obsession with champagne, as we sip on a variation of a French Kir at Dear Irving, a plush cocktail lounge just north of Union Square. "Plus, it's delicious."
Ms. Marrero certainly isn't afraid to preach the sparkling gospel. Both this year and last, she served as a judge for the cocktail competition during New York Champagne Week, and this past summer, she co-presented a seminar called "Champagne 101" at Tales of the Cocktail, in New Orleans. Part of the problem, she tells me, is that too many people only consider breaking out the bubbly stuff on rare, celebratory occasions, like anniversaries and New Year's Eve.
"More champagne will be consumed in the U.S. over the next month than the rest of the year combined—I'm rather certain that's true," says Ms. Marrero, who first learned her craft under Julie Reiner at Flatiron Lounge. "But champagne can be enjoyed more frequently than that. It's a beautiful wine and it has so much range within the categories." She pauses. "I don't even think people realize there are categories of champagne."
I ask her to give me the idiot's primer. She starts with a key term, "dosage" (pronounced: doh-sahj). "Dosage is the amount of grams of sugar in a style," she explains, "so Brut is very dry, Demi-sec is sweeter and there are even sweeter ones. There are also zero dosage, but that's not really understood by the American palate.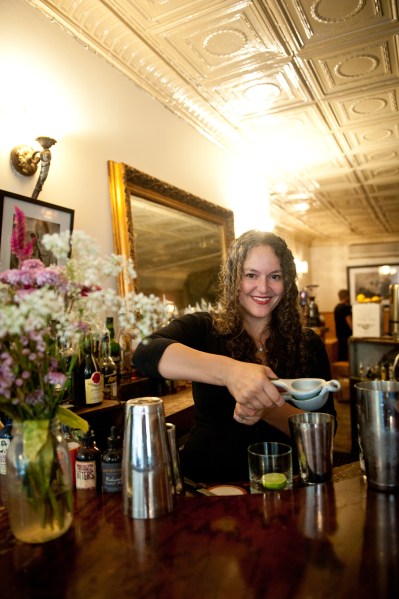 "It's all about tasting the different styles, seeing what you like," she continues. "There are really yeasty champagnes. There are really acidic champagnes. And you don't have to just go with the big brands. Try something different. Don't fear the champagne."
As for which bottles she'd recommend trying first, Ms. Marrero mentions traditional Bruts by Nicolas Feuillatte, Paul Roger and Billecart—each made from all three of the Champagne-region grapes: Chardonnay, Pinot Noir and Pinot Meunier. She says, "Once you understand Bruts, then you can move on to blanc de blancs," which are produced purely from Chardonnay grapes and can be drier. And after that, the rosés. ("The rosés are just fun.")
But don't blame the champagne if you wake up with a headache the next morning. "I think it's really unfair," Ms. Marrero says of champagne's reputation as a hangover inducer. "Really, I think it's quality. When you drink cheaper spirits and cheap champagne and not enough water, you're going to get a hangover."
Another misconception, she says, is that champagne has to be consumed from a flute. A regular wine glass—or even a coupe—can actually improve the drinking experience, because "it gives you more surface area, more aroma and more flavor of the wine." According to Ms. Marrero, "a lot of the growers and master blenders like to drink it in a wider vessel."
Of course, Ms. Marrero—who is the co-founder of Speed Rack, a cocktail competition for top female bartenders, and the New York chapter president of LUPEC (Ladies United for the Preservation of Endangered Cocktails)—is also interested in champagne as it relates to cocktails, specifically. "I think a lot of bars will have one sparkling for all cocktails, but I'd love to see bars have the right style for the drink," she says. "Some people think if you see champagne in a recipe, just use prosecco, doesn't matter. But it does matter."
As an example, Ms. Marrero decides to order a round of Ville et Pays, a cocktail of her own creation, which is an apple brandy-based twist on the Seelbach (so it is served in a flute or coupe). "I want to retool the perception of what a cocktail has to be," she tells me, admiring the bartender's handiwork. "I think this is a wonderful sophisticated sipping drink for women—or guys. And it looks just like champagne."
Struck by this comment, I ask whether she believes there are gender-specific drinks. "I think there's a perception," Ms. Marrero replies. "Of course, I know men who like fruitier drinks and women who like drier drinks. But there's a perception of what a feminine and masculine drink is, and that's O.K. Those might be better terms than a girl drink or a guy drink."
Whatever her terms, this guy thinks the drink is delicious.
***
HOW TO MAKE IT: VILLE ET PAYS
Ingredients:
1 oz. Calvados
3/4 oz. St-Germain
1/2 oz. Belle de Brillet pear liqueur
3 oz. Nicolas Feuillatte Brut champagne
Dash orange bitters
Method:
1) Stir all ingredients except champagne to chill.
2) Strain into a flute or coupe.
3) Top with champagne.
4) Garnish with an orange or lemon twist.