Yesterday, Chris Hughes, who bought The New Republic in 2012, endured a two-minute hate on the Internet for firing its beloved editor, Franklin Foer, and replacing him with Gabriel Snyder, who had been at Bloomberg and the Atlantic Wire (not to mention plenty of brilliance in The New York Observer, as well).
Dylan Byers titled his Politico story "Implosion of a Washington institution," while Jonathan Chait, writing a brutal eulogy for TNR in New York, said, "Frank Foer isn't leaving TNR because he wasn't a good enough editor. He's leaving because Chris Hughes is not a good enough owner." Contributing editor Ryan Lizza tweeted directly to Mr. Hughes: "Please immediately remove me from your masthead as a Contributing Editor."
Now, I happen to know a little something about following in the footsteps of a beloved editor at a legendary publication. Last night, just after the news broke about Mr. Snyder replacing Mr. Foer, I attended a memorial service at Cooper Union commemorating the one-year anniversary of the death of Peter Kaplan, the leader of this paper from 1994-2009. Every single speaker was gut-wrenching, from Peter's Observer colleague Peter Stevenson to old friends like David Michaelis to his Harvard roommate Robert F. Kennedy Jr. to Peter's son Charlie. They all spoke beautifully, humorously, lovingly about a beautiful, very funny man who was easy to love.
Peter's younger brother Rob Kaplan told of their excitement at uncovering a trove of Jack Benny tapes. Mr. Stevenson came with a great story about Peter sending media reporter Jay Stowe out with a bourbon-fueled pep talk on how to interview incoming Time Inc. head Norman Pearlstine; Mr. Pearlstine threw the cub reporter out of his office when he repeated a phrase he'd heard Peter say. Mr. Kennedy related a visit to a Ku Klux Klansman Peter had encountered in Alabama who introduced Peter to his grand wizard as "that Jew and modified it with the adverb 'real dang.' " Mr. Kennedy referenced Peter's encyclopedic memory and his passion for old movies and old things in general–he recalled Peter as the only young man he'd ever known whose chief goal was to grow really old. And the whole room ached that that wasn't to be. In our programs, Peter's widow Lisa Chase—she had been an editor at the Observer—had written a wonderfully vivid remembrance. Part of it described their young son Davey having written a composition called "Have You Heard About Peter Kaplan? A Great Editor Has a Party."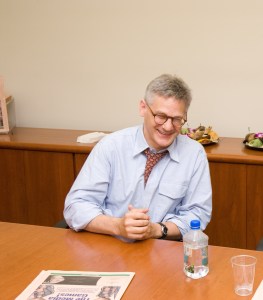 I didn't replace Peter directly at the Observer–four years and at least that many editors elapsed between his decision to leave the paper and my being hired. But my deep admiration for his work made it that much more daunting to take over a storied institution that bore his fingerprints on every page. In Michael Miller's beautiful Observer cover story following Peter's staggering death at age 59, I said, "I feel Peter Kaplan's presence in this office every single day. Coming here to sit in what I still consider 'Peter Kaplan's chair,' I have daily WWPD thought balloons form above my head. I think I would have been weighed down by it, even intimidated by that presence, except for the fact that Peter himself was habitually generous with advice and suggestions and encouragement when I started. The city has lost a very good man."
I had first met Peter in 1995 when I was a junior editor at United Feature Syndicate and my boss replaced our Village Voice package with stories from the upstart New York Observer. It was my job to select articles from the paper for national syndication. I would take the glorious, sprawling words of Joe Conason or Andrew Sarris or Terry Golway (who still writes for us today) and edit them into standardized lengths that newspapers across the country could plop into their news holes. For some reason I recall that one of the papers that bought the package, the Kansas City Star, loved acid-penned art critic Hilton Kramer, so I put him in a lot. I'd call Peter to tell him what I'd selected and he'd always be pleased and say "yeah, that's a great story" no matter what I chose. But then I'd remind him that I'd be cutting these giant pieces down to 700 words and deleting the swear words and he'd sound heartbroken. He loved the stuff he printed, truly.
So 18 years later, when I became editor, I called on him for counsel, often. Peter was battling for his health then, but he was incredibly willing to endure my worshipful queries. The advice Peter gave me—in addition to his insistence that Town Hall Deli in South Orange really was the birthplace of the Sloppy Joe—essentially boiled down to: "respect the craft, do the best job you can, and don't let critics knock you off your game plan." Peter cared about the institution of the Observer. I know from talking to editors who followed him and preceded me–some of whom were at the memorial last night—that Peter was equally generous to them with his advice. He wanted the Observer to be great no matter who was editing it.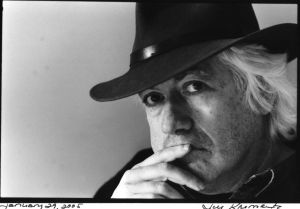 I was thinking about that as I read the blistering criticism of the direction Mr. Hughes wants to take The New Republic. Mr. Hughes has pumped money into the resurrection of a cherished organ of American thought. Fans of Mr. Foer and others who don't fit Mr. Hughes' plan for TNR like Leon Wieseltier certainly have the right to their opinion—and I agree with the Observer's (gentle) poke that the b-school jargon of the press release was at least a warning sign. But writing a "eulogy" for the magazine before Mr. Snyder has put out his first issue doesn't reflect the open mind that media companies ought to preserve in the face of a quickly changing industry landscape. The eulogy might have been better placed two years ago, before Mr. Hughes saved the chronically unprofitable TNR from near-certain extinction. The idea that he is somehow required not to try to remake it into a financially viable functioning business isn't reasonable.
Mr. Hughes seems to believe that the future for the brand lies online. He has cut its print frequency from 20 to 10 issues, brought in an executive from Yahoo and in Mr. Snyder he has an editor with deep experience building web-based publications. This focus is unsurprising for a guy who made his millions as founder of Facebook. Still, the transition can be painful and jarring. At the Observer, where we just passed 9 million page views over the past 30 days for the first time and have gone from Quantcast's 2,000th best-trafficked website to the 650th, we have hit plenty of speed bumps as we figure it out. Mr. Chait's own publication, New York, cut its print frequency in half and appears to be innovating on the web, starting new channels and figuring it out. So that's what Mr. Hughes is trying to do with his venerable publication—figure it out.
I have no idea how Mr. Snyder compares to Mr. Foer as an editor. I'm not sure the people lighting Mr. Hughes up for making the change know either. But one thing I do know: you can't edit a publication afraid.
There is no one who spends more time in the Observer archives than I do. You can ask anyone around here (and I'm sure the guys at Capital New York, many of whom used to work here, already have). I sit with those old books of archived Observers, I take photos of them, I've personally hauled them to Lodi, N.J., to be scanned and then to Metuchen, N.J., to be re-bound. Just the other day, a former Observer writer—one of a hundred who've gone on to greatness elsewhere, for identifying talent was maybe the secret weapon of all of Peter's gifts—asked if we could figure out a way to post a story he'd written long ago that had somehow not made it onto the Internet. I went and fetched that bound 2006 book myself, because I enjoyed and learned from how Peter had packaged it with two other stories.
For as much as I love the Observer of yore—and I really really do, and not just the Peter Kaplan era, but also the great papers put out by other editors before and after him—I can't edit like anyone else. I can't edit The New York Observer of 1995. My goal is to create the best newspaper and website that I am capable of doing, right here, right now. That should be Mr. Snyder's goal, as well. For the sake of those who love The New Republic and value its storied history, I can only hope he inherits a few predecessors who are rooting for its continued success the same way Peter was always pulling for the Observer.