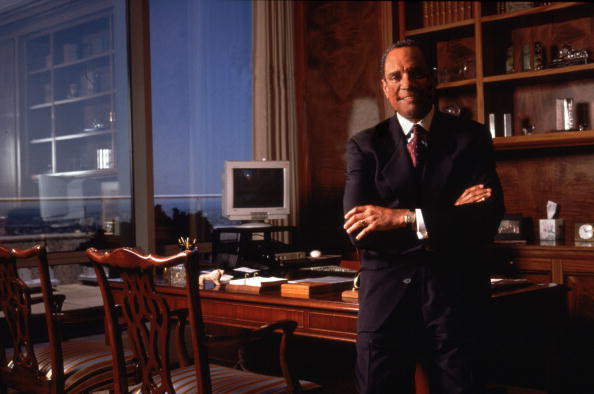 Ever wonder how much he executives in the lavish corporate suites make? Wonder no more. What follows are the 10 best compensated CEOs in the area. They include media company executives (But not Rupert Murdoch, who is technically Newscorp's chairman), an investment wizard, an organic food magnate, and a former potato chip chief who helped change the scent of one of the world's largest perfume makers. They are ranked according to 2013 figures based on salary, bonus, stock and option awards, the value of non-equity incentive plan compensation, the change in pension values and all other compensation. The financial information was provided to the AFL-CIO by Salary.com.
1. Mario J. Gabelli, 72, founder, chairman and CEO, Gamco Investors Inc., $85,049,800
According to PunditTracker, since 2002, the man known as "Super Mario" has scored on 59 percent of his stock picks, earning an astounding 14 percent return. Mr. Gabelli and the firm's research analysts use a proprietary system he designed to pick stocks. Whatever the secretive method, one recent pick proves again that Mr. Gabelli knows what he's doing. In January, he predicted in an interview that Journal Communications, a television and radio company, would be worth watching. At the time, the company's share price was less than $8 per share; it now trades at more than $10.
2. Leslie Moonves, 65, president and CEO, CBS Corp., $66,932,581
As the Hollywood Reporter noted, under Mr. Moonves, CBS has been the most-watched network for 11 of the past 12 seasons. But has the master lost the golden touch? A scan of the ratings, via tvseriesfinale.com, shows that most of the network's scripted programming has lost viewership. Then again, the Nielsens may not matter as much to advertisers, because so many people watch their shows on digital platforms that entertainment industry types argue the numbers are not adequately counted.
3. Philippe P. Dauman, 60, president and CEO, Viacom, $37,165,750
Mr. Dauman, who heads CBS' sister, Viacom, earns a bit more than half of what Moonves does (makes for an awkward Xmas party), despite running a larger company with an arguably more significant role in driving American popular culture; the company produces The Daily Show and The Colbert Report. Viacom also owns a piece of several niche markets with BET, LOGO and TV-Land among its holdings. The company recently expanded overseas, purchasing Britain's Channel 5.
4. Leonard S. Schleifer, 61, founder, president and CEO of Regeneron Pharmaceuticals, $36,272,665
Given the aging of baby boomers, the Tarrytown, N.Y., biotech firm scored big with Eylea, a treatment for neovascular (wet) age-related macular degeneration. The severe age-related retinal disorder afflicts roughly 15 million Americans and is a leading cause vision loss. Vision is clearly something Mr. Schleifer, a licensed neurologist, does not lack. "Schleifer and Regeneron's success," noted FierceBiotech, an industry publication, "is a credit not to any one product but rather its scientific platform and corporate culture."
5. Jeffrey L. Bewkes, 62, CEO, chairman of the board, Time Warner Inc., $32,501,715
Because content is king, Jeff Bewkes remains a prince on Wall Street, continuing to focus Time Warner on the aggressive pursuit of "the huge global opportunities we see in video content," Mr. Bewkes said in announcing the company's robust third-quarter results. He helped pioneer the concept of putting TV content on all devices, and now wants to take that a step further. He "envisions a future where all network programming, not just his, will be available to everyone at any time on any device on demand," said Mr. Bewkes, during a recent analyst call.
6. Fabrizio Freda, 57, president and CEO, Estee Lauder, $31,598,679
What do Pringles snack chips have to do with Bronze Goddess perfume? Certainly not the smell. But it would be Fabrizio Freda, who was lured away from Procter and Gamble's snack division to run the family-owned cosmetics company. Since taking over in 2009, Mr. Freda has guided the company to success that has seen its stock value nearly triple from the end of 2009 to No- vember 2014.
7. Irwin D. Simon, 55, founder, president and CEO of Hain Celestial Group, $26,426,555
Mr. Simon doesn't mind being unpopular, especially when his unpopularity comes from taking stands that are healthy to the body and his company's bottom line. "We have often led the way with unpopular positions that later proved to be right, distinguishing our products from those of others with our commitment to wholesome eating," he says on his company website. The company's brands, including Arrowhead Mills and Casbah vegetarian products, avoid trans fats, artificial flavors and high-fructose corn syrup, yet still reap sweet rewards—a record $2.2 billion in net sales in fiscal year 2014.
8. Ralph Lauren, 75, chairman and CEO, Ralph Lauren Corp., $26,157,178
For years, the world market has been flooded with cheap, Chinese counterfeit Ralph Lauren products. Now, Mr. Lauren, who much like the Chinese is himself in expansionist mode, is taking the game to Beijing. He plans to open a 20,000-square-foot Ralph Lauren luxury flagship store in China, "a critical brand expression in an important market for us," according to the company's announcement of its most recent earnings.
9. James E. Meyer, 59, CEO, Sirius XM Holdings, $23,065,307
As the guy who runs a company that puts Howard Stern, Oprah Winfrey, Dr. Laura, Eminem and B.B. King under the same corporate roof, the low-profile Mr. Meyer has helped make SiriusXM the world's largest radio broadcaster measured by revenue, taking in more than $4 billion. But there's a serious threat out there for the satellite radio company. Former members of rock band the Turtles sued Sirius, claiming the broadcaster committed "copyright infringement and engaged in unfair competition by publicly performing sound recordings owned by … the original members of the Turtles." Last month, a federal judge in New York allowed the suit to go forward. Clearly, the parties are not Happy Together.
10. Kenneth Chenault, 63, CEO and chairman, American Express, $21,437,820
Apparently, consumers are still not leaving home without their American Express cards, as the company just announced a third-quarter net income of $1.5 billion, up 8 percent from a year ago. So what makes Mr. Chenault so special? You can Google it. Or you can just ask Google chairman Eric Schmidt, who once gushed that Mr. Chenault "exemplifies the best leadership that I've ever worked with." While Amex's core client base remains moneyed business travelers, Mr. Chenault has focused on the masses, establishing Bluebird, an online checking account and debit card for Wal-Mart customers.