ED. NOTE: This story has been updated to reflect a letter to the editor from the President and CEO of New York State Association for Affordable Housing, which appears in the comments section.
Last month, City Council members gathered in the cold gray afternoon to applaud the Council's impending approval of Queens' massive Astoria Cove waterfront development—a hard-fought test case for Mayor Bill de Blasio's new mandatory inclusionary zoning program, the centerpiece of his ambitious affordable housing plan. But experiences in other cities suggest that the policy—which requires developers to set aside below-market-rate units in order to build—may be insufficient to stop, and could even contribute to, a spiraling crisis of unaffordability and homelessness.
Since 1988, New York City has dangled so-called "zoning bonuses"—permission to build bigger and denser—in front of market-rate developers to entice them to voluntarily build units for the middle class and poor. It has resulted in the construction of a just under 4,500 affordable housing units, roughly three-fourths of them in Manhattan. Mr. de Blasio's plan removes the voluntary part: If a developer wants to build more, it has to include more affordable units. The exact percentage of affordable units is then hammered out between the administration, the City Council and the developer during the Uniform Land Use Review Procedure, a lengthy negotiation that occurs mostly behind closed doors.
Advocates of affordability, however, argue that the bargaining process has become a game of chicken between the city government and the developer, with the latter threatening not to build at all if the former seeks to force too many below-market apartments.
"We always blink first," complained Ismene Speliotis of the Mutual Housing Association of New York, a nonprofit that builds low-income housing in some of the poorest reaches of Brooklyn.
And that, Ms. Speliotis argues, is exactly what happened at Astoria Cove. Early in the bargaining process, Carl Weisbrod, the director of the Department of City Planning and Alicia Glen, the deputy mayor for housing and economic development, eagerly declared that developer Alma Realty had agreed to committing 20 percent of the new floor space to low and middle-income units. But in voting a project through ULURP, it's a local council member's vote that matters most. And Queen Councilman Costa Constantinides—backed by Council Speaker Melissa Mark-Viverito and Queens Borough President Melinda Katz—demanded an affordable allotment of 35 percent of the 1,700 new units.
Ultimately, they settled for 27 percent of the units set aside as affordable, for people making various percentages of the area median income, a federally-set average of yearly wages in the city and its suburbs—which comes to $65,000 for one person and $85,900 for a four person household. Five percent of the units will be priced for tenants making 60 percent of the AMI, or $39,000 a year for an individual and $51,540 for a family of four. Another fifteen percent will be set aside for those making 80 percent of the AMI, and 7 percent will go toward those making 125 percent of the AMI, with the rest of the complex being market rate.
"In general, as a tool in the affordable housing toolbox, it doesn't get you a lot of units and it doesn't it get you that deep affordability," said Ms. Speliotis.
And while some elected officials have credited the tougher negotiations spurred by IZ with yielding greater community benefits, some of the biggest concessions Mr. Constantinides wrung during ULURP will come not from the developer's purse but from the public's. The mayor's office agreed to put up $5 million in taxpayer money toward the construction of a ferry dock on the peninsula to and to find sources for remaining $3 million needed to finish it. Mr. de Blasio's office will also spend $1 million in public funds to make improvements to a local library and $500,000 to upgrade a senior center in a nearby New York City Housing Authority development.
Even more problematic, Ms. Speliotis noted that one upscale development often unleashes a wave of subsequent ones, which can lead to rapid development of a neighborhood and displacement of low and middle-income residents. Even in impoverished Brooklyn enclaves like East New York and Brownsville, which the mayor has targeted for revitalization, Ms. Speliotis reported that long absentee landlords are turning up at foreclosure sales and paying off the balance of their debts in hopes of capitalizing on the tracts in the near future.
She argued for using IZ programs in concert with expansion of rent regulation—a de Blasio goal that would require state approval—and use of eminent domain and tax seizure at the city level to obtain new tracts of land that the municipality can use to construct mixed-income developments. She also called for the city not to bow to developers' desire to recover the entirety of their investment immediately, and instead let them accrue their massive profits over a number of years.
"You want to really, really roll up your sleeves and go in deeper. I don't think we need to blink first. And it's absolutely one very small piece of a larger housing agenda," she said.
Other advocates place the blame more squarely on Mr. Weisbrod and Ms. Glen for asking too little from the outset of the project. New York Communities for Change, a liberal community organization with close ties to Mr. de Blasio, argued the mayor's office should have asked higher—for as much as 50 percent below-market units—and forced Alma Realty to bargain down.
"We started way too low," said NYCC Director Jonathan Westin.
Mr. Westin noted that the city changing the zoning on a parcel like Astoria Cove, which was previously a low-priced designated manufacturing area, enormously increases the property's value and allows the owner to obtain massive profits either by building on it or by flipping it and selling to another private interest.
"It's on the city to drive the hard bargain with developers. Developers are always going to cry poverty," Mr. Westin said, suggesting a high-pressure approach would have been justified even if it meant the project not going forward. "Astoria Cove being stopped would have been a message to the developing world that if we're going to exponentially increase the value of your land, you have to build more affordable apartments. It would stop some of this speculation on land."
The new IZ program and its application at Astoria Cove won plaudits from the Real Estate Board of New York, a trade association that reached deep into its pockets this past election cycle to ensure the election of a Republican State Senate hostile to new tenant-friendly regulations. Steven Spinola, the board's president, declined to be interviewed for this piece, but sent the Observer a statement in support of the new policies.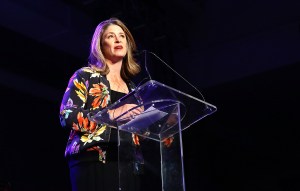 "The administration has made it clear that their ambitious affordable housing program will include a menu of options that will encourage new development on a neighborhood by neighborhood basis, recognizing the economics of different parts of the city will vary by location," Mr. Spinola said. "When completed, Astoria Cove will bring much needed affordable housing and jobs."
Mr. de Blasio reportedly considered recruiting Ms. Speliotis for his Commissioner of Housing Preservation and Development but, according to the Daily News, pro-development lobbyists feared she was too liberal and dissuaded him. That spot went instead to Vicki Been, formerly the head of New York University's Furman Center for Real Estate and Urban Policy–which has also been somewhat critical of mandatory inclusionary zoning in its studies of programs in the San Francisco, Boston and Washington, D.C. metropolitan areas.
Data from a 2008 Furman Center study of the policies in California and Massachusetts indicated that IZ programs there resulted in only slight increases in housing costs and only minute decreases in new construction, or have no impact on the market at all. But it also showed that the single greatest determinant of mandatory inclusionary zoning's success was the length of time the policy had been in place.
Thus, the San Francisco Bay Area reaped the greatest number of new affordable units, as they had first rolled out their policies respectively in 1973 and 1974. By contrast, IZ practices instituted a decade ago in the Boston suburbs appeared to have yielded no affordable housing at all.
And the relative success of the programs in those cities seemed to deliver numbers far smaller than Mr. de Blasio needs for his plan, which calls for the creation or maintenance of 200,000 affordable units in 10 years, to succeed. The San Francisco metro area saw just over 9,000 new affordable units created in the course of more than three decades, and the D.C. area gained a little more than 15,000 in the same time frame.
For comparison, Astoria Cove will reserve 468 units as affordable—but the project is exceptionally large.
The Furman Center warned that IZ programs are not a "panacea" for unaffordability.
"Even those ordinances that have produced the most affordable housing units, however, have not solved the community's housing challenges," the study cautioned.
It was a note the center sounded again last year, as Mr. de Blasio and some of his rivals for the mayoralty proposed using mandatory inclusionary zoning as a means of resolving the displacement dilemma. The academics noted that such policies contain no guarantee of success.
"Predicting which of these outcomes would occur is difficult and past research has not provided a clear answer," Ms. Been and her colleagues wrote in a brief on the topic.
The de Blasio administration declined to allow the Observer to interview Ms. Glen for this article. Instead, it sent a statement dismissing arguments like those made by Ms. Speliotis and Mr. Westin.
"It's completely absurd to suggest that requiring developers to build affordable housing will somehow translate into less affordable housing," spokesman Wiley Norvell said.
He posited called the city's policy the more aggressive in the nation and in the city's history.
"We never fault advocates for pressing for more, but there is no question we are moving this city in the right direction," Mr. Norvell said.