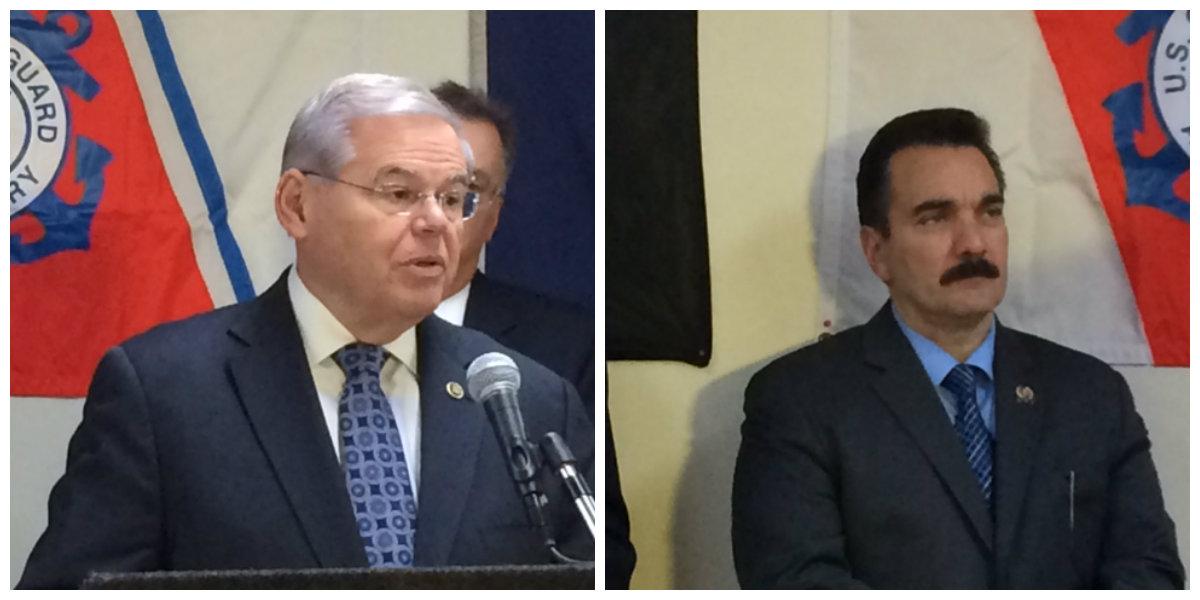 SECAUCUS – Two prominent North Jersey politicos responded on Friday to a report submitted on Thursday to the state Legislative Select Committee on Investigation by special counsel Reid J. Schar from the firm of Jenner and Block. The tentative findings of the 136-page interim report assert that the committee is not currently in a position to conclude what Governor Chris Christie "himself knew about the lane closures or when and how his knowledge of these events developed." The September 2013 lane closures at the George Washington Bridge became known as the Bridgegate scandal.
The alleged involvement of senior Christie administration and Port Authority of New York and New Jersey staff in the lane closures have led to accusations of political retribution against Democratic Fort Lee Mayor Mark Sokolich, who failed to endorse Republican Gov. Chris Christie in last year's gubernatorial race. Christie has denied that any retaliation took place.
"I haven't read the report, so I would be loathe to respond it. But we'll look forward with the rest of all New Jerseyans to read what it is. Whoever was responsible for it did a disservice to the people of New Jersey," said U.S. Sen. Bob Menendez (D-NJ) in Secaucus following the announcement of additional post-Hurricane Sandy federal recovery funds. "I'm sure that law enforcement will have an opportunity to pursue those who were responsible and bring those people to justice. If it was done for political purposes to respond to anyone's willingness or unwillingness to be supportive of any particular candidate, at the end of the day they have to understand that there are consequences for that."
"It's a fair report, although it's not completed because we don't have an outcome yet," said state Assembly Speaker Vincent Prieto (D-32)."Certain people could not be talked to until the [federal] investigation by the U.S. Attorney's Office gets concluded. Our mission, as a legislative body, is not a criminal mission. We have to enact laws so this can never happen again. This report tells us what we have learned, and where we are today."
Some political observers questioned the timing of the release of the interim report, which indicates no direct evidence of any wrongdoing by Gov. Christie, at a moment when the Republican New Jersey chief executive could be on the verge of jumping into the 2016 presidential race.
"If the [committee] came to a point in time where they felt that everything that they were going to deduce could be deduced, then to either issue it prematurely or to hold it for other purposes, would have been wrong," said Menendez when asked about the timing of the report's release. "I assume that they felt it was appropriate to release it."
"I have no idea what Gov. Christie's ideas are, or the timeline if he's going to seek higher office," Prieto said. "I don't think there is any looming deadline. I haven't heard of anybody else declaring for president, not even Christie. We had to get this report done because there is going to be a lot of things that the Legislature has to deal with once the year turns over. That's why we hired an independent counsel. There has not been any type of influence or any suggestion from anybody."