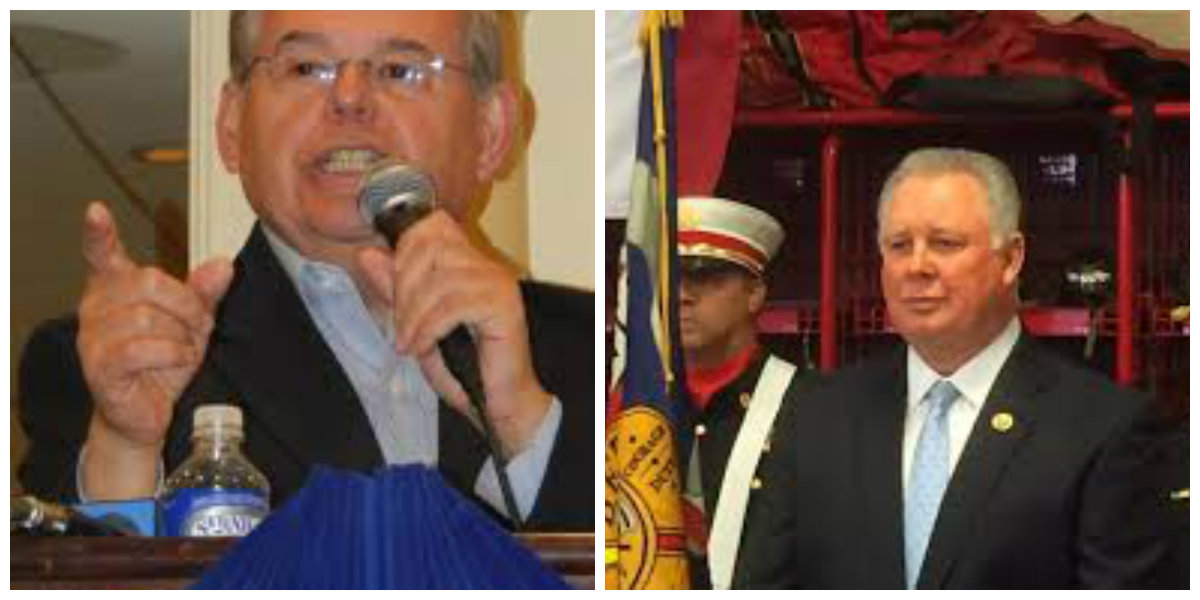 WASHINGTON, D.C. – President Barack Obama's announcement on Wednesday that the United States would restore diplomatic relations with Cuba after more than 50 years of hostility drew the ire of two prominent Cuban-American members of New Jersey's Congressional delegation.
Senate Foreign Relations Committee Chairman Bob Menendez (D-N.J.) and U.S. Rep. Albio Sires (D-8) expressed relief that Alan Gross, a U.S. government subcontractor for the U.S. Agency for International Development (USAID) who was arrested in 2009 and accused of being a U.S. spy after allegedly supplying satellite photos and computer equipment to members of Cuba's Jewish community, was released on Wednesday. Gross' release was the opening move of a major policy shift that will lead to the restoration of regular diplomatic relations with Cuba, suspended in 1961, and the opening of an American embassy on the communist-ruled island.
Yet both Menendez and Sires pointed to the release of three members of the Cuban Five, a quintet of Cuban intelligence officers convicted in 2001 for espionage, as part of the deal to free Gross as part of their problem with making deals with the Cuban regime, led by Raul Castro, who took over from his brother Fidel in 2008. One of the men released, Gerardo Hernandez, was linked to the 1996 shooting down of two civilian planes operated by the U.S.-based dissident group Brothers to the Rescue, an incident in which four men died.
"Let's be clear, this was not a 'humanitarian' act by the Castro regime. It was a swap of convicted spies for an innocent American," said Menendez, who was born to Cuban immigrant parents, in a written statement on Wednesday. "President Obama's actions have vindicated the brutal behavior of the Cuban government. There is no equivalence between an international aid worker and convicted spies who were found guilty of conspiracy to commit espionage against our nation. One spy was also convicted of conspiracy to murder for his role in the 1996 tragedy in which the Cuban military shot down two U.S. civilian planes, killing several American citizens. My heart goes out to the American families that lost loved ones on that fateful day. Trading Mr. Gross for three convicted criminals sets an extremely dangerous precedent. It invites dictatorial and rogue regimes to use Americans serving overseas as bargaining chips.
"This asymmetrical trade will invite further belligerence toward Cuba's opposition movement and the hardening of the government's dictatorial hold on its people," Menendez added. "Let us all remind ourselves that an untold number of ordinary people yearning for democracy remain imprisoned by the exact same tormentors that have punished Alan Gross and they, along with all Cubans, deserve a free and liberated Cuba.
"The United States has just thrown the Cuban regime an economic lifeline. With the collapse of the Venezuelan economy, Cuba is losing its main benefactor, but will now receive the support of the United States, the greatest democracy in the world," said Menendez in a second statement on Wednesday focused on the proposed changes in the U.S.-Cuba relationship. "This is a reward that a totalitarian regime does not deserve and this announcement only perpetuates the Castro regime's decades of repression."
Sires, who was born in Cuba, added his concerns.
"Nothing the Cuban regime does is humanitarian in nature, particularly when it continues to deny the Cuban people basic human rights while utilizing fear, incarceration, and unwarranted force to maintain control," said Sires in a written statement on Wednesday. "While I am relieved that Mr. Gross will finally be home with his family, I would be remiss not to wonder how the family of murdered New Jersey State Trooper Werner Foerster feels as his killer, Joanne Chesimard, still roams freely in Cuba. Chesimard [a.k.a. Assata Shakur] is currently listed by the FBI as the number one most wanted terrorist and has been enjoying political asylum in Cuba for 30 years.
"It is a dangerous precedent to concede and utilize Americans detained abroad as mere pawns for trading," Sires added. "Not only will this be an open invitation for rogue regimes and actors to follow the same playbook, but it potentially places many American lives overseas at risk."