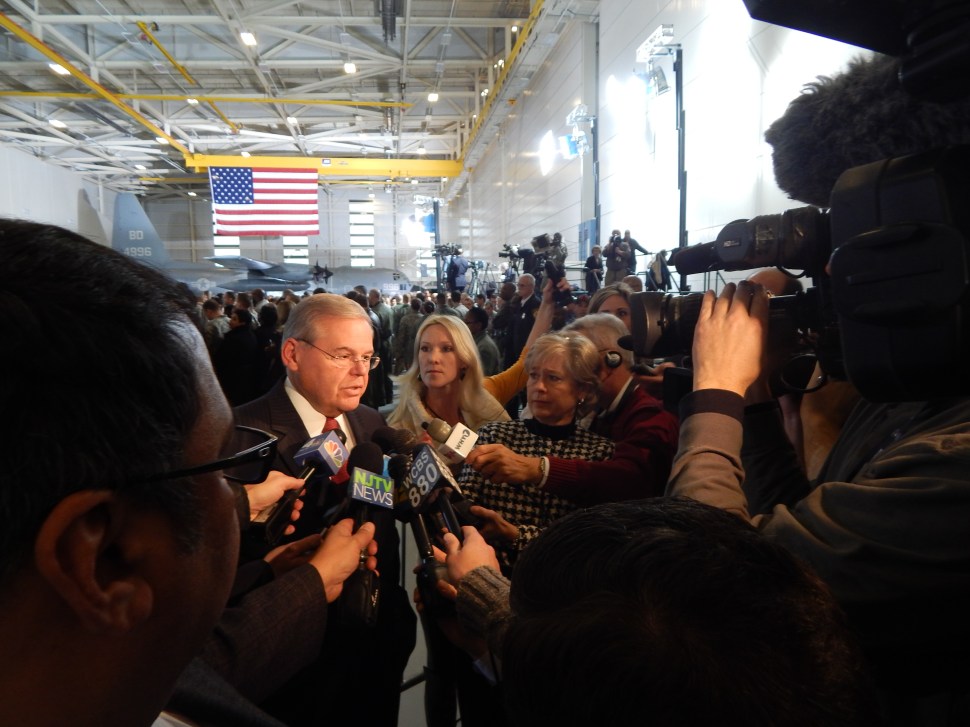 MCGUIRE AFB — U.S. Senator Bob Menendez (D-NJ) today welcomed President Barack Obama's visit to Joint Base McGuire-Dix-Lakehurst ahead of the holiday season, saying that he's glad the commander-in-chief decided to use the location to make his address.
"This is the only tri-service base in the entire country," Menendez, the outgoing chair on the powerful Senate Foreign Relations Committee, said. "When 20 percent of the national army reserve live within 300 miles of this base, it just tells you the strategic importance of the base in terms of our national security."
Menendez made his comments to a small gaggle of press members before Obama's arrival here on Air Force One, after which he's expected to thank troops at the South Jersey base for their service, particularly as the U.S. winds down its military presence in Afghanistan. Obama heralded the military's "responsible end" to that conflict on his latest radio broadcast, saying that "many of our troops are returning from Afghanistan, and on Monday, I'll be proud to help welcome them home."
Obama is expected to appear here with Gov. Chris Christie, a potential nominee for the Republican presidential primary in 2016. The political odd couple's relationship made headlines beginning last year, when Christie's physical embrace of the Democratic president in the aftermath of Hurricane Sandy — and ahead of each pols' re-elections — drew the ire many of the governor's fellow Republicans.
But Menendez, one of the Senate's senior-most ranking Democrats, for his part said he saw little in the way of political motivations behind the pair's meeting today.
"Look, I think that any governor of any state would welcome the president of the United States, regardless of who he is or what party he belongs to. I would also think that's it's a recognition of not just the presidency but the people he's going to recognize. There are so many New Jerseyans who have sacrificed their lives or part of their lives to serve this country."