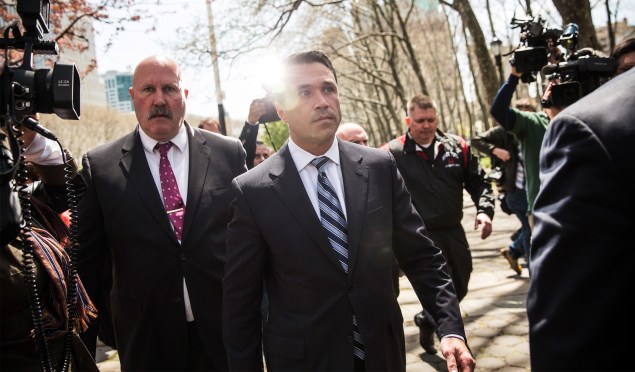 For one Michael Grimm aide, a single expletive can sum up the entirety of Bill de Blasio's tenure.
Liam McCabe, a staffer to the Republican congressman and frequent de Blasio antagonist, called Mr. de Blasio, the Democratic mayor, an "asshole" in a Facebook thread today—and in a follow-up interview with the Observer, doubled down on his salty language.
"The Mayor is an asshole, Councilman. He deserves no applause," Mr. McCabe wrote on Councilman Vincent Gentile's Facebook page, responding to a status Mr. Gentile wrote that praised Mr. de Blasio for condemning the protesters who assaulted police on the Brooklyn Bridge last Saturday.
Mr. Gentile, a Brooklyn Democrat, is an ally of Mr. de Blasio's. Mr. McCabe, a Conservative Party activist, works for Mr. Grimm, a lawmaker who often criticizes the mayor and won re-election this fall by tying his Democratic opponent to the policies of Mr. de Blasio. A spokesman said the congressman didn't condone Mr. McCabe's remarks.
The mayor is not popular in Mr. Grimm's Staten Island and southern Brooklyn district. Mr. McCabe, not backing down from his Facebook remark, made that abundantly clear.
"I think he's an asshole, plain and simple," Mr. McCabe told the Observer after he posted the Facebook comment. (The thread has been since deleted.)
"I honestly feel he's an asshole just because he lost too many opportunities to bring this city together," Mr. McCabe continued, referring to the ongoing tension surrounding a Staten Island grand jury's decision not to indict a white police officer in the death of Eric Garner, a black man.
Mr. de Blasio has expressed sympathy for the anti-police brutality protests and drawn the ire of police unions that insist he is not properly supportive of law enforcement. Mr. McCabe, echoing those sentiments, implied Mr. de Blasio only cares about his liberal base.
"The mayor's job is to be mayor of this entire city, not trying to keep certain factions happy. That's my honest opinion," he said. "The city is in disarray and he has an obligation and a duty to keep it together and failed at that."
"The best way I can articulate that is to call him an asshole," he added.
That sentiment isn't shared by Mr. Grimm, said Nick Iacono, the congressman's spokesman.
"Mr. McCabe's remarks were disrespectful, out of line, and are absolutely not condoned by the Congressman. The comments have been deleted, and appropriate disciplinary action will be taken," Mr. Iacono said.
Mr. de Blasio and Mr. Gentile's offices did not immediately return requests for comment.