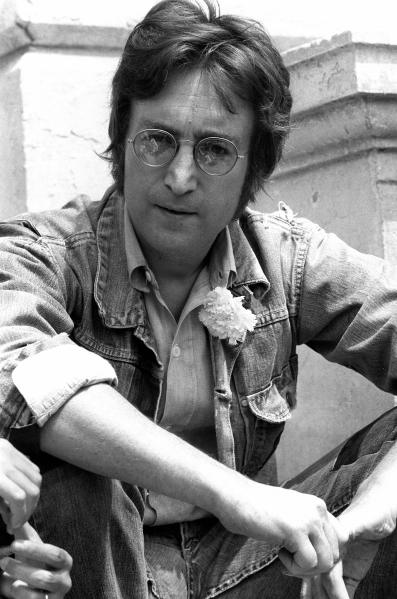 It began in Washington Square Park. Lori and I were trekking home to the Village from our jobs as drug abuse counselors in the roughest schools in East New York. I just saw him standing there, near the fountain, and of course my heart went boom. It was 1973, and his hat gave him away: a black Beatles' cap that had become their trademark. I was 20; he was 33.
John and his friend were falling over drunk. It seemed we were the only ones who noticed John; he blended into the crowd of guitar strummers and pot dealers, an amalgam of faded bell bottoms and washed out, droopy tee shirts. Lori and I inched closer, as star-struck as when we were teenage girls screaming to hold their hands—even though their voices emanated through the radio. Forcing myself into composure, staring into John Winston Lennon's round wire-rimmed glasses, I was speechless.
So was he. "Hullo," the Liverpudlian slurred. Playfully, he plopped his hat on top of my head.
"Where do you girls live?" asked John's cohort, a bearded bloke whose hands were already exploring Lori's svelte silhouette, obviously with the devil in his heart.
Miraculously we all started walking together, our own fab four, toward my fifth-floor walk-up on Eighth Street.
"Want to come up?" Lori asked them.
She said what I was thinking but was too nervous to ask. Lori lived across the park, in a tiny studio on Sullivan Street, but I shared a two-bedroom with a pre-med student. In a half hour I was due at NYU, where I was studying for a Master's in Psychology.
A moment later I was opening the black gate to ascend above Wilentz's Eighth Street Bookshop: the infamous bookstore where I converted checks into cash in the days before ATM's, the hip gathering place of Beat superstars Ginsberg and Kerouac.
We were actually climbing the creaky winding staircases to the top floor—with this boy! As soon as we were inside my apartment—which cost $162.50 a month and had a working fireplace—John's buddy pounced on Lori. She was petite to the point of looking frail, but she was no pushover. Her liaisons with men, women, and combinations were far more brazen and widespread than mine, yet she kept pushing him away as if to prudently warn, "You can't do that." I smiled wanly at John, sitting in my living room whose design scheme was Post-College Dorm: cinder block bookshelves and mismatched furniture handed down from grandmothers in Florida.
It won't be long, I thought. What could John possibly be thinking? Not much, obviously. He was so stoned, he was nodding out. I'd read all about how devastated he was by his break-up with Yoko. Poor John.
I was having problems with my own boyfriend, a Bronx-born college crush who really had a hold on me. Miserably enduring medical school in Guadalajara, the guy I wanted to marry rebuffed my offer to quit my job and come live with him south of the border, leaving me lonely on Eighth Street. Most nights my roommate's boyfriend stayed over, a drummer who earned his living selling cocaine. He listened to Coltrane while I was trying to study Abnormal Psychology. Lori was on-again off-again with a heroin addict who lived in Alphabet City in an era that made Rent look tame.
Now, All My Loving had arrived in my apartment on Eighth Street. Lori was still fencing off John's lascivious companion. He kept saying yes; she said no. It seemed like a critical juncture in my young life: we were either going to sleep with John and his sidekick (whose name we never knew), or we were going to throw them out.
Lori threw them out.
I was incredulous. Even though I was shy and studious, I'd also been envious of Linda Eastman, once a mortal like me, a mere groupie, marrying Paul McCartney. Here was my chance to console and fall in love with my Beatle. If Linda could become Paul's back-up musician, I could certainly serenade John. And be adored by millions of fans. One kiss could change my life, couldn't it? Close your eyes and I'll kiss you…
It didn't matter that I doubted that John was capable of doing anything much that night—except passing out.
John's accomplice shrugged, and he guided a wobbly John out the door.
What were we thinking?
"Wait. Your hat," I managed to say, and placed it back on his head.
What was I thinking? I'm a loser, that's what.
John nodded, smiling. The only word he'd uttered had been "hullo." Hello, good-bye.
Then they were gone.
"What're we…crazy?" I shrieked to Lori. "Do you realize who we just forced to leave? John Lennon!"
Lori could have taught a Ph.D. course in one-night stands and kinky sex. Why did she decide to be so damn moral that night?
"His friend was a pig," she said, and then suddenly started having misgivings. "Oh my God, you're right. We made an idiotic decision. If we don't find them, we'll regret this for the rest of our lives."
She grabbed my arm and we raced back down five flights of stairs and into Washington Square Park…searching…searching. It won't be long now, we reassured each other, but no John. Not on Sixth Avenue. Nor Waverly Place. Nowhere, man.
John and Yoko would make up, ending his 18-month "Lost Weekend" period, but they would live happily ever after for only seven more years. My would-be fiancé dumped me without warning during summer break, catapulting me into an overwrought period of despair, where I often found solace in Beatles' songs. And when our careers took us in different paths, I'd lose touch with Lori and never see her again.
Sometimes I regret not consoling John that night. I could have cuddled with him and expressed empathy using the methods I was studying in grad school. More likely: the next day I would've called his name—and he would've flown.
Seven years after the Lennon affair that wasn't, hours after John was murdered outside of his Dakota apartment, I gathered alongside thousands of mourners in Central Park in what is now Strawberry Fields. First JFK, then Martin Luther King, Bobby, and now John. Collectively we mourned our working class hero. Crying in unison, we sang repeated stanzas of "Give Peace a Chance."
I wished I'd kept his hat.