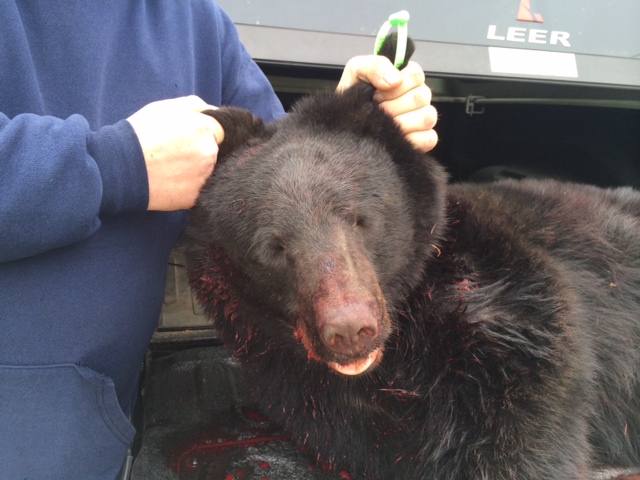 FREDON – Will Jiroux Sr. has a taste for hunting.
"I like to eat the game that we shoot," said Jiroux, 61, of Lafayette, on Monday, the first day of New Jersey's annual black bear hunt, as workers at the state Whittingham Wildlife Management Area in Fredon weighed the still-steaming carcass of the 193-pound female bear he had just shot. "I eat bear. It's a little gamy, more so than deer. It's very good for you. I have no problem with it."
But across the road from the place where successful hunters received a commemorative cloth patch and a black bear recipe guide, about two dozen protesters made the assembled hunters, state employees and State Police officers know that they had a big problem with the hunt.
"Murderers! Cowards! You piece of garbage!" yelled Jerome Mandel, 69, a retired science teacher from Newton. "Who goes and kills an innocent animal and ends a life for no reason at all? Instead of killing innocent animals, maybe they ought to start killing executing some of the prisoners in jail who have murdered and raped and committed heinous crimes."
"Instead of giving them hunting licenses," chimed in another protester.
State officials expected that more than 7,000 bear hunting permits will have been obtained by licensed hunters from New Jersey and other states for this year's hunt by Monday morning. The hunt will continue until shortly after sunset on Dec. 13. Although black bears have been reported in all of New Jersey's 21 counties, the hunt will be concentrated within a 1,000-square-mile area north of Route 78 and west of Route 287. Hunting zones are located in parts of Hunterdon, Morris, Passaic, Somerset, Sussex and Warren counties, plus a small area of western Bergen County. According to state officials, 251 bears were taken in last year's hunt. The bear population has been reduced in the targeted area from an estimated 3,400 bears in 2010 to approximately 2,200 to 2,500 bears, state figures show.
"We set up a hunt because of the rising number of black bear and the societal pressure that was building, especially in northwest Jersey. People were having house and campsite break-ins, livestock kills and crop damage," said Larry Ragonese, press director at the New Jersey Department of Environmental Protection (NJDEP), noting that this was the fifth year in a row that the black bear hunt was held. "While we agree with [the protesters] about trash management, research and education [regarding the black bear population], you need to reduce the numbers of bears to go along with that. You have to manage your ecosystem. We're the responsible adults."
For Jiroux, the annual culling of New Jersey's bears reminded him of his job.
"When were gutting that bear out, we had about 12 of them around us. We could've kept going," said Jiroux, a landscaping contractor, as he removed the cigar from his mouth. "If they say you need to shoot bear, then you need to shoot bear. I'm around trees and shrubs all day long. Sometimes, you have to trim them. We're doing good."
But according to Merrilee Cichy, of Little Falls, a regional director of the League of Humane Voters of New Jersey, the hunt is doing something else for the man whose administration backed it for the past five years.
"This is one of the things Gov. Chris Christie intended to do when he took office," said Cichy about New Jersey's chief executive and a potential 2016 Republican presidential candidate. "I think that he doesn't want to do anything to offend certain demographics nationally. He's trying to appeal to states where hunting is more of a way of life."
For hunter Tim Oswald, who killed his first bear of Monday, hunting is a way of life he wants to continue in New Jersey and beyond.
"I'm anxious to get a rug made, and I'll eat the meat," said Oswald, 47, a mechanic from Danielsville, Pa. as he prepared to drive away with an almost 200-pound male. "Sitting out here in 19-degree weather to some people is crazy. But your adrenaline starts pumping. You know you have the opportunity to harvest an animal. When the opportunity comes, you take it. I like the thrill."