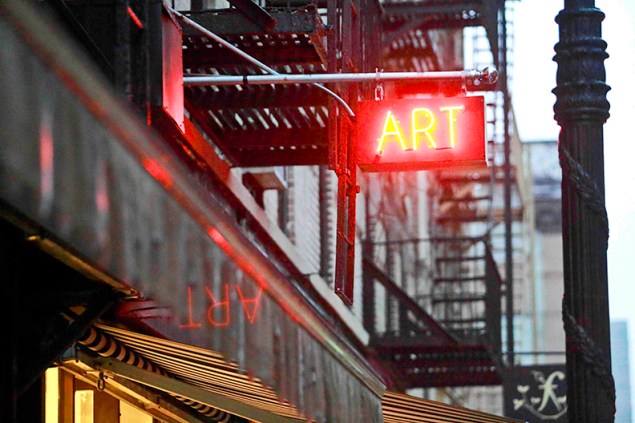 There are a ton of galleries in New York. So many, in fact, it's hard to keep track of newcomers to the scene. From a former dollar store in deep Bushwick to a former tenement building on the Lower East Side, here are five relatively new galleries we're keeping our eyes on in 2015.
99 ¢ Plus and Handjob Gallery/Store, 238 Wilson Avenue, Brooklyn
This artist-run gallery is named after—and still occupies—a former 99-cent store in Bushwick. For their inaugural exhibition last April artists/founders Simran Johnston, Zoe Alexander Fisher, and Riley Strom invited nine curators to each choose work by eleven artists. In the end, the entire exhibition featured 99 artworks all priced under $1. This is a fully functioning gallery with a rotating exhibition schedule, that also provides space for a small design shop run by Ms. Fisher called Handjob Gallery where limited edition artworks are sold, and studio space for the founding artists.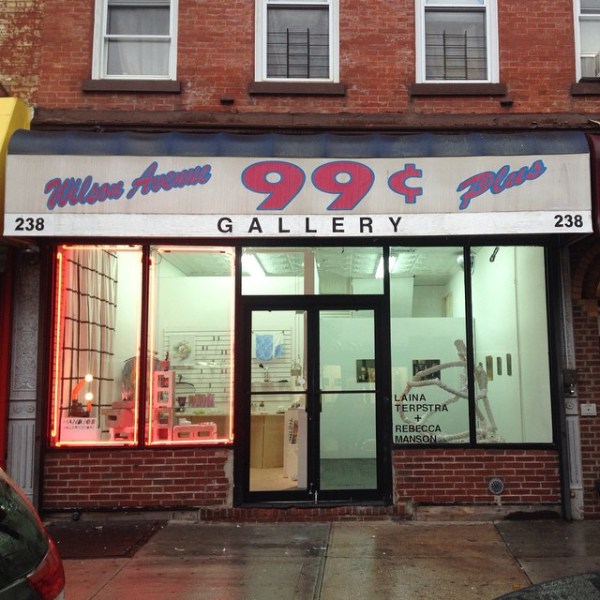 Catinca Tabacaru, 250 Broome Street, New York
Previous to founding the gallery in 2010, owner and founder Catinca Tabacaru was a litigation attorney and served as executive director of Women's Voices Now, an organization that provides a platform for expression through filmmaking to women living in Muslim-majority communities. Ms. Tabacaru officially opened the first physical space for the gallery in May 2014, with an inaugural group show of works on paper by Swoon and Gail Stoicheff, followed by a show about the color red with pieces by Doo-Jin Ahn, Barnaby Furnas, and more. Solo shows so far have featured Justin Orvis Steimer, Greg Haberny, and Tamara Mendels.
Garis & Hahn, 263 Bowery, New York
Garis & Hahn opened its doors on the Bowery in January 2013. Run by co-directors Mary Garis and Sophie Hahn, the gallery presents itself as a "gallery-cum-kunsthalle" specializing in themed exhibitions by guest curators, like "Dying on Stage: New Painting in New York" "What is an art book?" and "Leaps into the Void: Shamanism, Meditation, Transcendence, Oblivion." While young, it already boasts 36 artists on its roster, has participated in international art fairs like Cutlog and UNTITLED., participated in arts initiatives like the New Museum's Ideas City festival, and organized overseas pop-up shows at Paris' Salon Zurcher.
LYNCH THAM, 175 Rivington Street, New York
Longtime curator and dealer Florence Lynch (who used to have own gallery in Chelsea) has teamed up with Bee Tham to start LYNCH THAM, a Lower East Side-based Contemporary Art gallery that shows established, mid-career, and emerging artists. They have popped up just about everywhere since opening in March 2013, with booths at Pulse, the Dallas Art Fair, Moving Image, and Volta NY. They've presented solos shows by Art world veterans like Walter Robinson and Pedro Calapez, historic exhibitions and panels on Post-War Italian artist Guglielmo Achille Cavellini, and group shows with works by Martin Creed, Yves Klein, Andy Warhol, Mona Hatoum, Robert Ryman, Barbara Kruger, Carl Andre, Shirin Neshat, and more.
William Arnold, 94 Scholes, Apt. 3R, Brooklyn
The youngest gallery on our list, and only accessible by appointment, William Arnold opened in September with a show titled "New Systems, New Structures," featuring Darja Bajagić, a young Yale grad known for her controversial sexually explicit collages, Jon Rafman, who started the virally popular blog project Nine Eyes of Google Street View, and Jesse Stecklow, who is part of the Los Angeles-based artist collective Jogging. Currently, the gallery has another group show up with works by Ms. Bajagić, Vanessa Billy, Aleksander Hardashnakov, Kate Levant, and Andy Schumacher titled "Time Remembered." We look forward to great things.