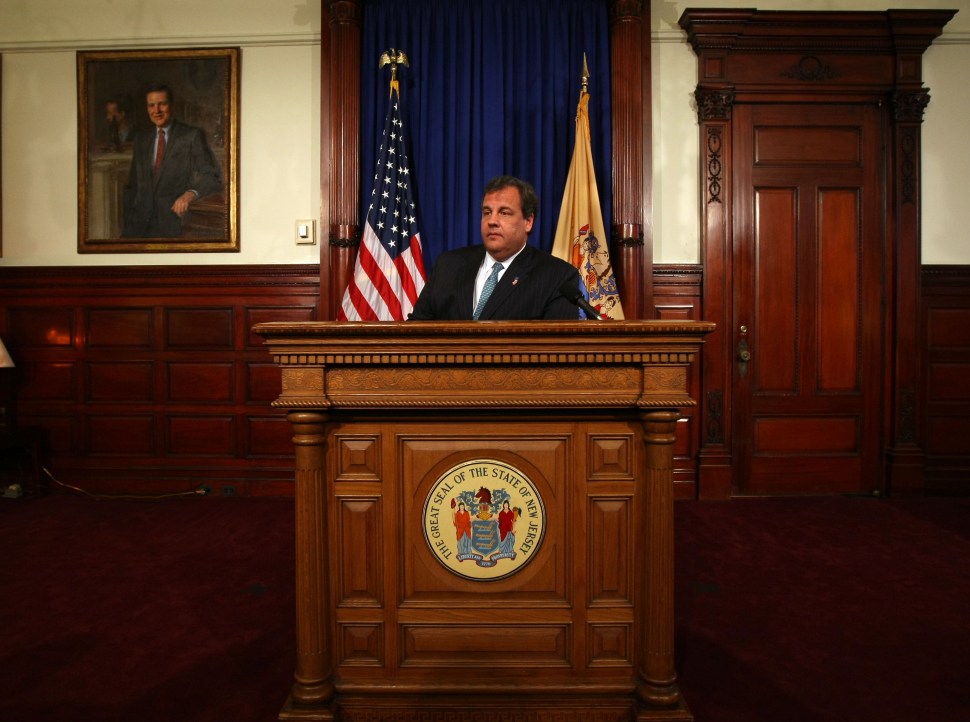 New Jersey voters want a new rail tunnel to the big city as Gov. Chris Christie — who scoffed at a proposal to give them one just three years ago — finds his approval rating still hovering at near-record lows, a new Quinnipiac poll finds.
New Jersey voters support building a new rail tunnel between the Garden State and Manhattan, 53 to 37 percent, with support from every region in the state, according to the poll, which was released this morning.
Support for a new rail tunnel ranges from 47 – 44 percent among voters in the Philadelphia suburbs to 60 – 33 percent among suburban voters. Support is 62 – 30 percent among Democrats, 51 – 40 percent among independent voters and 47 – 41 percent among Republicans. Among the 11 percent of New Jersey voters who commute to New York City for work, support for the tunnel is 68 – 27 percent.
Christie, a Republican whose name has circulated as a possible presidential candidate in 2016, scrapped a move to expand rail capacity between New Jersey and midtown Manhattan with the $8.7 billion dollar Access to the Region's Core, or ARC tunnel, in October 2010. He argued at the time that it would bring with it an "unexcitable level of risk and cost that was being asked to be borne by the taxpayers of the state of New Jersey."
In response, Amtrak proposed the "Gateway Tunnel" project in February 2011, which includes building two new Hudson River tunnels to Penn station, four tracks through the New Jersey Meadowlands, replacement of the trouble prone 100-year-old Portal Bridge and construction of a New York Penn Station south.
"Last time, Gov. Christopher Christie didn't want New Jersey to be stuck for most of the cost of a rail tunnel that 'ended in Macy's basement.' This time, voters support the tunnel and say it will be good for the economy. We'll have to see what sort of plan the governor will go for," said Maurice Carroll, assistant director of the Quinnipiac University Poll.
The poll also finds that voters oppose increasing the gasoline tax to finance road and mass transit improvements, 58 to 39 percent.
"The other transportation issue, how to bail out the broke transportation trust fund, crosses the double white line for a head-on collision with a cardinal rule of New Jersey politics: Don't hike the gas tax," Carroll added, referring to the state's depleted Transportation Trust Fund, which other lawmakers, like Senate President Steve Sweeney, have championed in recent months.
Opposition is 69 to 27 percent among Republicans and 59 to 39 percent among independent voters. Democrats support a tax hike 51 to 46 percent. Opposition to the gas tax hike is 54 to 46 percent among commuters and 58 to 38 percent among those who don't commute.
Christie's job approval rating: still low
When it comes to the state's top executive, voters gave Christie a mixed job approval rating, with 48 percent approving of the job he's doing and 47 percent disapproving.
In October, a similar Quinnipiac poll found a 46 to 45 percent approval rating split for the governor, continuing an 11-month slump which began when the scandal surrounding the closures of commuter lanes at the George Washington Bridge last year broke.
Approval is 82 to 12 percent among Republicans and 51 to 45 percent among independent voters, while Democrats disapprove 74 to 20 percent.
"Gov. Christie's job approval numbers continue on the tepid track that started with the Bridgegate story, a dramatic contrast with the heady 2013 days when he was swooping to re- election," Carroll said.
The poll is based on 1,340 registered voters, surveyed between December 3 to 8, with a margin of error of +/- 2.7 percentage points. Live interviewers call land lines and cell phones.
Read it here.