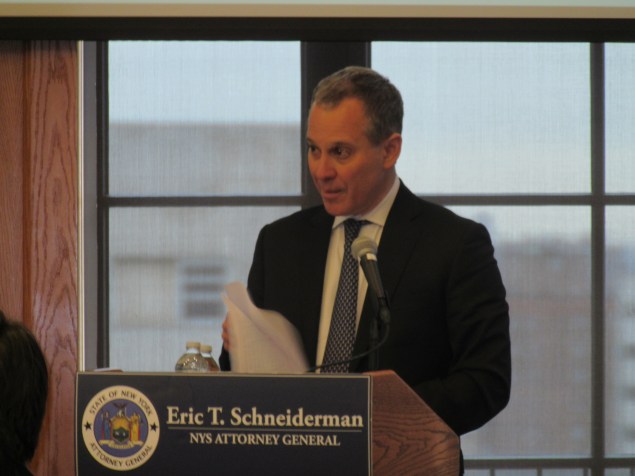 Attorney General Eric Schneiderman today rolled out AGScamHelp, a new web app that will allow homeowners battling foreclosure to dodge fraudsters.
Speaking at Brooklyn Law School, Mr. Schneiderman–who has made the foreclosure crisis clean-up the centerpiece of his administration–debuted his new site, which lets homeowners look up whether a group or individual offering legal assistance in retaining one's home has government certification. It also helps New Yorkers locate free, legitimate counseling services to get mortgage modifications and to report scammers, who he said have swindled countless citizens looking for help.
"This is an unprecedented use of technology to make New York the safest state for families to avoid foreclosure scams," he said, noting that his Homeowner Protection Program has set up a network of 85 approved service groups. "These agencies provide excellent free services. However, there are a lot of other people out there soliciting the business of New York families who are not providing free, excellent services. Indeed, their services are neither excellent nor free. And that's where we come to the mortgage scam app."
He also touted his success in obtaining massive settlements from banks believed to have bundled bad mortgages into securities they sold to investors as strong and reliable. Mr. Schneiderman noted substantial portion of that money has gone into counseling programs.
"Since I started on this path four years ago, New York has done better than any other state in getting access to assistance programs that they're eligible for," he said.
AGScamHelp will be coupled with a less tech-savvy program of snail-mailing postcards with tips for avoiding con artists to homeowners in danger of foreclosure.
Mayor Bill de Blasio's Department of Consumer Affairs Commissioner Julie Menin was on hand to lavish praise on Mr. Schneiderman and his new app.
"An informed public is the best defense we have against all kinds of fraud," Ms. Menin said, also encouraging citizens who suspect they have gotten scammed to call her agency.