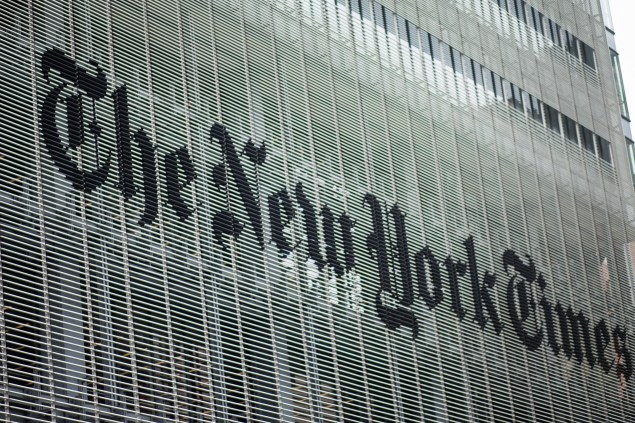 New York Times advertising reporter Stuart Elliott is the latest longtime staffer to take a buyout package from the paper. Mr. Elliott, who has been at the paper for over 23 years, announced the news in a Facebook post this morning:
For many, many years covering advertising, marketing and media, I've written about people are "leaving to pursue other interests" or leaving "to explore career opportunities" or even to "spend more time with (his/her) family." Now I am going to be one of those people. After 23 1/2 wonderful, stressful, exciting years at The New York Times — writing the daily Advertising column, daily and weekly Addenda (with all those people items) and for almost 14 years the weekly In Advertising email newsletter — I am going to be leaving. I am taking part in the (generous) buyout offer The Times has made to longtime employees and my final day at work will be Dec. 19. It is scary, and exciting, and I want to thank everyone who has helped me all these years in tackling this demanding job. (Those who didn't help, you know who you are.) I look forward to staying in touch here and all the best for the holidays and the new year!
The media desk seems to have been hit especially hard by this round of buyouts. In addition to Mr. Elliott, television reporter Bill Carter and media reporter Christine Haugney have announced their departures.
The Times was aiming to cut 100 positions through buyouts, and the deadline to apply was this past Monday. Last night, the Newspaper Guild, the union that represents manyTimes reporters, announced that the newspaper had accepted 57 buyout requests and is still assessing whether it will resort to layoffs.
"A day after the deadline to submit buyout requests, 57 of 63 Times Guild members who applied have been approved. Management told the Guild it is still assessing the buyout requests it received from excluded employees, and expects to have a clearer picture about layoffs by early next week. Its initial target was to cut a total of 100 newsroom jobs, both Guild-covered and excluded employees," the Guild wrote in an email. "If there are layoffs, they could begin as early as Dec. 15, a day before the end of a revocation period given to all approved buyout takers. Most departing employees' last day will be Dec. 19."
In addition to the media reporters, there are many other employees that both Times readers and staffers are sad to see leave.
"It's hard to put a price on what those hard-won skills are worth," Times media reporter David Carr wrote in his column this week. "The Times will always be bigger than any one individual and will no doubt find people inside and outside the building who will do their own version of amazing things, but it's still scary to think about making our way without some of the people who plan to leave."