With revenues smashing the $2 billion mark in the fiscal year ending July 1, 2014, the market for Contemporary art has never been hotter. It should come as little surprise, then, that the living blue-chip artists whose works are commanding top dollar on the block are enjoying a slice of the pie—with some 75 artists in the New York area alone notching a net worth in excess of $1 million, according to London-based art market guru Georgina Adam, author of Big Bucks: The Explosion of the Art Market in the 21st Century. (Of course, artists generally don't receive a slice of the monies their artworks make at auction, but those record prices inflate what their art dealers can charge for work.) These five New York artists lead the pack, their assets estimated and tallied by intelligence providers, such as Wealth-X.
1. Jasper Johns
Estimated net worth: $300 million
Art's elder statesman is known for his renderings of the American flag in all manner of media, including bronze, lithographs, prints, and encaustic paintings, the later being the most highly valued. This past November, the artist's Flag, 1983, an encaustic on silk flag mounted on canvas measuring 11 5/8 x 17 1/2 inches, blew past its $15 million to $20 million estimate, to fetch $36 million at Sotheby's New York. As the legend goes, the artist had a dream in which he painted a large American flag, which he then set out to do the following morning. The previous record for Mr. Johns at auction had been set by a larger edition of this iconic subject executed in the mid-1960s and acquired by the late author Michael Crichton, which sold for $28.6 million at Christie's New York in 2010. Long based in Stony Point, just north of New York City, the 84-year-old Mr. Johns crossed the state line in 2012, settling in Sharon, Conn.
2. Jeff Koons
Estimated net worth: $100 million
In November 2013, Mr. Koons, who is noted for translating pop culture subjects from Popeye to Michael Jack- son into gleaming metal sculptures, became the most expensive living artist at auction when his mirror-polished stainless steel Balloon Dog (Orange), 1994–2000, sold for $58.4 million at Christie's New York. More recently, his Balloon Monkey Orange, 2006–13, sold for $25.9 million at Christie's New York in the wake of the artist's retrospective at the Whitney Museum of American Art. The York, Pa., native, who settled in New York in 1977, worked at Museum of Modern Art's membership desk and later as a successful commodities broker before his career as an artist took off in the 1980s. Today, the Chelsea-based, business-savvy Mr. Koons, 59, churns out his kitsch creations in a 16,000-square-foot factory with the help of 100 assistants, yet he told Bloomberg, "I don't believe that artists really are interested in money. That's not the motivation for art."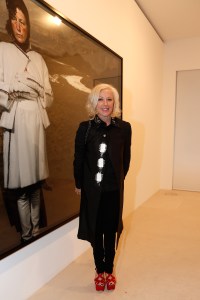 3. Cindy Sherman
Estimated net worth: $35 million
The 60-year-old photographer and filmmaker, who has used her conceptual visual narratives to explore how women are perceived in society, briefly held the record for the most expensive photograph ever sold at auction when her Untitled #96, 1981, brought $3.9 million at Christie's New York in 2011 (Andreas Gursky's Rhein II, eclipsed Ms. Sherman in November of that year). This past November, a collection of 21 of Ms. Sherman's black-and-white Untitled Film Stills dating from 1977 to 1980, found a buyer at $6,773,000, also at Christie's New York. The images were from a series of 69 self-portraits in which the artist assumes various roles in a variety of settings, evocative of stills from Italian neorealist films of the 1940s. Ms. Sherman received a MacArthur Foundation "genius grant" in 1995.
4. Richard Prince
Estimated net worth: $30 million
Mr. Prince may be obsessed by cowboys, which figure prominently in his paintings and photographs, but the prices paid for them are anything but cow fodder. The artist record for the 65-year-old Mr. Prince was set this past May when a 2002 print, Nurse of Greenmeadow, brought $8.6 million at Christie's New York. It was the second work to cross the $8 million mark on the block since 2008, with others recently changing hands in the $4 million to $6 million range. His Untitled (Cowboy), a photograph from 1998, sold for $3.75 million at that same Christie's sale. Mr. Prince's technique of "rephotography" of images of others has landed the artist in legal hot water with a suit or two having been brought by those claiming copyright infringement.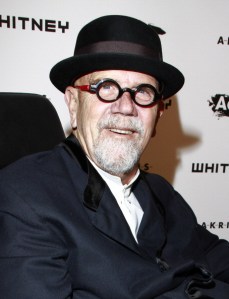 5. Chuck Close
Estimated net worth: $25 million
The prolific 74-year-old East Village-based photorealist has witnessed sustained demand for his massive gridded mixed-media portraits over the years, with prints continuing to sell for up to $100,000 on the block. His artist record stands at $4.8 million, set for John, 1971–72, an acrylic and gesso on canvas, which sold at Sotheby's New York in May 2005. Works by the Yale-minted artist are held in the collections of institutions such as Tate Modern in London and the Centre Georges Pompidou in Paris.