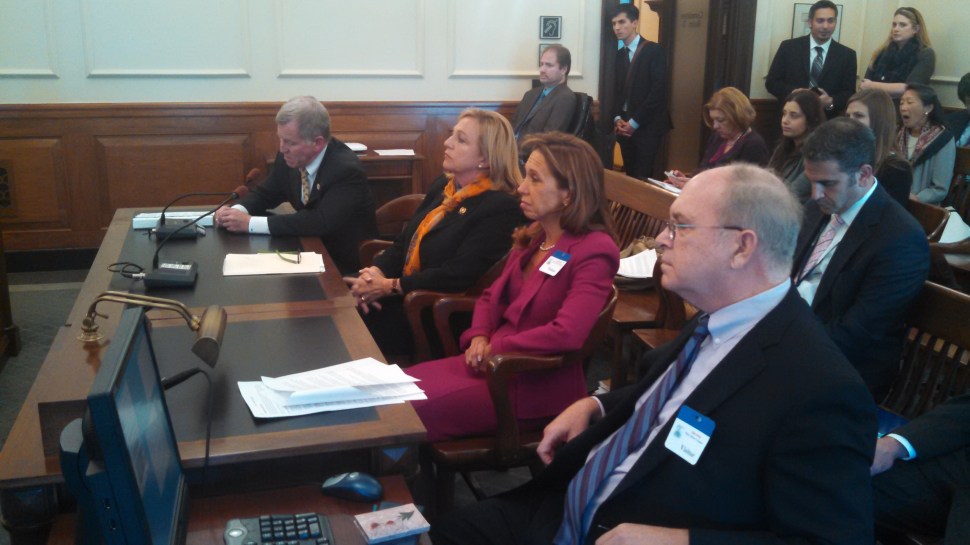 New Jersey lawmakers hoofed it across the river yesterday to join their New York counterparts in calling on the states' two governors to approve measures aimed at reforming an embattled Port Authority in the aftermath of "Bridgegate," the ongoing controversy surrounding last year's lane closings at George Washington Bridge.
State Sen. Robert Gordon and Assemblywoman Valerie Huttle spoke at a press conference with New York Assemblyman James Brennan and other officials about recent legislation, passed unanimously by the legislatures on both sides of the river, meant to open up the  historically-obscure Port Authority to the public in the wake of that scandal. The bills, identical versions of which have already been passed by all houses in New Jersey and New York, cover an array of perceived problems at the organization, a mutli-billion dollar agency whose responsibilities include overseeing operations at Newark Liberty, LaGuardia, Kennedy, Stewart, Atlantic City and Teterboro airports, the Port of New York and New Jersey, and the PATH mass transit system.
But despite their widespread support, neither Gov. Chris Christie nor New York Gov. Andrew Cuomo have approved the bills yet — though they must do so by the end of the year for the changes to move forward. According to the Observer, a sister publication of PolitickerNJ, yesterday's bi-partisan and bi-state group convened to bring attention to that fact.
"The legislatures of both states have done their jobs. Governor Cuomo and Governor Christie have not signaled their intentions regarding this legislation, and that is why we are here," said Brennan, a Democrat.
"The changes that we are trying to make here are just so compelling and not very controversial. These are all good government measures," said Gordon, who also serves as the Senate Majority Conference Leader. "The bill attempts to take the Port Authority out of the shadows."
Among the changes included in the bills are provisions to enhance both transparency and accountability at the Port Authority, requiring mandatory annual reports by the agency to both states' legislatures and whistleblower protections for employees who report what they believe to be impropriety, and others which would subject the agency freedom of information laws, requiring the agency to turn over any documents deemed public by either of the two states.
The presser comes after Brennan, Huttle, and Gordon teamed up at an Assembly panel hearing in October to promote the bills — as well as two days after New Jersey's Select Committee on Investigation, the joint legislative body tasked with probing the controversy surrounding the lane closings last year as well as the well-known problems at the Port, held its latest hearing, during which it released it's much-harangued interim report.
According to the Observer, a Christie spokesman said the governor had taken the legislation "under review," while Cuomo's office did not immediately respond to requests for comment. The legislators suggested they would attempt to override their respective governors should they veto the bills.