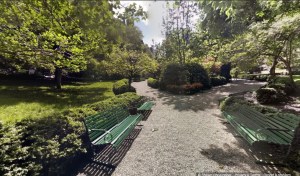 Gramercy Park is the forbidden fruit of New York City parks. Until recently, the park was only accessible by key. Its tall iron gates and fence spelled temptation for passersby who could only satisfy their curiosity by peeking through the railings at its plants and well-kept pathways.
But thanks to one intrepid tourist and Google Maps, the off-limits park is now open for viewing—at least virtually.
The New York Times reports that Shawn Christopher, a computer programmer and former army sergeant who was visiting the city on his honeymoon, gained access to one of the park's 383 keys while renting a room via Airbnb. "When I found out where I was, I thought, 'This has to be captured,' " he said. Mr. Christopher took three panoramic shots on his phone, and uploaded them to Photo Sphere, a Google App.
The Park is notorious for its bans on commercial photography, which undermines its purpose of "pleasant enjoyment," according to Arlene Harrison, president of the Gramercy Park Block Association–even film requests from Woody Allen and Robert De Niro have been rejected in the past.
While Ms. Harrison won't be requesting that these photos be taken down, she told the Times that she would have told Google no, had they asked to take photos. However, she's more concerned about the presence of Airbnb on the park, than the presence of Google.
Even though the park can be safely viewed from behind the screen, it's best not to get any ideas of visiting in person without a key. "There are people watching the park at all times," Ms. Harrison told the paper. "If something happens, if they see a camera or a ball, you better believe I'm getting a call about it."