It's the first week of December, so you know what that means: tree lightings, hot cocoa, breaking out your favorite pair of buttery leather gloves — and, of course, a steady stream of party photos from New Yorkers who've decamped to Miami for Art Basel.
Yes, try as you might to enjoy NYC's chilly weather in the spirit of the holidays, one of the most FOMO-inducing events of the year is taking place in sunny Miami. New York party stalwarts such as Peter Brand, Stephanie Seymour, the Misshapes' Leigh Lezark, Geordon Nicol and Greg Krelenstein, Jeremy Scott, Alexandra Richards, Annabelle Dexter-Jones, Atlanta Cadenet Taylor, Joe Jonas, Prince + Jacob, Dev Hynes and many, many more will be inundating your Instagram feed with snaps of warm-weather revelry from now until Sunday.
You might start to wonder if you're the only one who's chosen to stay behind in New York. Rather than shut your phone off to stanch the flow of sunny party snaps, take a look at our list of fellow stalwart New Yorkers who aren't budging from the five boroughs this Art Basel — plus the few Angelenos who are coming to visit us in hopes of promoting their Oscar-bait films as they start trickling into theaters.
• Lauren Santo Domingo — She hosted a super-swank benefit for the American Hospital of Paris Foundation at the Plaza Hotel last night along with her husband, Andrés, and designer Charlotte Moss. We're sure nobody at that event was wishing they were slogging free champagne at an open-bar party down south.
• Allison Williams — She's busy rehearsing for the highly anticipated (by Twitter, at least) Peter Pan: Live, which airs on NBC on Thursday.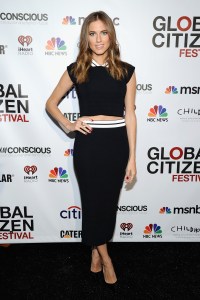 • Hailey Baldwin — This model-to-watch is in town for an event at Topshop on Wednesday. If anyone's going to catch the red eye down to Miami after work so as not to miss out on the fun, though, it's her.
• Ashley Olsen — She appeared at a comedy event at Caroline's last night to support her former TV dad, Bob Saget, while her contemporaries no doubt got into some slightly-less-wholesome fun in Miami.
• Coco Rocha — The pregnant model is appearing at Mashable's Media Summit on Dec. 5, along with Cosmo EIC Joanna Coles and Orange Is the New Black author Piper Kerman.
• Elle Fanning — Never one to shy away from a hot event or its accompanying red carpet, Ms. Fanning will be missing out on Miami. She's joining us in NYC as she shoots the new movie Three Generations.
• Tavi Gevinson — The enigmatic writer-actress moved to NYC earlier this fall. She is participating in a panel with her Broadway This Is Our Youth co-stars, Kieran Culkin and Michael Cera, rather than leave her newfound home for the art-party circuit.
• Blake Lively — She and her baby bump are making the red carpet rounds up north this week.
• Cameron Diaz — She's shunning Miami in favor of promoting Annie here in town. She'll probably still have an enviable tan, though.
• Angelina Jolie — She's promoting Unbroken in town this week with a screening.
• Robert de Niro — We thought Mr. de Niro never missed a festival of any sort. Turns out, he'll be here in NYC for a movie premiere, too, as The Power of Words screens on Dec. 5.
• Bradley Cooper — His Broadway debut in The Elephant Man, alongside Patricia Clarkson, is finally opening this week.
• Last but not least, The Duke and Duchess of Cambridge — They're coming to town for three days only, and spending them all in New York. Take that, Florida.