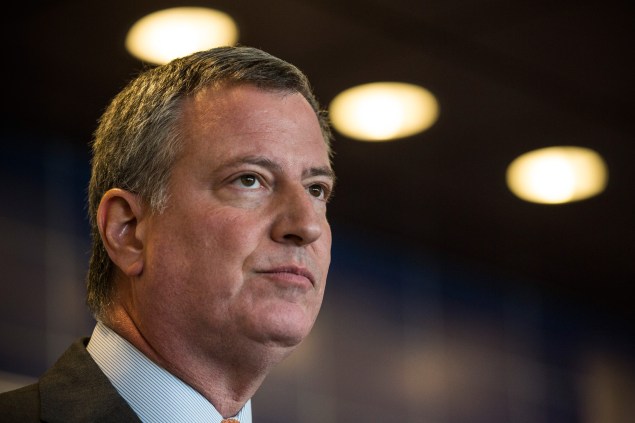 Mayor Bill de Blasio said today he is not ruling out pursuing a pied-à-terre tax in Albany next year, shooting down a New York Post report that said he had given up on the idea.
"I haven't ruled out anything. I mean, we are putting together a legislative agenda for the new session in Albany that will start in January," Mr. de Blasio told reporters at an unrelated press conference in the Bronx. "A whole host of issues have to be looked at."
Mr. de Blasio said a "number of different proposals" related to affordable housing would be on the table for his legislative agenda, though he did not specify what he would want to see passed in the state legislature. "We have not ruled in or ruled out anything. There's a process that we'll complete this month that will lead to a formal legislative agenda," he said.
The Post reported yesterday that Mr. de Blasio would not fight for a bill, proposed by Democratic State Senator Brad Hoylman, that would levy a tax on apartments valued at $5 million or more that are owned by absentee landlords. Mr. de Blasio, a fellow Democrat, reportedly gave up on the bill because it has no chance of passing the Republican-controlled State Senate.
"My understanding is a luxury tax for absentee landlords is not going forward," a source told the newspaper. "The absentee-landlord tax is a nonstarter."
For Republicans, the pied-à-terre tax indeed appears to be a nonstarter. A spokesman for the Republican conference told the Observer last month that the GOP would oppose any attempt by Mr. de Blasio to introduce a new real estate tax and the industry, which spent heavily to return the Republicans to the majority, argues such a tax would only hurt the city's business climate.
Alicia Glen, the deputy mayor for housing and economic development, said in November the de Blasio administration would be open to pursuing new real estate taxes when the state legislature is in session next year. New York City needs the permission of Albany to alter much of its tax structure.
"We've begun to lay out some basic concepts for that as we get ready to go to Albany and I think there is some general consensus that, for the City of New York to really do what we need to do for the public and to have the housing stock that we need, that to be able to capture some portion of this extraordinary real estate market is an appropriate way to go," Ms. Glen said.