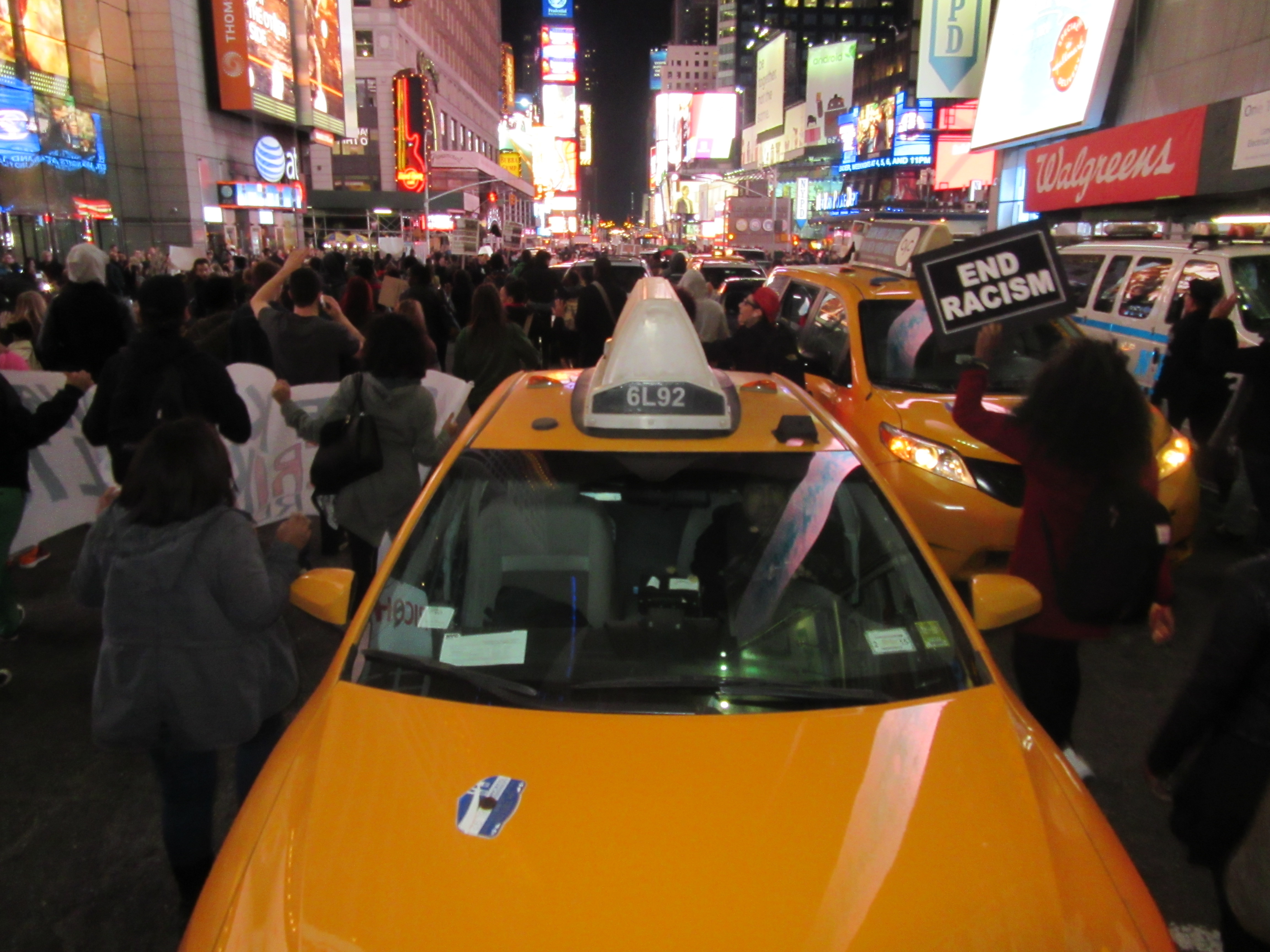 After days of protests against a Missouri grand jury's decision not to indict a police officer for killing an unarmed teen choked New York City roadways, Mayor Bill de Blasio and Police Commissioner Bill Bratton said they'll continue to allow for peaceful demonstrations–and are gearing up for more of them when a Staten Island grand jury reaches its decision in the Eric Garner case.
"Will they engage in some type of demonstration, no matter which way the jury goes? Certainly," Mr. Bratton said of groups on Staten Island during a Brooklyn press conference. "But I think that there will be the ability that, people get to have their voices heard without disturbance. We are, on the other hand, on the police side, we'll naturally gear up to deal with any potential contingency that might occur."
Mr. Bratton said he is expecting a decision from the grand jury this week about whether to charge police officers in the death of Garner, an unarmed black Staten Island man who died as a white police officer tried to arrest him for selling loose cigarettes. The medical examiner ruled Garner's death a homicide caused by a chokehold, a maneuver prohibited by the police department.
The mayor said today he believed the commissioner–whose broken windows policing some activists have knocked–had set the right tone for the city as it awaits the grand jury's decision.
"I think we've seen a very positive outcome where the NYPD respected the right of citizens to make their voices heard, was smart and creative and flexible in their approach, but kept order — and I think that will put us in a strong position for the days ahead," Mr. de Blasio said. "I think that in the end, anybody who feels strongly on the issue knows the difference between when they're being given an opportunity to state their feelings, versus when that opportunity is being denied, and here in the city there's a real respect for freedom of speech."
Since the announcement that Ferguson, Mo., police officer Darren Wilson would not face charges in the shooting death of unarmed Michael Brown, 18, there have been sporadic protests within the city, with marchers often tying together the deaths of Brown, Garner, and Akai Gurley, shot to death by a rookie cop in a Brooklyn housing project stairwell.
Those protests have sometimes caused serious gridlock — shutting down the West Side Highway, the FDR Drive, and other city streets, and sometimes blocking emergency vehicles. So far, there have been about 30 arrests, according to Mr. Bratton. Officials today said there was no hard-and-fast rule on when protesters would be allowed to take to busy streets.
"Obviously, at any point if an obstruction creates a larger problem, the police have the option to arrest the protesters. We give them due warning. Again–I give the NYPD great credit for having been very, very communicative when it gets to a point when people are on the verge of arrest. It's announced numerous times to give people a chance to reconsider their options," Mr. de Blasio told the Observer. "I think there's been a very smart and agile response, but we're certainly not gonna let any protest compromise our ability to get people the emergency help they need."
Chief of Patrol James O'Neill said the NYPD has a joint operations system that allows them to relay information to help emergency vehicles find clear paths. And Mr. O'Neill said the department would "take appropriate action" to clear any major intersections if protesters create traffic headaches.
"If we ask them to get out of the street, they should probably get out of the street," Mr. O'Neill said. "We need to get traffic and we need to get emergency vehicles through. We have to balance their rights with the rights of the other 8-and-a-half million other New Yorkers."
And Mr. de Blasio repeatedly stressed that the situation in New York is different from Missouri, saying police and government here had heard the message of those looking for police reform.
"In this city, the voices of the people are heard and the changes are happening.  I respect everyone's feelings and concerns, but I also hope that people can see with their own eyes that change," Mr. de Blasio said. "I don't judge how anyone reacts to any particular incident. What I am saying is that the underlying desire that many people have for change is begin heard and acted upon."