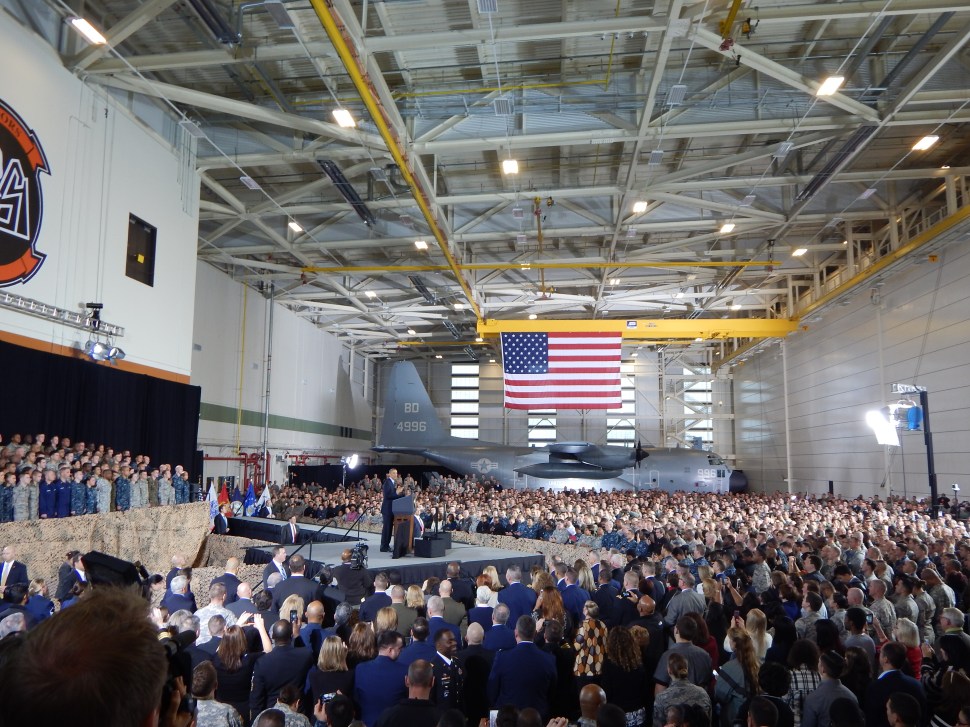 MCGUIRE AFB — President Barack Obama stood in front of a sea of U.S. troops here today and heralded the end of the war in  Afghanistan, commended America's military for "leading the fight against terrorist groups" in places like Syria and Iraq, and announced his support of a new $1.1 trillion spending bill, passed by Congress last week.
Obama, who arrived here on Air Force One before greeting the cheering crowd of hundreds, said the nation is "marking an important milestone" after "more than a decade of war" as it prepares to pull its final military presence from Afghanistan in the Middle East.
This month, after more than 13 years, "our combat mission in Afghanistan will be over," he said. "This month, America's war with Afghanistan will come to a responsible end."
He said that while Afghanistan is still a "dangerous place," America's military involvement has brought some peace and justice to the war-torn region. While the military will no longer retain a combat presence in the country, it will retain a residual transition one, mainly to train Afghan troops.
But he said in places like Iraq and Syria, where rogue terrorists organizations such as ISIS/ISIL continue to make headway and gain critical territory, the U.S. has also played an important role. US Secretary of State John Kerry said earlier this year that while U.S.-led airstrikes and aerial campaigns have done much to curb the groups' advance, involvement in the region could continue over the next number of years.
"Along with our coalition partners we are hammering these terrorists, taking down their fighters, commanders, hundreds of vehicles, tanks, nearly 200 oil and gas facilities," Obama said, adding that recent military moves have "thwarted [the group's] momentum and put them on the defensive."
Later, Obama emphasized the downsizing of the country's military presence in the region, a campaign promise he ran on in 2008. He said under his administration, the U.S. has brought home over 90 percent of its troops from places like Iraq in Afghanistan — down to fewer than 15,000 from the 180,000 when he took office.
He suggested the transition represents a "turning point" for the U.S. military.
"The time of deploying large ground troops and engaging in big nation building overseas, that's coming to an end. Going forward our military will be leaner," he said.
Obama also said that he would be signing Congress' new $1.1 trillion spending bill, including a new $557 billion in military defense spending. That bill, passed by Congress on Friday, would expand the fight against terrorist groups overseas by including provisions to train Iraqi troops and moderate Syrian rebels fighting the armed groups in the region.
The president was greeted upon his arrival here today by Gov. Chris Christie, who stood in the audience alongside other New Jersey officials as Obama made his address. Political observes have wondered at the pair's unlikely relationship since Obama first visited the state in 2013, shortly after Hurricane Sandy, when Christie, a Republican with presidential ambitions, made no hesitation in physically embracing the sometimes controversial Democratic leader.
Obama poked fun at the greeting earlier in his address, saying Christie's kids taught him how to play "that frog game" on the board walk.
He also quoted a New Jersey favorite, American rock artist Bruce Springsteen, lauding the troops gathered in the echoing hanger and saying "we take care of our own — that's what we do here in New Jersey, that's what we do all across America."
"Part of the message I'm here to deliver on behalf of the american people is very simple: thank you," he said. "Thank you for your extraordinary service."
"We Americans might disagree and debate and argue sometimes," he added later. "That's just the essence of our democracy. Sometimes it results in some gridlock in Washington, but whether liberal or conservative or democrat or republican, white, black brown, no matter who we are, when it comes to our troops, we stand united and we can never thank you enough."
Other New Jersey officials present in the audience included U.S. Senators Bob Menendez and Cory Booker (D-NJ), former U.S. Rep. Jon Runyan and U.S. Rep.-elect Tom MacArthur (R-3), and U.S. Rep.-elect Donald Norcross (D-1).