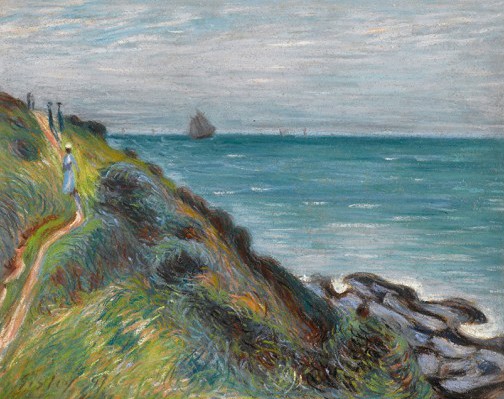 There's a event that takes place every winter in New York that's straight out of an Edith Wharton novel.
Wrapped tightly in scarves, mittens and, sometimes, since it takes place on the Upper East Side, furs, shoppers stroll down Madison Avenue ducking into townhouse after townhouse, clutching a map. Fancy small private dinners for art collectors follow — and then comes the haggling over price.
The event is Master Drawings New York, an annual weeklong exhibition of artworks — priced a few thousand dollars to a few million — in a host of small, specialist galleries. Thirty-four galleries, from 64th up to 81st Street, open for the week with special (free of charge) exhibitions. All the works are watercolors, pen-and-ink, charcoals, most of them by famous artists.
The first "Master Drawings" Exhibition was in 2006 and it has grown in popularity and population since, with some dealers coming from Europe, and renting out space in the area, to exhibit every winter. This year's exhibitions open to the public Saturday Jan. 24 and run through the following Saturday, with invite-only viewings on the 23rd.
Over the years, it's gotten very competitive, prompting dealers to try to one-up each other with big names or jaw-dropping pieces. London dealer Stephen Ongpin exhibition list alone this year  includes Thomas Gainsborough's Travellers Passing Through A Village, Paul Klee's Night impression of a Southern Town, Edgar Degas's A Seated Young Woman Plaiting her Hair, Henri Matisse's Standing Female Nude, Edvard Munch's Rocks on the Edge of a Sea, Paul Signac's Still Life with a Bowl of Fruit, Wayne Thiebaud's Ice Cream Cone and Odilon Redon's A Face in the Window.
Other galleries are bringing a Sir Joshua Reynolds, antique tarot cards and David Tunick, one of the best-known U.S. dealers in drawings, will show a Fernand Leger, Les Constructeurs of 1950, publicly shown only once before, in 1971 at the Grand Palais in Paris. It's been off the market for 34 years.
There's a smattering of works by women artists, also. Mary Anne Martin, a dealer in Latin American art, is showing a group of drawings by Frida Kahlo made between 1928-1946 including two political drawings representing Kahlo's "redesigns" of the Statue of Liberty, and a portrait of her nephew, Antonio, drawn circa 1940.
The so-called master drawings week is held concurrent with Old Master sales at the big auction houses that this year include a rare Caravaggio at Christie's.