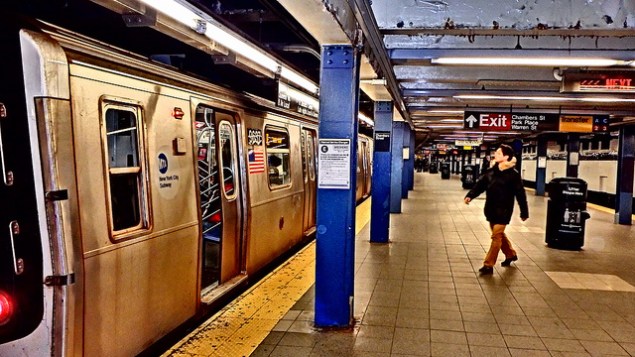 Mayor De Blasio said yesterday that his administration is on track to finance 16,000 units of affordable housing by year's end, Crain's reports, with 10,800 financed so far and another 5,200 scheduled to close before January. Which is a lot of units left to close financing on.
Others have noted that some of those units were also counted under Bloomberg; the de Blasio administration has said it plans to count any unit where it has "added value": "had to complete something that was started or start something new, put together the financing or put together the coalition, work through the rules and regulations, that's what we count toward our goal." Which means that the total of the two administrations will be something less than the 365,000 units built or preserved that their two housing plans would seem to yield.
De Blasio also claimed, at a different news conference, that contrary to a story in the Post, that he has not ruled out the pied-a-terre tax, according to Bloomberg. The Post had claimed that de Blasio wasn't willing to expend his political capital in Albany on something that would never pass.
Speaking of things that might be hard to pass: the Frick's increasingly unpopular expansion plan, which would put a new wing on top of a beloved garden. The Wall Street Journal reports that the museum has been caught somewhat off-guard by the virulent opposition to the plan: "What I find frustrating sometimes," the museum's director told the paper, "is people seem to brush right by the needs of the museum."
Eccentric, estranged real estate scion Robert Durst has been found not guilty of trespassing on family property after a two-day trial, The New York Times reports. "I'm not spending my time running around 43rd Street wanting to shoot my brother," he told the paper after the verdict, "as his lawyers cringed." Next week, he heads to court in Texas to face  charges that he urinated on a candy stand and cash register at a local CVS.
The Trust for Public Land has received a $444,000 state grant to design the first phase of the Queensway, The New York Daily News reports, a project that has yet to win city approval and is opposed by some who feel that the rail line would be better used as a rail line.
That deal between Yeshiva University and Montefiore may be off the table, according to Crain's. The memorandum of understanding in which Montefiore was to run Yeshiva's medical school in a joint venture has been terminated, seemingly because Yeshiva's finances are a mess. Moody's identified the school's outlook as negative give "the possibility that Yeshiva could exhaust unrestricted liquidity before successfully addressing its deep operating deficits."
On the topic of troubled institutions: comptroller Scott Stringer's office has released an audit confirming what we all knew to be true: Citi Bike's first year was kind of a management disaster. (Meaning that the program's popularity despite the many headaches for users is a minor miracle.)
City planning commissioner Carl Weisbrod claims that the city's capital spending will be better coordinated to support denser development than it was under the Bloomberg administration, Crain's reports. In neighborhoods targeted for denser development, identified as East New York and potentially Sunnyside and East New York by Mr. Weisbrod, capital spending is to be coordinated such that "any influx of residents does not strain schools, open space, sewers, the transportation network, libraries, the streetscape and other public infrastructure." Which would seem to be considerably more complicated than it sounds.
After all, it's hard enough to make the transportation network we currently have work at this level of density. Case in point: last night's rush hour subway meltdown. Gothamist reports that a manhole fire at West 4 caused delays on the B, D, F, M, R, A, C, and E lines, while a "computerized signal system" caused delays on the 1, 2, 3, 4, 5, 6 and 7 lines. And then a train at Times Square opened its doors on the wrong side and had to be taken out of commission.
All of which is to say that last night subway etiquette was more important than it ever has been. But if you have to eat on the train, this is the way to do it.