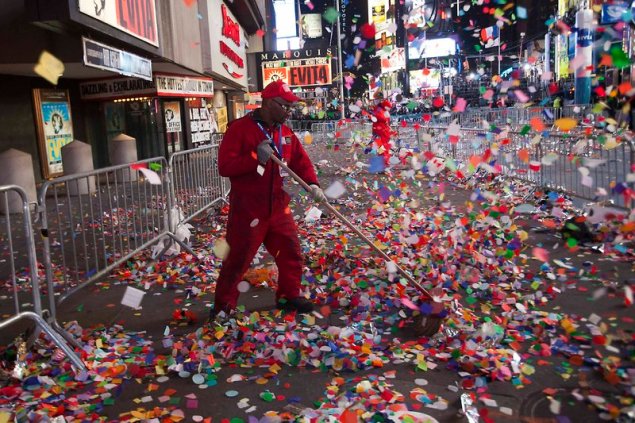 The end is near! And if you're wondering about who took the Jumbo DUMBO Deal, the Fall Guy, the Qatar and Run or the Crown King award, the place to look would be the Post's annual honors for New York real estate's highs and lows.
The Post also made the shocking revelation recently that property flippers actually make a strategy of selling apartments for more than they bought them for! Careful, kids. It's a wild, wild world out there…
Somewhat more novel is the Salvation Army's revamped outpost in Greenpoint, which takes the nonprofit's retail strategy to its natural conclusion, at least locally-speaking. The donation center has been reimagined as "a trendy boutique not unlike many of the hip retailers that have recently debuted outposts in the area," Crain's reports. "With hardwood floors and exposed-brick walls, the shop features vintage T-shirts handsomely arrayed on a billiard table, and coats artfully arranged in an antique armoire." And with holiday discards surely on the way, the next few weeks might just be an opportune time to go scavenging.
We're also reasonably sure that many people haven't quite gotten around to tipping the doorman yet. And if part of your reason for procrastinating is that you need a little advice, Brick Underground has you covered with a holiday tipping calculator. Hint: "When in doubt, everyone enjoys a fistful of cash."
City Lab, meanwhile, has a funny little essay about how the frustrations of driving in the city can turn a person into "an urban monster in just 10 minutes." After repeating an old mantra–You're not in traffic, you are traffic–to soothe her impatience, the author concludes: "I still like my city, and myself, a lot better when I'm not behind a windshield." Of course, in our experience, public transportation–even pedestrian travel–can turn a New Yorker into an Urban Monster in short order, too: This is water, this is water…
And if by any chance you were worried that DNAinfo might have fallen behind on the spotting-cute-animals-not-generally-associated-with-urban-life-right-here-in-the-city beat, you can breathe a sigh of relief. Goats! Right by IKEA!
We were optimistic earlier in the week that the weather might stay mild for New Year's Eve. That optimism, of course, proved misplaced. But residential brokers are perhaps even more upset than we are with the cold, according to the Daily News. The paper reports that "pending condo sales 26 percent between October and November."
We must admit, however, that our sympathies lie more with citizens of the Bronx, which, by virtue of impoverished residents, ranks as the least affordable rental market in the country, in spite of prices lower than elsewhere in the city. Welcome2TheBronx offers a consideration of the subject.