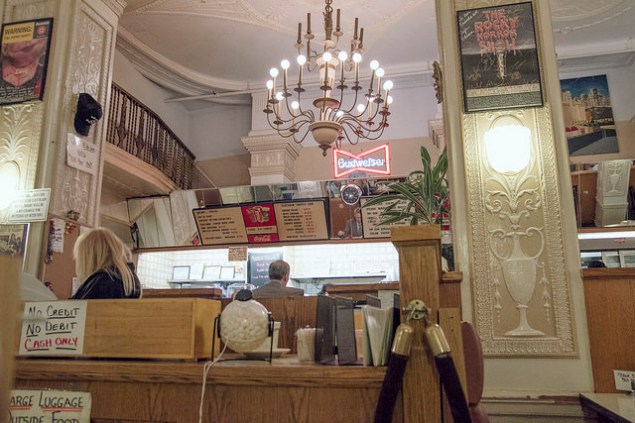 Real estate investors keen to drive up your rent across the city have bought a five-building portfolio in Washington Heights for $30 million, Crain's reports. The buildings, on West 173rd, contain 146 rental units of which 136 are stabilized. Looking for deals outside the Brooklyn market, "the buyer wants to hold the properties long-term and eventually convert the units into market rate so they can capitalize on rising rents in the neighborhood." Oh good!
Other bad news: despite a spirited fight to save it, Cafe Edison is closing this Sunday, Jeremiah's Vanishing New York reports. Another restaurant, The Wall Street Journal notes, that despite popularity and adept management, couldn't survive: "the reviews were good, it developed a loyal cult following, and it filled seats night after night. But in the end, Cafe Edison followed a familiar script in New York real estate."
Also, in addition to increasingly turning parks into mini malls, more and more parks conservancies are getting into the retail game. The New York Times reports that the High Line, for example, now sells $800,000 worth of branded merchandise a year.
Die hard, but sell easy? It took Bruce Willis less than a week to find a buyer for this three-bedroom pad in the El Dorado, the New York Post reports. The apartment was on the market for $12.99 million, which to our luxury scalded-ears doesn't sound so awful. Supposedly Mr. Willis and his wife like the neighborhood, but they're looking for a bigger place for the kids.
The luckiest parks department caretaker lives in Staten Island's Seguine Mansion. Gothamist, which recently visited the mansion, found out that unlike most caretakers, who have residences in the attic or basement, George Burke gets the run of the mansion. Why? Because it's actually his mansion. The whole complicated story is long, but it's worth it.
No more bunnies! The city council has passed a bunny ban, according to the Post. The bill, if approved by Mayor de Blasio, would ban bunny sales in pet stores, part of an animal rights package. The sponsors of the bill cite a doubling in number of rabbits at city shelters.
Developer F. Roy Schoenberg is suing the city over a deal he says that it backed out of to sell him a Lower East Side site that currently has a Pathmark Pharmacy, according to the New York Daily News.