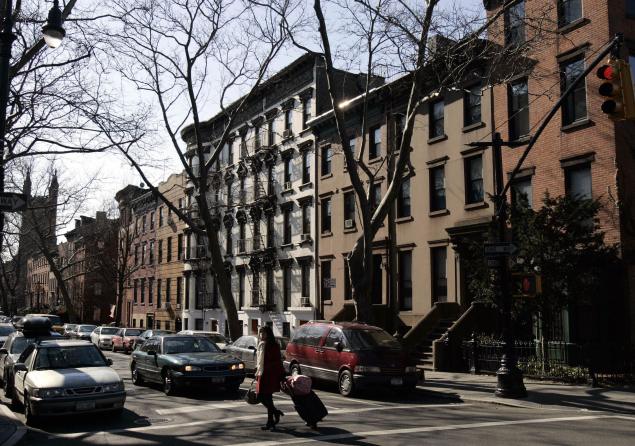 Now that Walker Tower has officially sold out, one of the building's developers is selling two of his own units—previously listed separately—as a combo priced at $44.5 million, according to The Wall Street Journal. "It's a master of the universe apartment," boasts the owner, who bought the apartment as resales. His broker, meanwhile, boasts that the units are a better value than the penthouses, which seems a bit strange coming from one of the tower's developers.
The Lightstone Group has bought a Garment District office building on Seventh Avenue from the Eretz Group for $200 million, Crain's reports, with plans to turn the space into either high-end offices or a hotel.
In a rare move, the city may reconsider its approval of the Park Slope Methodist Hospital expansion, according to Crain's. A group of neighborhood activists who oppose the current plan have found evidence proving that this summer the hospital was conducting a feasibility study to determine the layout and services to be moved into the new building, which it had previously said were non-negotiable. The BSA has scheduled a hearing at the end of this month to examine its earlier approval of the zoning variances.
The moral of this particular story, and the next seems to be don't get overly confident. New York's anti-Airbnb coalition Share Better is helping opponents in San Francisco, where the company enjoys far greater permissions, organize in advance of a ballot initiative that would "severely restrict Airbnb's operations," according to Crain's.
Yet again, data confirms what we intuitively know to be true: Brooklyn is not affordable. In fact, it is the least affordable place in the country to buy a home, reports Bloomberg. With a median home price of $615,000 (which just about buys  a new one-bedroom apartment in Cobble Hill these days), an average Brooklynite would now need to spend 98 percent of her income on mortgage payments. And these days? Mortgages? Please. It's all cash or nothing.
To wit: a two-family brownstone in Bed-Stuy just sold for $3 million, a neighborhood record, Brownstoner reports. What's more, the townhouse was just under 17 feet wide—not very impressive. Meaning that we'll most likely be seeing many more $3 million Bed-Stuy brownstones. And why not, when Park Slope now has townhouses that go for $10.77 million?
Or commit crimes of yuppie desperation, like the man who stole lobster, steak and shrimp worth more than $300 from the Brooklyn Whole Foods the day before Thanksgiving (oh, and also some company schwag), according to DNAInfo. Then again, maybe the man was just inspired to attempt a meat heist after his throw-back book club read The Corrections. Which is even more Brooklyn.
Though, at this point, what is Brooklyn? Two entrepreneurs, for example, named their Dubai clothing store "Brooklyn Cotton Company." Because now, even Dubai is Brooklyn.