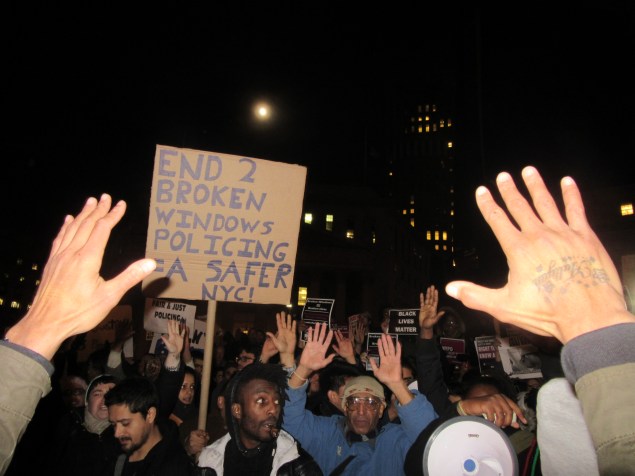 Several thousand protesters flooded Manhattan streets for the second night in a row to decry a Staten Island grand jury's decision not to indict a police officer in the death of Eric Garner.
Massing at Foley Square in Downtown Manhattan tonight, the marchers split off in several directions, clogging the Brooklyn Bridge, Manhattan Bridge and West Side Highway, stranding motorists on main thoroughfares like Broadway as police officers looked on.
"We're trying to prove that our lives matter, that black and brown youth shouldn't be able to get killed and officers shouldn't be able to get away with killing us, because we are people and human beings and deserve to live just as much as anybody else," said Markeys Gonzalez, a youth coordinator with Make the Road New York, an immigrant rights organization which helped organize the event.
The nucleus of the protest in Foley Square was the abstract granite "Triumph of the Human Spirit" sculpture. From there, protest leaders used a bullhorn and the Occupy Wall Street call-and-response "mic check" method to send chants rippling through the crowd.
The mothers of Ramarley Graham, an unarmed Bronx youth whom a cop shot inside the deceased's apartment in 2012, and of Mohamed Bah–an African immigrant who was killed by police after he stabbed several cops inside his Manhattan home, addressed the crowd.
"I'm here tonight because of another tragedy, that wasn't supposed to happen. I told you two years ago that we would be here again," said Constance Malcolm, Graham's mother, the audience echoing her every word. "We need police accountable. We can't bury our kids all the time while these officers go home to their families."
Marchers were not deterred as the temperature began to drop. Recycling chants from past protests like "No justice, no peace, no racist police" and "Shut it down, shut it down, Eric Garner, Mike Brown," the left-wing crowd even took aim at Mayor Bill de Blasio, a liberal Democrat, briefly crying "This Bill de Blasio has got to go" in Foley Square.
One contingent, streaming past One Police Plaza and City Hall, snarled traffic on Chambers Street and Broadway, snaking west on Canal Street and eventually pouring onto the West Side Highway. The mood was more jubilant than confrontational as police stoically monitored the protest–up above, the pale spotlights of NYPD helicopters cut through the night.
Like in the protests yesterday following Staten Island District Attorney Daniel Donovan's announcement that a grand jury would not bring charges against the white police officer, Daniel Pantaleo, who placed Garner in an apparent chokehold which led to his death in July, most of the motorists and bystanders caught up in the wave of marchers cheered them on. A cabbie sprung from his vehicle on Canal Street to high-five protesters; another man honked his horn in time with a "Hands up, don't shoot" chant.
The protest came a little over a week after a grand jury decided not to indict a white police officer for shooting to death a black teenager in Ferguson, Mo. The death of the teen, Michael Brown, spurred violent protests in Ferguson and large, peaceful marches here.
On Broadway, several dozen protesters stopped in the middle of the street, lying down for a so-called "die-in." After walking up Broadway and along Canal Street to a chorus of honking horns, one group split up at the entrance to the Holland Tunnel, with another group turning south on Hudson Street and redoubling back toward Chambers Street.
A cluster of protesters ran into a police barricade on the West Side Highway just above Canal Street. Some tried to charm the police standing silently in riot gear. "Whose side are you on?" one woman asked a black police officer, who just smiled and did not answer.
As marchers stopped traffic in Downtown Manhattan and Brooklyn, a group broke off to board the Staten Island Ferry to the Tompkinsvile site where Garner died. The demonstrators massed near the ferry as police cars screamed down the tangled side streets of the Financial District to catch up. Police barricaded the charging bull statue nearby, a symbol of the Occupy Wall Street protests in 2011, as marchers chanted, "Who protects Wall Street? NYPD" and "Shame on you."
"We represented him there and he was known to be a nice guy," said Bret Taylor, vice president in the Manhattan criminal defense office UAW Local 2325, Association of Legal Aid attorneys. Mr. Taylor was referring to Garner, who was once a client of his union's Staten Island attorneys.
"We see the results of police brutality every day, when we see our clients come into court and be mistreated by the police, it's a big problem. In this case, fortunately, it was on video, so people could see what happened, but I think it happens a lot," he added.