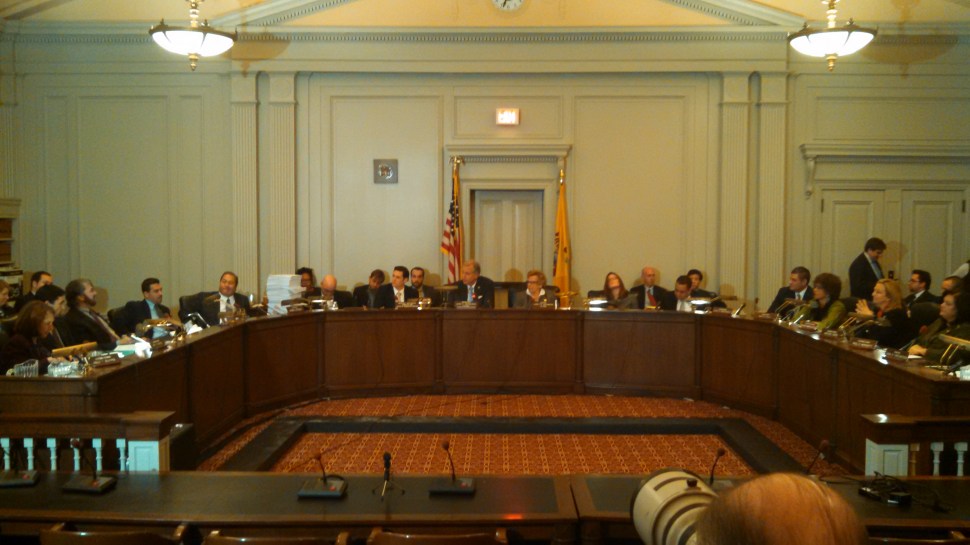 TRENTON — During a hearing of the Select Committee on Investigation this morning, state Sen. Kevin O'Toole went off on the committee co-chair, Assemblyman John Wisniewski, for attempting to "censor" his comments on the legislative body's ongoing investigation in the George Washington Bridge 2013 lane closures.
The 10-plus minute tirade came after Wisniewski announced that the committee would only be considering its "interim" report, which was released to members last week — not Republican members' Minority Statement, released as a rebuttal and criticism of that report this morning.
Fuming, O'Toole lambasted Wisniewski for unfairly suppressing the free speech of the committee's conservative members, saying this is "America," not "North Korea."
"Chairman, since when are you in the businesses telling people what they can say or cannot say," O'Toole began, talking rapidly and without pause. "Nobody audited or said what you could write in the report or in your opening statement or in the last 11 months — say whatever you want, now we have our moment to respond. After being kept in the closet for the last 11 months, you now want to say what I can or can't say. This isn't North Korea, John, this is America."
"Now I'm trying to say something, and you're trying to haggle me down. It's inappropriate and wrong," he added.
Wisniewski then repeated that the committee was "not going to consider the Minority report," namely because he said members only just received it and hadn't had a chance to thoroughly review it.
"I have a right in America to say what I want to say in my opening comments John. Now you want to censor what I want to say?," O'Toole asked. "Whether it has to do with this or anything else, I have a right to say what I want to say as an equal member of this committee. Let me say what I want to say — I don't care if it doesn't suite you politics, or doesn't suite your narrative, or doesn't follow the breadcrumbs you left 12 months ago."
Wisniewski said committee members weren't given a chance to review the Republicans' report. He added that the committee's interim report — which O'Toole and others criticized for its lack of Republican input — was leaked to the public last week by two Republican committee members.
"If you want to inaccurately describe this report, inaccurately describe what you colleagues have done, I supposed you can do that — but the fact of the matter is that moments after we issued the interim report, I got a call from a national newspaper, saying they had received two copies of this report from Republicans on the committee," Wisniewski said.
O'Toole contended he didn't give it to anyone — and later accused Wisniewski of leaking his own committee documents, such as subpoenas, to the press at different points over the committee's yearlong investigation.
"Why? is it because John Wisniewski had to guarantee he was on TV, making up his crazy theories?," O'Toole asked.
Assemblyman Lou Greenwald, a Democrat on the committee, said for his part that O'Toole's outburst was the first time "in 20 years" that he's seen "that level of unprofessionalism towards another colleague."