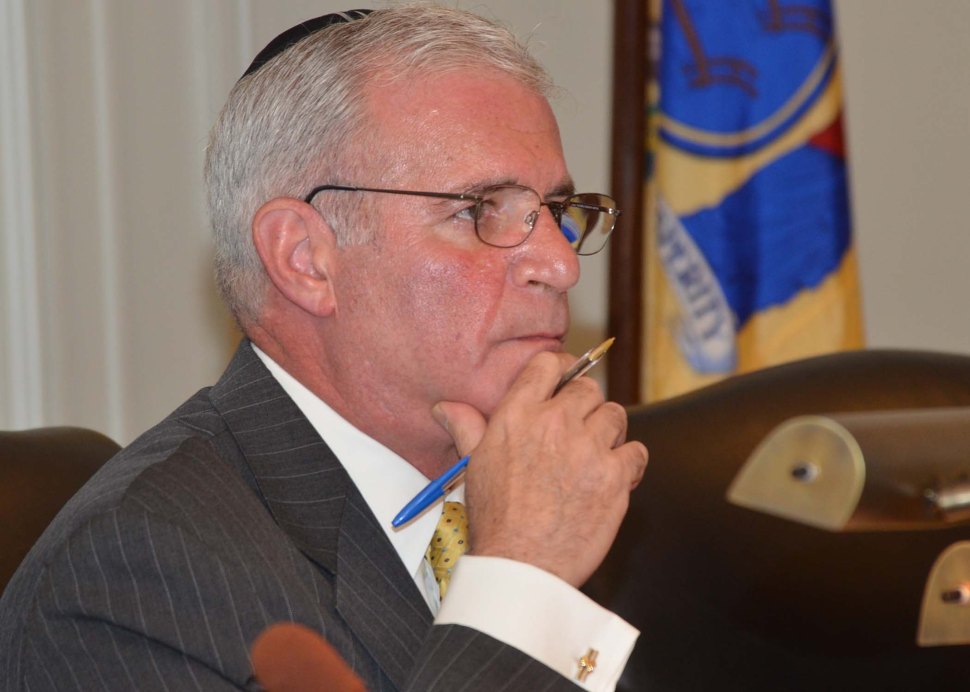 The Assembly Budget Committee this morning passed a paid sick leave bill 6-4 with one abstention.
Republican Assembly Declan O'Scanlon voted no; Assemblyman Jay Webber voted no; Assemblyman Tony Bucco no; Assemblyman Chris Brown (Burlington) voted no.
"Like many other pieces of legislation, this casts a wide net," Bucco said. "This casts another straw on the camel's back."
Assemblyman Joe Cryan, a Democrat from Union County, abstained.
"This bill is a mess," Cryan said.
Other Democrats, Assemblyman Gordon Johnson, Assemblyman Raj Mukherji, Assemblyman John Burzichelli, Assembly Chair Gary Schaer (pictured), Assemblywoman Eliana Pintor Marin and Assemblyman Benjie Wimberly all voted in the affirmative.
Sponsored by Assemblywoman Pam Lampitt (D-6) and Mukherji Assembly Bill No. 2354 requires each employer to provide earned sick leave to each employee it employs to accrue one hour of earned sick leave for every 30 hours worked.  The employer is not required to permit the employee to accrue at any one time, or carry forward from one year to the next, more than 40 hours of earned sick leave if the employer has less than 10 employees in the State, or more than 72 hours of earned sick leave if the employer has 10 or more employees.
Unless the employee accrued earned sick leave with the employer before the effective date of the bill, the leave accrues beginning on that date or on the 9 or 10th day after the employee is hired, unless the employer agrees to an earlier date. The bill does not apply to construction employees who are under contract pursuant to a collective bargaining agreement.
A coalition of progressive allies talked up the bill.
So did state Senate Majority Leader Loretta Weinberg (D-37).
"Already in many professions paid sick leave is a long established benefit," Weinberg said. "To me, by extending these benefits to those employees who currently don't have them, we're really standing up for what family values really should be about."
Eric Richard of the New Jersey AFL-CIO noted that the United States is the only country in the industrialized world that lacks this policy.
"The federal government has failed to act on this important issue," Richard said. "This is a pro public health bill. This is a pro community bill."
Deborah Cornavaca of New Jersey Working Families said if the legislature passes the bill New Jersey will be a model for the nation "in providing workers the protections they deserve."
For their part, business reps – including the New Jersey Chamber of Commerce – panned the bill as interference in the free enterprise system.
Mary Ellen Peppard of the New Jersey Food Council said many businesses already offer substantial vacation and paid sick leave polices.
"A lot of our members would feel compelled to change those policies," Peppard said.
Stephanie Riehl of the New Jersey Business and Industry Association blasted the bill.
"There are many businesses that are already at their breaking points," she said. "…It [the bill] prohibits employers from finding employee replacements."
While praising the concept, Assemblyman Joe Cryan (D-20), one of the most progressive members of the assembly, expressed misgivings about the bill.
"This bill is not just a sick bill," said Cryan, whose family has long been in the bar and restaurant business. "This is a bill that allows you to call out to care for somebody else. Hey, there's no notice requirement. You schedule around schedules. Anybody here ever waiter in college? How come no notice when it's reasonable to ask for?"
Cryan also worried about the overlapping effects of a state law with those urban municipalities that have already put in place paid sick leave ordinances.