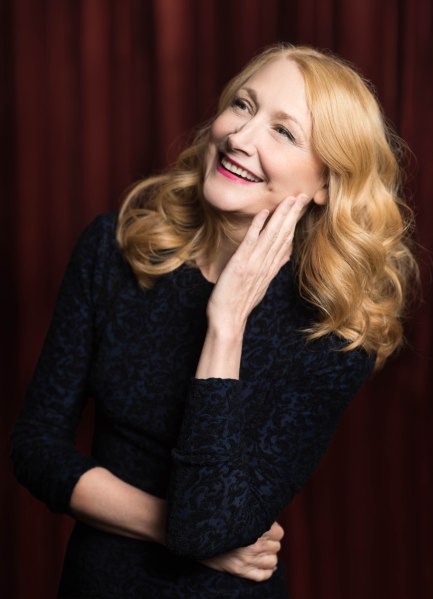 Patricia Clarkson weeps daily, wrenchingly,  on the stage of New York's Booth Theater, twice on Wednesdays, a few wisps of her emblematic strawberry blonde hair coming free as she hangs her head. She also, at every performance of The Elephant Man, bares her breasts. It is quite the reveal—they, seen discreetly from the side, are perky and pleasantly pear-shaped. The first task strains her throat, the second her grace and composure as a Southern girl. But the third leap of faith she takes in The Elephant Man, which opened earlier this week on Broadway, she said, is the hardest of all.
"Every single night I go out, I look Bradley Cooper in the eye, he's the man I fall in love with literally in front of your eyes right there on stage, I play this grand actress, this lofty actress, and then you know that as I come to that handshake I literally look at him and [she snapped her fingers] I'm done. That's all that I have to do, I just have to look at him and I'm gone. I just have to look at him every single night and truly look at him. His eyes are so open, metaphorically and physically, he's just open. And I fall, but I have to be able to fall so I have to get myself to the edge of the diving board and that's the harder part. And then I fall, I take the glove off and I fall. It's so simple yet it's one of the hardest things I've done in my whole career."
For the first time since she debuted in The House of Blue Leaves in 1986, Ms. Clarkson is back on Broadway, now playing the successful Victorian-era actress Mrs. Kendal opposite Mr. Cooper's horribly disfigured John Merrick. The willowy actress, 54 and still "just banging," noted Mr. Cooper, with a bit of awe and respect and a grin in his voice, has acted in movies for the best of them: Martin Scorsese (Shutter Island), Woody Allen (Vicky Cristina Barcelona, Whatever Works), Lisa Cholodenko (High Art) and Brian DePalma (The Untouchables). She's familiar from her memorable recurring role of flighty aunt Sarah in TV's Six Feet Under. More recdently, she played the mother opposite Stanley Tucci in Easy A, and another mother, this one battling cancer,  in Pieces of April. She was best friend to Julianne Moore's fractured housewife in Far From Heaven.
On a recent evening, Ms. Clarkson was receiving guests in her tiny dressing room at the Booth during previews. The space was smaller than an NYU dorm room, and the petite actress wore a silky teal blue kimono and a glow, even after two performances that day.
"What was I thinking?" Ms. Clarkson asked, giving herself a playful knock on her forehead in answer to a question about her nightly decision to go topless. Her character reveals her chest to the gnarled Merrick as an act of charitable intimacy. Merrick has never seen a naked lady in the flesh and some things a resourceful woman just had to take into her own hands, she explained.
Just then, co-star Alessandro Nivola popped his head in the doorway for a goodbye. He plays the proper Victorian Dr. Fredrik Treves who rescues Merrick from the London freak show circuit, only to exploit him for medical research, a higher class of sideshow. She recommended steam for his sore throat before he exited to the outside, passing the gauntlet of autograph seekers awaiting Mr. Cooper, lined up 10-deep in the arctic chill and restrained by metal barriers.
"I'm kind of the den mother," Ms. Clarkson confided. Mr. Cooper, who recruited Ms. Clarkson for the show's first production at the Williamstown Theatre Festival in 2012, had already revealed as much: "She had this thing," he said. "Alessandro and I were supposed to have our dressing rooms on the director's floor. She said, 'I want to be on the same floor. It's a family thing: when we arrive, we're together, at intermission, we're together.' That was her idea and I'm so glad she said that. We hang out afterwards when I'm not sleeping. Our rooms are next to each other so I can call out, 'Patti, do you have an extra bowl?' when I'm having soup."
But the Hollywood leading man's feelings are not entirely filial. Mr. Cooper said it best on the phone: "I just think, wow, 54 years old. She is just banging. She looks so sexy. She's killing it. I told her, 'You're going to have a whole new crop of male suitors that are going to want to come to the play to see you.' "
A few days later, she swept into Café Loup on West 13th. It is obvious from the beginning that Ms. Clarkson is a dame, in that fizzy screwball comedy way, like Claudette Colbert or Myrna Loy. There's an air of spontaneity overlaid on a frame of good Southern manners and hard work.
"Here I am," Ms. Clarkson said in a warm, intimate voice, a small black fedora atop her head, which she removed to release pin curls, "finally back on stage after many, many, many years." Shaking her "Jerry Hall hair," she ordered a bottle of the Riesling. "This is how I started: I did theater in high school. I went to Fordham, then Yale School of Drama. I realized at Yale that I can be a character actress and a leading lady, and that was my goal … sometimes it required looking really good naked, and sometimes it doesn't."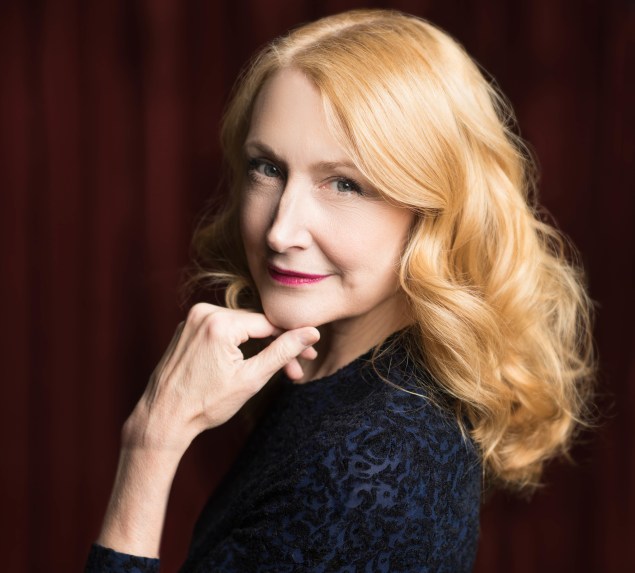 Right now, with The Elephant Man on Broadway, and a West Village apartment, Ms. Clarkson owns her adopted hometown. "C'mon, I'm lucky," Ms. Clarkson said as she nestled into the curved oxblood booth. "Every day of my life except one day a week, I get to wake up, go to the theater—I do a few things in between—walk the dog [her name is Isadora Duncan], moisturize, then I arrive and act with this extraordinary supporting cast of wonderful young actors, many of whom are making their Broadway debut. But the bulk of my scenes are with Alessandro and Bradley. It doesn't get any better. They're wonderfully funny and they have just the right amount of irreverence and reverence."
And what is Mr. Cooper like as an actor? "Raw," Ms. Clarkson said. That's not the first adjective most people associate with The Hangover star, although his performance in Silver Linings Playbook had that quality. She confirmed: "He is one of the most raw, bare actors I've ever met. And that's how he plays Joseph Merrick."
Born in New Orleans in 1959, the youngest of five daughters (she is first and foremost a "Clarkson Girl," she said, part of a set), the actress has called Manhattan home for nearly 30 years. "My New York memories started with a high-class hooker," Ms. Clarkson said, letting out a raucous laugh. She referred to the first apartment she shared with Yale classmate, the playwright Richard Greenberg (Eastern Standard).
"We moved to an apartment on 56th by Carnegie Hall," Ms. Clarkson said. "We lived across the hall from the highest class hooker you can imagine and we kept wondering what was going on. The smell of the shower would waft down the hallway all day and I thought, 'My God, someone is very clean.' There were always men at the elevator tearing up their Visa receipts and then we put it all together … When we finally figured it out, we had a moment of shock, and then it became awe and then obsession. So that was my quintessential New York first apartment."
Still roommates, the pair moved on to Hell's Kitchen. "Nobody would pick me up late at night for a cab because they thought I was a hooker. I had my big long crazy '80s hair. My hair was bigger than a cab.
"On our very first day, the most beautiful armless transvestite was sitting on our stoop. He was the most beautiful man dressed somewhat as a woman with a gorgeous lavender bow in his hair. I got to know him, saw him in the Empire Diner. He ate with his feet. He was a stunning artist. He drew with his feet. " Ms. Clarkson laughed brightly. "I really got to know New York City."
Over the years, Ms. Clarkson prospered and upgraded. Now, she owns a West Village apartment within walking distance from Café Loup. Leaning forward on her elbows, Ms. Clarkson pounced on an issue closer to her heart: "I love higher learning but NYU and the New School do not need to build on every single damn corner of our damn neighborhood. People come to the West Village for its living history and they are on the verge of erasing that. We do not need one more dorm."
Now, fully impassioned, Ms. Clarkson continued: "It took me a long time to be able to afford to live in this neighborhood and I pay a helluva lot of taxes to live here … We do not need to build metropolises for these children. It's terrible what they've done to this neighborhood … Have you seen the building at the corner of 13th and Fifth? It will make you want to blind yourself like Oedipus."
The long conversation wound down as the surrounding tables emptied and the restaurant's buzz mellowed to a dull hum by the bar. The subject of relationships came up: "I am single," Ms. Clarkson said. "I'm happy. I'm not content. There's a difference. I'm still hoping. Being in love is the best part of life and I long for that, I do. I've been with some of the most exquisite men on the planet and I wouldn't trade a moment. I've had serious relationships. I don't want to be frivolous here. I've had substantial beautiful relationships with several men and I valued their love at the time, I value it now still. I'm always looking forward and hoping for a consummate love. It's coming."
Given Ms. Clarkson's current demanding theater schedule, being single might help. "Not my personal life," she quipped, "but my acting life is booming."
Indeed, Ms. Clarkson has two movies slated for release in 2014 (October Gale and Learning to Drive) and a Tallulah Bankhead project in development. From the moment she sweeps on stage in full Victorian bustle and bodice as the actress Mrs. Kendal  who befriended Merrick, The Elephant Man awakenes with an electric charge.
"Mrs. Kendal is drawn with a very fine pen," said Ms. Clarkson. "She's a tempest and a teapot. She's got the animal in her, which I, for better or for worse have in me. I am uncaged, feral and unmoored but she has such a beautiful, kind soul, that I yearn for, I yearn for that, I just don't always have it."
Ms. Clarkson also has a quality that makes her well-suited for this profession.  "I'm actually good at the unknown," she said. "I don't have children. I don't have a husband. I have a devil-may-care life. Let's face it, with that comes the ability to walk away from things, offers, money, I'm not paying for NYU or the New School that need to build another dorm. I'm sitting in luxury. I'm lucky.
"We can say it six ways from Sunday but I'm fucking lucky. Six days a week, I'm a Bradley-Alessandro sandwich—but I don't have to make them sandwiches every night. I just have to be in the center."