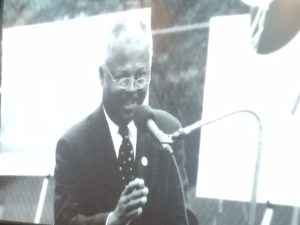 NEWARK – More than 100 members of the personal and political families of the late U.S. Rep. Donald M. Payne, Sr. gathered on Monday evening to watch the story of his life come to life on screen.
Viewers witnessed the premiere of the documentary about Payne, Sr., a Democrat who passed away in 2012 after serving New Jersey's 10th Congressional District for 23 years, inside the Essex County government complex in Newark. The approximately 40-minute documentary, produced by Cablevision, will be broadcast to the public in the spring.
A series of politicians, friends and clergy recounted the story of Payne's life in the film. Born in Newark in 1934, he grew up not having much, often wearing cardboard in his shoes. After being educated at Newark's Barringer High School and Seton Hall University, he taught in the Newark Public Schools and developed after-school programs at the Newark YMCA. Payne's work at the YMCA eventually led to him become the first black president of the National Council of YMCAs in 1970.
It was in the aftermath of the 1967 civil disturbances in Newark that Payne's community roots helped to grow a political career. He was elected to the Essex County freeholder board in 1972, the Newark City Council in 1982 and to Congress in 1988, the first African-American elected to represent New Jersey in Congress.
As a member of the House Foreign Relations Committee, Payne built upon his previous work as chair of the World Y.M.C.A. Refugee and Rehabilitation Committee, especially regarding Africa. The documentary recounts how at a time when there wasn't a focused American policy towards the countries on that continent, Payne went to Africa, meeting with rebels and government ministers on the same day. Payne also drew important attention to the flight of refugees in the war-torn continent, work that his prominent political family continues to this today as part of a global foundation named for the late congressman.
In a moment remembered in the documentary, former President Bill Clinton lauded Payne at the congressman's funeral held at Newark's Metropolitan Baptist Church.
"Donald Payne was a friend of Hillary's and mine," said Clinton, referring to his wife. "He made her a better Secretary of State, and he sure made me a better president."
Family and friends remembered how Payne, in the words of the documentary, walked with kings, but never lost the common touch.
"The guy could walk through raindrops," said Harvey Geller, who worked with Payne at Prudential, recounting how he and Payne worked together placing Newark high school students into colleges all around the country. "We started affirmative action before there was anything known as affirmative action."
"Donald was a gentle giant. He was a guy who really felt very deeply about people," said former state Assemblyman William Payne (D-29), the congressman's brother. "That's why he worked so hard for as long as he could to uplift people in Africa and elsewhere. And he never asked for anything in return."
'The interesting thing about his life was the thread of firsts – the first African-American president of the YMCA in the United States, the first African-American chairman of the Democratic Party in Essex County, the first African-American Congressman in the state of New Jersey," said his son, U.S. Rep. Donald Payne, Jr. (D-10), who succeeded his father. "He was a trail blazer. He was on the cutting edge. He was a very reserved, quiet man. He did not make a lot of fanfare about the things he did. He used to tell me that he did them because he could."