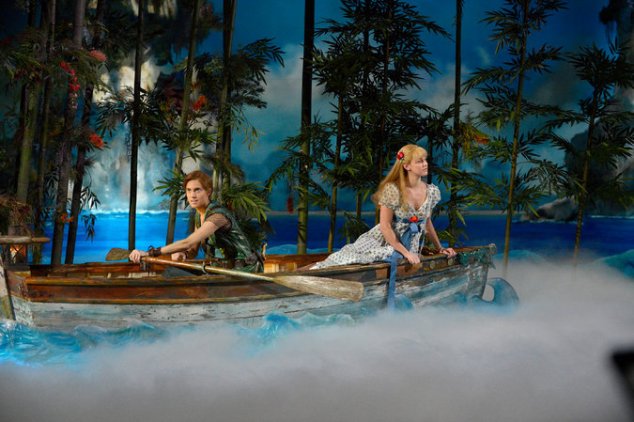 After nearly 22 million viewers tuned in for last year's live version of The Sound of Music, NBC wasted little time in announcing that they'd produce another family-friendly musical this holiday season.
The version of Peter Pan they settled on featured a script by Irene Mecchi (the Lion King movie) and four new songs in addition to the original Broadway score. The classic story tells the tale of a mischievous boy who transports three children — Wendy, John, and Michael — from the window of their turn-of-the-century London home to a world of adventure and danger.
Peter Pan Live was certainly no Sound of Music, and that's a good thing. While The Sound of Music is an absorbing story with beautiful music, there's not really that much real action. Peter Pan, on the other hand, has a large ensemble with swashbuckling pirates, dancing natives and …flying!
Couple this with live singing and dancing performances and the whole thing is quite a massive endeavor, one in which any number of things can go wrong, and for a certain portion of viewers this is just what they were anxiously hoping for right from the start of the show.
Many tuned in just waiting for the chance to partake in some good old fashioned schadenfreude, hopping on Twitter ready to bash tweet, and yes, there were many parts of the musical that seemed to go quite awry, most of them involving Christopher Walken's performance as Captain Hook, but the end result wasn't the unmitigated disaster many expected (and certainly some even wished for.)
Truthfully, the only weak link was Walken, with his wooden, cue card reading performance. His dancing limitations, especially when he was surrounded by hoards of clearly trained dancers, were obvious, and his 'spoken word' singing was quite painful. What made this all so difficult to accept is that the rest of the roles were so well cast that Walken really stood out — for all the wrong reasons. In fact, it's rather sad to realize that another actor in the role could have made Hook a terrifyingly fun individual and all of that was lost with Walken's tepid interpretation of the character.
My viewing companion even mentioned that one of Hook's 'henchman' had more personality than Walken seemed to display and that that actor might actually have made a better Hook than Walken. That's a pretty sad conclusion to come to about one of the main performers in the cast.
Even it if the production was slow at times, there were several elements that made the engaging — Allison Williams as a believable Peter Pan, amazing set design, special effects that soared, and choreographed camera moves that kept the action ticking along. And, how incredible was Taylor Louderman as Wendy?! She combined innocence, genuine happiness, and confusion in just the right amounts in her portrayal of the girl. Merge all of that with her mesmerizing vocal performance and it's a given that a starring role on Broadway cannot be far off for this young lady. (Much like her onscreen mother, respected Broadway veteran Kelli O'Hara.) Williams should be thanking Louderman profusely because it was in the way that Louderman's Wendy related to Williams' Peter that helped make Williams so convincing as a boy.
Other than Walken, while there were actually few things that detracted from the show, there definitely were some. The lower third graphics begging folks to tweet along with the action and sing along with Shazam pulled those viewers who had been successfully drawn into the narrative right out of it.
And, if this were to be a true substitute for live theater, the commercials have to go. There were just far too many of them. Next time, get an overall sponsor (Wal Mart seems to be onboard) and have them do an open, an intermission and maybe one other commercial break in the last thirty minutes and that's in. (As far as the commercials in this broadcast go, the two best were The Minions from Despicable Me hawking their upcoming movie – they're always funny, and the Wells Fargo commercial with the Snow Men giving the horses, pulling the wagon full of presents, their carrots. That spot was both creative and touching.)
Stepping aside from the technical aspects of this production, if the goal of Peter Pan Live was to impress young children and provide true family entertainment, then mission accomplished. The costumes, the sets — awash with their bright colors — the constant action among the characters, and the singing and dancing may have seemed quite spectacular to little ones not accustomed to seeing such things on television. But then again, they do see things like this on TV, just not from a broadcast network and they don't know the difference. Also, unlike when live shows were first broadcast, now there are so many other outlets streaming continuous content that a TV show with numerous commercial breaks is unlikely to keep the attention of any child.
This reason, coupled with the fact that the broadcast stretched out over three hours and well past most young children's school night bedtimes, may have led many families to choose to tape this live broadcast and watch it over the weekend, which in essence defeats the purpose of doing it all live, right?
Even the part of the story in which Peter breaks the fourth wall and asks children to help save Tinkerbell, which is a magical part of the stage production, lost it's mojo as the moment occurred in the last hour of the broadcast, after 10pm (9pm in the central time zone), way too late for most kids to be awake to enjoy it.
So in reality it seems the 'live' part was really just for the adults.
Overall, the staging of the entire performance of Peter Pan Live was well done and no doubt the cast and crew engaged in some serious high-fiving when the whole thing wrapped up, as well they should have, this was a difficult undertaking and it was executed well.
Sorry folks, it seems only minimal amounts of schadenfreude were to be had here.
If the ratings for Peter Pan Live prove to be as high as The Sound of Music, Chairman of NBC Entertainment Bob Greenblatt has said that the network is already thinking of making live musicals an annual tradition. (Ed note: Peter Pan Live! actually scored 5.9 in the metered-market house rating, a little over half of Sound of Music's 10.9.) There's been speculation that preparations for a staging of The Music Man are already in the works and will be announced shortly.
But it looks like Greenblatt and crew might have some competition in this arena as another broadcast network has already launched their plan to move into the live musical genre this year as well.
In April of 2014, Kevin Reilly, then Chairman of Entertainment for Fox Broadcasting, announced that Fox would air a live three-hour production of the massively popular crossover musical Grease sometime in 2015.
The press release distributed at that time said that the musical would feature a young ensemble cast, and that Grease Live (working title), "will reintroduce the great music and timeless story to an entirely new generation."
Reilly has since left the network, but just prior to airtime for Peter Pan Live a representative from Fox confirmed to me that the project is still in the works.
So, it seems that Fox is looking to put it's own spin on the live musical genre by doing Grease, which isn't exactly a family friendly story as it's about a boy trying to woo a girl, and by woo, I mean trying to get her to sleep with him, but it looks like the gauntlet none-the-less has been thrown, so it's game on.
Dueling live musicals! Oh just what will these crazy networks think of next?! Whatever it is, it will surely be fun to watch, and tweet about. Schadenfreude lives.