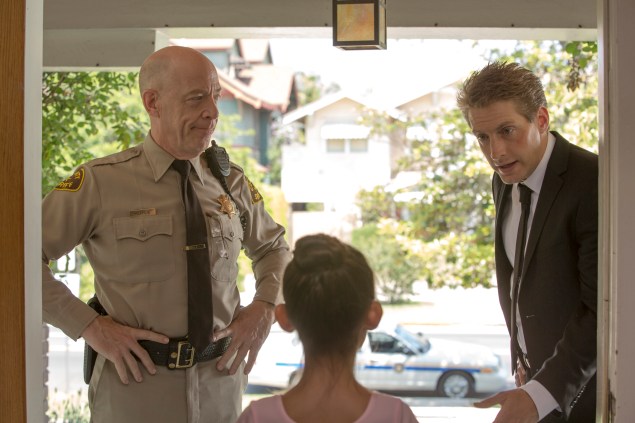 Described as a satire on Hollywood detective flicks, this bucket of swill is so amateurish and confused it doesn't know what it is. It's not a comedy, drama or anything in-between. It's best described as a bad California home movie without even a single frame of one baby, one cocker spaniel or one shot of Yosemite National Park. I saw it with three people. One walked out. The second stayed to the bitter end because Blythe Danner and Greg Kinnear were in it. You needn't bother.
---

MURDER OF A CAT
(0/4 stars)

Written by: Christian Magalhaes and Robert Snow 
Directed by: Gillian Greene
Starring: Fran Kranz, J.K. Simmons and Blythe Danner
Running time: 96 min.

---
It goes like this. A lazy lout named Clinton lives with his mother, sells comic books on the front lawn and stays up all night watching re-runs of Who's the Boss? One morning he wanders out of the house in his pajamas to find his cat, Mouser, has been killed by an arrow. Now he'll have nothing to talk to during his long days of making miniature action figures. He declares war, tracking down the killer. A criminally wasted J. K. Simmons plays the cop who investigates when he's not humping Clinton's imbecilic mother (wonderful Blythe Danner, slumming on a bad hair day). The clues lead to a tattooed bimbo named Greta (Nikki Reed), who claims the dead cat was her own cat, Horatio. Clinton stages a vigil on top of his house with "Amazing Grace" played on bagpipes. "We're talking about cats, not the Lindbergh baby," groans the cop. But the Sherlock Holmes sleuthing finally ends up at Greg Kinnear's sporting goods store where the murder weapon was sold. This is where an even bigger crime is discovered, and … but wait. As they finally told Richard M. Nixon, enough is enough.
The star of this dirge is a banana head named Fran Kranz, whose onscreen charisma is an undetectable secret. The benign direction is by Gillian Greene and the idiotic script is by Christian Magalhaes and Robert Snow, all of whom hail from the brain-dead world of Hollywood sitcoms. I am hesitant to mention any of them for fear that they might work again. On second thought, with Murder of a Cat as evidence, there's not much danger of that. None of it makes one lick of sense. But it's a low-budget Hollywood write-off, so what do you want for a nickel?