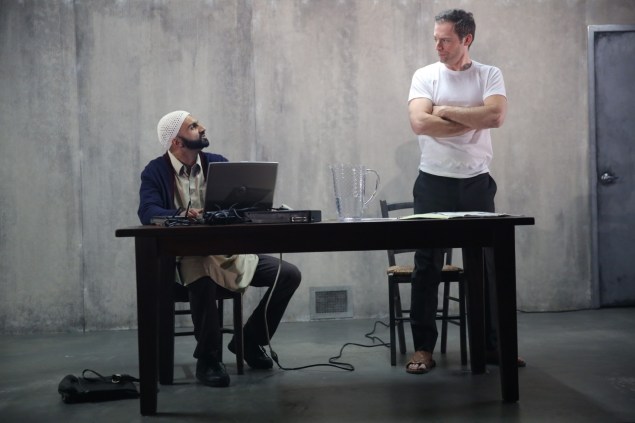 This fall, the New York Theatre Workshop has radically reconfigured itself—voila! You find yourself in a low-slung, drab-gray terrorist prison "somewhere in Pakistan, in the near future."
It is here that Nick Bright (Justin Kirk, from TV's Weeds), a kidnapped American investment banker/trader, awaits his fate at the hands of a local extremist group led by Bashir (Usman Ally), a London-born Pakistani who has returned to his homeland to "fight the good fight" of terrorism.
There are two strikes against Nick: 1) His company can't negotiate ransom because it's against U.S. terrorism laws, and 2) his abductors bungled, nabbing him instead of his boss. Nick's saving grace is he's good at his job. He saves his head by using his head, applying his trading skills to raise his own ransom. The prison room becomes a trading room, replete with a laptop. Tapping and/or trading as fast as he can, over the course of 14 scenes, Nick inadvertently reeks serious havoc to earn his freedom.
Such is the gist of The Invisible Hand, a play by Ayad Akhtar (his third in New York this year) currently at NYTW. The title seems to promise a low-budget Lugosi from the '30s, but the phrase is actually political economist Adam Smith's famous metaphor—the idea that self-interest guides the free market like an invisible hand.  That's a main governing factor in this tragically contemporary thriller.
"The play is really a kind of meditation on gold and finance and extremist world politics," Mr. Akhtar explained. "I'm not saying that the destruction both are reeking on the world is the same, but I'm juxtaposing those two things together so that the audience can draw its own conclusion. Basically, it's just a thriller. As with all of my work, I'm really trying to draw in an audience, so there's a thriller throughline in it—a very, very accessible narrative piece to it—but it's also an attempt at a kind of advanced meditation on the interplay between economics and religious ideology."
Dramatically, that's virgin turf these days. There has been precious little activity on this front since Jerry Sterner's Other People's Money and Caryl Churchill's Serious Money. "That surprises me," admitted Mr. Akhtar. "It's dramatic material. When I read a writer like Michael Lewis, who does it beautifully for folks engaged by these worlds, I find myself drawn to them. I have been a follower of the market most of my life and still read The Wall Street Journal every day. I feel understanding finance is an important part of understanding what it means to be human in the 21st century." Mr. Akhtar makes up for this oversight with a vengeance.
Playwriting was actually the final writing frontier for Mr. Akhtar. He started off at Columbia University School of the Arts co-writing—and starring in—a thesis screenplay, The War Within, a terrorist thriller that wangled a theatrical release and won good notices.
The good-and-bad news about that War is it also won a 2005 Independent Spirit Award nomination as Best Screenplay. "After The War Within came out, I wrote on spec, for independent producers, a total of nine screenplays. None got made."
In frustration, he began The Great American Novel, which is still sitting in his office a humbling door-prop. It was about a poet-turned-researcher at Goldman Sachs, and it contained financial facts and stats that he was able to recycle into The Invisible Hand. Friends strongly suggested he not submit it to publishers so he started anew as a novelist, writing about something he knew—growing up Muslim in Milwaukee.
---

'Every one of my plays is, in some way, a dialogue with Shakespeare,' the playwright said. Disgraced pairs with Othello and Invisible Hand with Julius Caesar.

---
The result, American Dervish, debuted in January of 2012 to rhapsodic reviews. Rather than return to screenplays that don't sell, he sat down and wrote his Pulitzer Prize-winning play, Disgraced, which is currently ensconced at the Lyceum Theater.
Amir, its lead character is a Pakistan-born, Muslim-raised lawyer on the Upper East Side who lets people believe he's Indian so he can ascend the corporate ladder quicker—insidious assimilation, you might call it. The playwright's second round of Muslim Americans wrestling with the culture clash between traditional Islamic beliefs and modern American society was served up last June at Lincoln Center with a more lighthearted piece, The Who & the What, in which the feminist firebrand in a family of Atlanta-transplanted Pakistanis writes a book on "women and Islam."
This exploration of contemporary Muslim-Western identity is the thread connecting these plays. "I know The Invisible Hand is set in Pakistan, but it's really dealing with Muslim-Western identity because, in many ways, it's a study of Bashir. He was born in London and came here. He mirrors Amir's nephew in Disgraced who changed his name from Hussein Malik to Abe Jensen. Bashir is a version of that."
Dariush Kashani and Jameal Ali round out the cast of four—enough to complete a coup in the closing scenes of the play. This shift of power is a little something he picked up from Shakespeare, whom he reads regularly to become a better writer.
"Every one of my plays is, in some way, a dialogue with Shakespeare," the 44-year-old playwright said, "The Who & the What with The Taming of the Shrew, Disgraced with Othello—and this play is clearly a dialogue, for me, with Julius Caesar. "
Mr. Akhtar has just finished a play he has been making notes on for eight years. It bears the asking-for-it title of Junk, and it will be produced by The Araca Group that brought Disgraced to Broadway.
"Junk is about debt financing, set in the late '80s, and it's 25 characters," he said. "I basically take a leverage buyout deal that turns into a hostile takeover and put the deal on stage—lawyers, accountants, arbitrage guys, investment banking advisers.
"These classic, legendary deals from the late '80s—RJR Nabisco, Revlon, all those—are the inspiration. As I said, everything is dialogue with Shakespeare these days, and this is in dialogue with Henry IV, Parts I and II. The battlefield is a corporate boardroom. It's an extension of this line of thinking of how the world has changed and how our country has changed because of the advent of financing thinking."
Mr. Akhtar is somewhat surprised he became a playwright, let alone a Pulitzer Prize-winning one. "I thought fiction was more what I wanted. Then I got to doing theater in college and just loved it—the collaborative process, the community of it. When it was good, there's immediacy to it. It's more a sense of communion with the audience that I feel it when I'm watching it with them. I feel what they're feeling—I just feel it differently, and I trust that difference is the result of the audience's presence.
"With time, I've come to understand that there's a deep wisdom in the audience. I've worked hard and long at learning how to listen to that."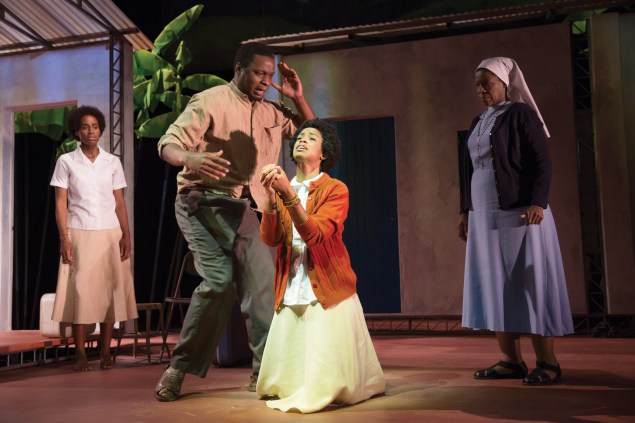 Just extended at the Signature Theatre, through December 14 on West 42nd Street, is Our Lady of Kibeho.  It is set at Kibeho College, an all-girls Catholic school in Rwanda in 1981-1982. A key word in the production: "Before."
To be exact, 13 years before 800,000 Tutsi and Hutus were slaughtered in the region over a 100-day period. The warning came in the form of a vision of the Virgin Mary, seen by eight schoolgirls. Three of the sightings were confirmed by the Catholic Church, and one of the three girls died, standing up for her husband, when the actual genocide came to pass in the spring of 1994.
Playwright Katori Hall, an Olivier award winner for 2009's The Mountaintop, about Martin Luther King's last night before his assassination, was 13 when she learned of the massacre—witnessed it—on television. The tragedy stayed with her a long time and got to the point where she wanted to write about it, she said. She found her focus when, during a visit to Rwanda, a priest told her the story above.
"I just fell into this light, and the play—particularly the first act—wrote itself in my mind."