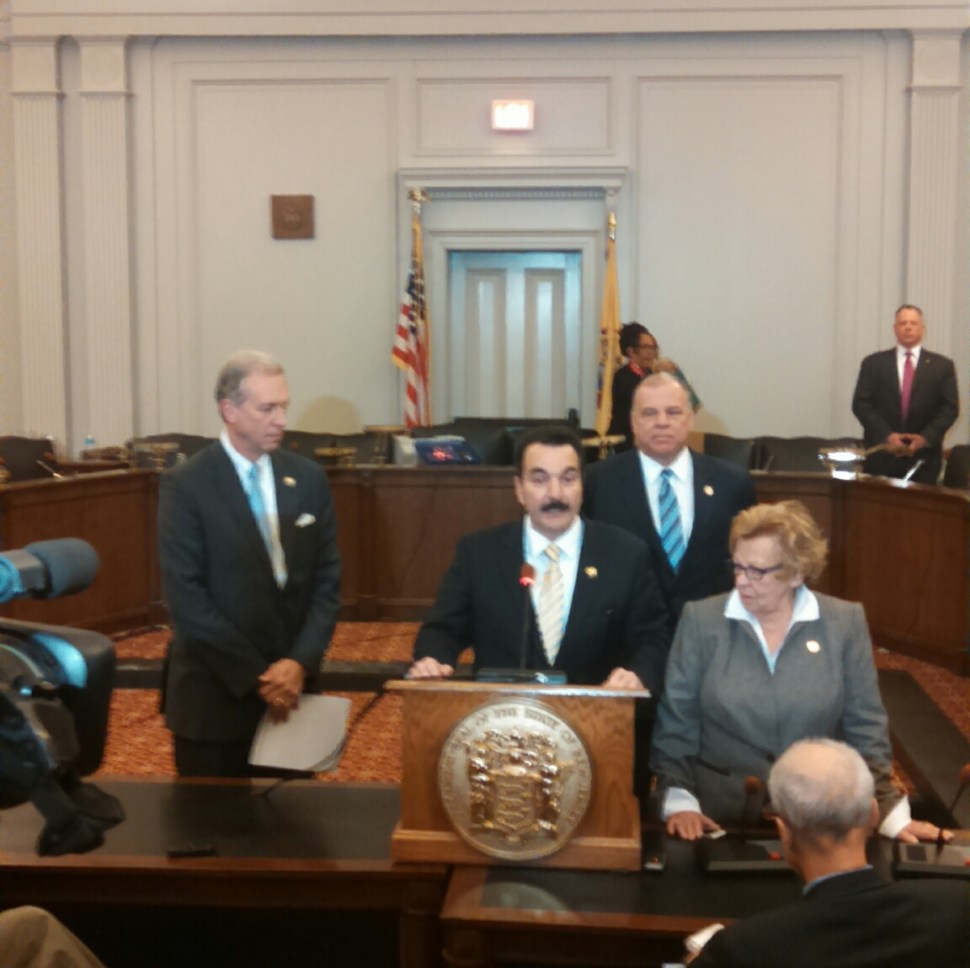 TRENTON — Democratic leaders defended the work of the Select Committee on Investigation today following a heated hearing where the joint legislative body opted to publicly release its interim report.
Senate President Steve Sweeney and Assembly Majority Leader Vinnie Prieto told reporters during a press conference following the hearing that they stand by the committee's work, which has come under criticism from some of its Republican caucus members.
"As a presiding officer in the General Assembly, none of my members had any conflict and I was confident in each and every one of them," Prieto said, implicitly responding to accusations by Republicans that the investigation, headed up by Democrats, had been tainted by partisanship.
Prieto said he was "disappointed" in the Republicans' "Minority Statement", which conservative members released this morning as a rebuttal and criticism of the committee's own interim report and other aspects of its yearlong investigation.
Republicans argue the committee's work has lacked input from its conservative members, and have blasted the conclusions of its interim report as overly partisan.
"In comparison, I leave it to the media to judge what a non-partisan report, based-on-facts report is, other than something I read today or probably should've waited for the movie or maybe the play, because it's a lot of theater," Prieto contended.
Wisneiwski, who co-chairs the committee with state Sen. Loretta Weinberg, called the hearing "troubling."
"What troubles me is the four 'no' votes at the conclusion of today's hearing to release a factual chronolgy of where the committee has been and what the committee still needs to do, when we heard no factual criticism of any of the material contained in this report," he said, referring to the four Republican committee members who voted against releasing the interim report.
Earlier in the hearing, Wisniewski sparred with Republican committee member state Sen. Kevin O'Toole, who accused the Democratic co-chair of using his leadership position for political gain.
Weinberg said this is not Alice in Wonderland, though sometimes she feels like "the guest of honor at the Mad Hatter's tea party."
"There is nothing in this report that has been manufactured by anyone," Weingberg said.
The 136-page report, which was leaked to the public Thursday but officially considered by the committee this afternoon, asserts that after a yearlong investigation the committee is not currently in a position to conclude what Gov. Chris Christie knew about the lane closures, which had the streets of Fort Lee gridlocked for several days in September 2013 in what many assumed to be a politically-motivated stunt.
The report does, however, note that "many critical questions… remain unanswered" in the investigation, pointing out that several key witnesses declined to cooperate with the investigative committee — including two former Christie aides many believe orchestrated the closings, Bridget Ann Kelly and David Wildstein.