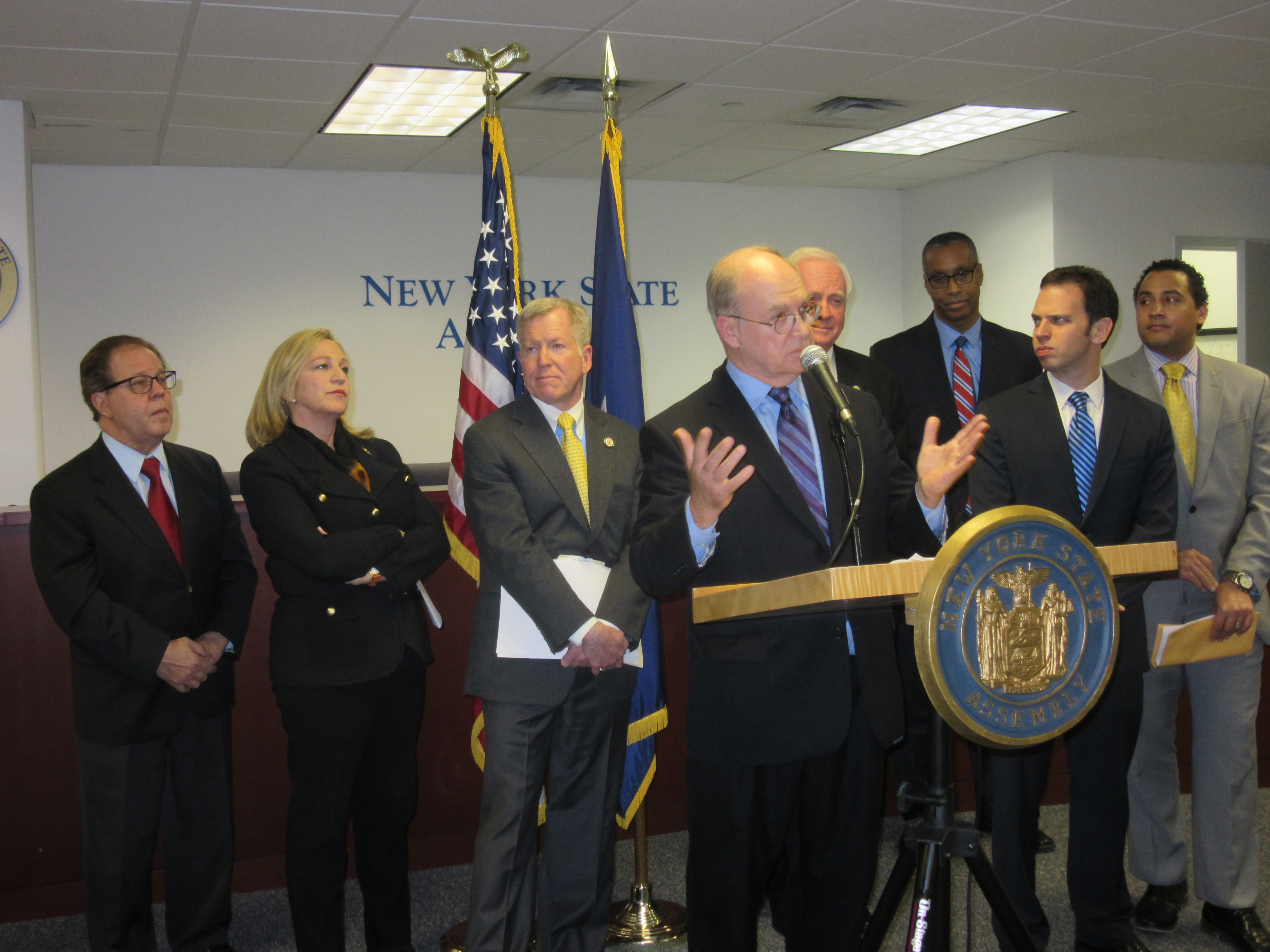 Brooklyn Assemblyman James Brennan convened half a dozen of his New York and New Jersey colleagues to press Gov. Andrew Cuomo and Gov. Chris Christie to sign into law bills aimed at reforming the Port Authority in the aftermath of last year's "Bridgegate" scandal after the bills passed overwhelming in the legislatures of both states.
The Port Authority of New York and New Jersey Transparency and Accountability Act, Mr. Brennan argued, is necessary both to avoid a repeat of the George Washington Bridge incident—in which aides to Mr. Christie are accused of closing lanes of the bridge to exact political revenge on a local mayor—and to rein in escalating bridge tolls. The legislation would open the authority up to Freedom of Information Law requests from reporters, create protections for whistleblowers, obligate employees to report corrupt or illegal activity, require high-ranking Port Authority officials to file financial disclosures, force those officials to recuse themselves from handling matters where they have a conflict of interest and mandate increased transparency in relation to the agency's finances and toll hike hearings.
The governors must each approve the bill—identical in both states—before the end of the year for the changes to move forward. Currently, the authority operates largely outside the public eye, and answers only to the two governors. Mr. Cuomo is a Democrat and Mr. Christie a Republican, but the two have often teamed up on terrorism related issues and have rarely criticized one another.
"The legislatures of both states have done their jobs. Governor Cuomo and Governor Christie have not signaled their intentions regarding this legislation, and that is why we are here," said Mr. Brennan, a Democrat.
Today a bi-partisan and bi-state group of lawmakers argued that the regulations proposed are no different than those other state agencies and authorities operate under currently.
"The changes that we are trying to make here are just so compelling and not very controversial. These are all good government measures," said New Jersey Senator Robert Gordon, the Majority Conference Leader. "The bill attempts to take the Port Authority out of the shadows."
The legislators indicated that they would attempt to override their respective governors should they veto the bill.
"We will cross—I won't even say it," Mr. Brennan laughed. "Should that happen, we will certainly discuss the situation, and I think, and in relation to how unique this situation is, certainly it gives one cause for thinking that overrides would be appropriate."
New York insiders were split on whether the bill would get past the governors' desks. An Assembly source said he suspected one of them, most likely Mr. Cuomo due to Mr. Christie's public struggles with Bridgegate, would veto it. A Senate source, however, said he believed that the Bridgegate scandal had exposed Mr. Christie and Mr. Cuomo to public criticism and that they would have no choice but to sign it.
A spokesman for Mr. Christie said the governor had taken the legislation "under review." Mr. Cuomo's office did not immediately respond to requests for comment.
The bill has sat on Mr. Christie's since late November. The New York state legislature, however, has yet to send the measure to Mr. Cuomo—which Mr. Brennan said was because it is behind 25 other bills being sent. The assemblyman said it would go before Mr. Cuomo on December 17.
Also joining Mr. Brennan and Mr. Gordon today were New Jersey State Assemblywoman Valerie Huttle, Brooklyn State Senator Martin Golden, Manhattan Assemblyman Dan Quart, Manhattan Assemblyman Raymond Rodriguez and Westchester Assemblyman Thomas Abinanti. Staten Island State Senator Andrew Lanza also sent a statement of support.