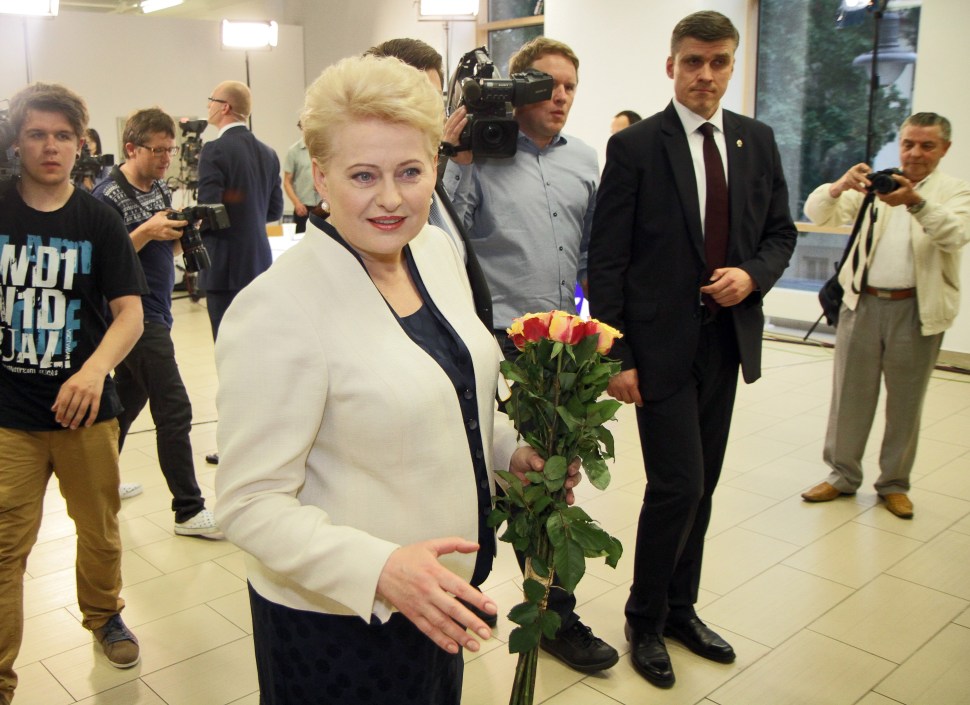 The last time Lithuania's leader, Dalia Grybauskaitė,  talked to Vladimir Putin personally was in 2010, when he was still Prime Minister of the Russian government. But Ms Grybauskaitė, the president of this small Baltic country of 3 million people, has been talking about him all the time since. And now, she is in trouble.
It all started with an interview she gave to the Washington Post (Sept. 24) in which Ms Grybauskaitė said that Russia is allowed by "Europe and the world … to be a country that is not only threatening its neighbors but is also organizing a war against its neighbors [Ukraine and other states, unspecified by her]. It is the same international terrorism as we have in Iraq and Syria… There is no leadership in Europe or in the world able to stop Putin." To the direct question by the Post reporter "So you think both ISIS and Russia are terrorists?" the brave lady answered, "Yes. I think that Russia is terrorizing its neighbors and using terrorist methods."
One month later in an interview with Lithuanian TV and Radio company LRT, the president went further and directly called Russia a "terrorist state."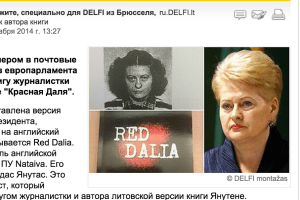 An angry rebuke from the Russian Ministry for Foreign Affairs immediately followed. In its statement, the representative of the Ministry made a suggestion that such hostile rhetoric by the Lithuanian president had been caused by Ms. Grybauskaitė's "complexes about her Soviet past" and recommended that she "temper her Komsomol fervor." For those too young to remember, Komsomol was a Young Communist League of the USSR — a political organization for the Soviet Communist youth.
At the same time, surely by coincidence, Russia all but closed its borders to transports coming from Lithuania for days, stopping all commerce between the two countries, and later blaming a computer glitch in its customs system for the delays.
This not-so-subtle hint by Russia did not stop Ms Grybauskaitė, who gave another interview, this time to the BBC, in which she repeated her charge, saying that "Russia demonstrates the qualities of a terrorist state." She added that until Russia has changed its bullying behavior, she will not have any desire to speak with the head of Russia.
Then the unexpected happened.
On the evening of December 9th, all 751 members of the European Parliament found in their mailboxes an unusual gift—a copy of a book by the Lithuanian journalist Ruta Yanutene titled Red Dalia, an unauthorized, highly critical investigative biography of Dalia Grybauskaitė. According to the Lithuanian news service DELFI, nobody knows where it was published and who translated it into English. Nobody knows who paid for all of this and who delivered the books to Brussels and put the copies into the MEP's mailboxes. Only a limited number of people with special permission—members of the EP or their staffs—had access to them.
Most probably, it was first secretly delivered by car into the EP's inner garage by some parliamentarian and from there distributed into the mailboxes.
Some days later, with unprecedented speed, the English-language version of the book became available online.
The book's author was puzzled to find out about the online leaking. "I am in shock. This is theft," said Ms. Yanutene.
In Red Dalia, Ms Grybauskaitė is portrayed as an unscrupulous careerist with no principles, no friends, and no family, a woman for whom power is everything and ideology plays a second role. According to the book, she was born in 1956 in the family of an employee of NKVD (Stalin's secret police), and joined the Communist Party of the Soviet Union at the age of 27 after graduating from the prestigious Leningrad State University in the faculty of "political economy." In 1983, she returned to Lithuanian Socialist republic to work for Vilnius High Communist Party School, teaching "political economy of socialism" to ambitious Communist careerists until 1990. After the collapse of the Soviet Union, she decided it was time for a fresh coat of paint on "Red Dalia." In the book she is depicted as a heartless person, and an ideological turncoat, to whom the old methods from the Communist past—purges, intimidations, surveillance, censorship—are fair game.
The charges of enthusiastic Soviet collaboration are sure to dog Ms. Grybauskaitė in Lithuania, which still bears scars from more than 40 years of Soviet occupation, a time that saw trainloads of Lithuanians packed off to gulags or Siberia, with as many as 30,000 anti-Soviet partisans killed. Reacting to the book, fellow Lithuanian politicians immediately condemned the secret delivery. Gabrielius Landsbergis, the MEP from Lithuania, considers the mysterious appearance of the book in European Parliament as an "attack against the head of Lithuania," and cited it as "another example of informational assault against Lithuania." He believes that it is "probably no coincidence that these books—degrading President Dalia Grybauskaitė and sowing doubts about her reputation—appeared soon after her harsh words about Russia and [her] demonstration of support for Ukraine."
So far, nobody knows for sure if there is a connection between the warnings of the Russian Foreign Ministry official about Lithuanian President's "Komsomol fervor" and the mysterious appearance of the books in the building of the EP. In any case, time for such blackmail may have passed now that even the most powerful politician in Europe, Angela Merkel, has been revealed to have some communism in her background, as a member of the German Democratic Republic's Communist Youth.
Meanwhile, nobody knows for sure if there will be other unpleasant surprises for Dalia Grybauskaitė. It's unknown whether she will back down or continue to provoke the regime she has dubbed a "terrorist state." It's a dangerous game she is playing and one never  knows what cards her enemies hold.