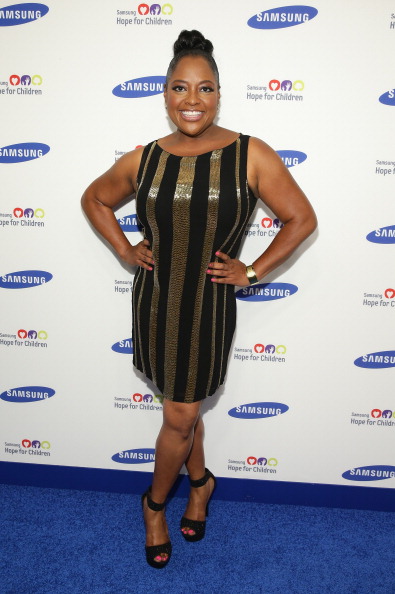 If you watched Sherri Shepherd's farewell episode of The View and thought the actress and comedian would take a little time to enjoy some time off, then think again. Since her seven-season tenure on The View, Ms. Shepherd has had her hands full with film projects, stand up comedy shows, and now, a line of luxury wigs inspired by her ever-changing hairstyles on the show. In addition to the daytime talk show–which earned the co-hosts a shared Daytime Emmy Award–Ms. Shepherd has made her mark on television, co-starring on 24 shows since 1995 including 30 Rock, Suddenly Susan, Everybody Loves Raymond, and How I Met Your Mother. But Ms. Shepherd also finds time work on projects off of the small screen. Most recently she's had a run on Broadway in Roger & Hammerstein's musical, Cinderella, and wrote Plan D, focusing on her struggle with diabetes. When we recently spoke after the release of her newest movie Top Five, Ms. Shepherd let us in on a few of her upcoming ventures.
You seem to have a lot going on since leaving The View in August. What's next?
My movie Top Five comes out today, which Chris Rock wrote, starred in and directed.  I play his ex-girlfriend Vanessa. When we broke up, he got famous, and left me in the projects!
Holding back an "Ain't that the way it goes!" we asked: What kind of a director is Mr. Rock?
Chris is very intense and very focused. The fact that he got all of these comics in one place and we were able to get work done, is a testament to him as a director.
Tell us a little bit about your next movie, Woodlawn. This is a very different kind of role for you, is it not?
It's a dramatic lead which I'm really excited about because most people know me for my comedy. On the my first day of shooting they told me they were originally interested in Octavia Spenser! And I thought, "Ok, wow! No pressure!"
You're also in Ride Along 2 which opened this week. Are you purposefully choosing film projects after being on TV for so long?
It's just the way it has been working out but I think it's great. I would love to do more film.
Which do you prefer, TV or Film?
I love it all. Sitcom acting is about the joke and getting the laugh. But in film, you can be real and honest. Even if there's hummor, it's a much more organic, realistic approach than in TV. That's what I love about it.
So how did you go from actor to wig designer? Have you always wanted to have your own line?
I figured if I didn't leave The View with a wig line or a bra line, something went really wrong because all I do is talk about my boobs and my hair.
What is it that you like about wigs?
We're so busy today. Nobody has time to go to the beauty shop or wait for your hair to grow back if you wake up one morning and think 'I want to look like Anne Hathaway!" That's why I say don't cut all of your hair off, put a wig on!
Your hairstyles change a lot. What is it about experimenting with style that appeals to you?
I want women to take risks. If you've always wanted to be a blonde, put on a blonde wig! It's so much more than hair. I think life is all about taking risks. You feel so different when you take  risks. You feel confident, you feel sexy.
So wigs, movies, and you're still doing stand up?
I still do my standup and I'm working on another book. It's sort of the chronicles of being a mother.
Your schedule sounds exhausting.
It can be but I know the alternative is being back at the law firm typing up documents, so I feel very lucky. I'm very blessed.