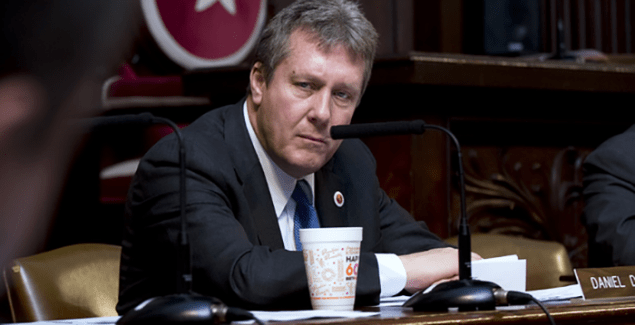 Councilman Daniel Dromm, a Queens Democrat, will introduce a bill to ban horse-drawn carriages from city streets, according to a source with knowledge of the legislation.
Mr. Dromm, one of the body's more liberal members, has been at the forefront of the drive to outlaw the carriages and his role in the bill's introduction comes as little surprise. Last night, the Observer reported that long-awaited legislation will be introduced as early as the next City Council meeting on December 8.
The bill, a de Blasio administration initiative, will offer displaced carriage drivers free green taxi medallions on the condition that they purchase handicapped-accessible cabs. The union representing the carriage drivers panned the proposal while animal rights activists celebrated Mayor Bill de Blasio's apparent commitment to one of his more high profile and unpopular–according to polls, at least–campaign pledges.
"This is the right creative solution that benefits all New Yorkers by adding jobs while also ending an unsafe and inhumane industry," said Allie Feldman, a spokeswoman for NYCLASS, the powerful animal rights group that pushed the legislation and spent heavily in last year's mayoral race.
It's not clear yet if the bill will have the 26 votes needed to pass the City Council. The labor-backed Working Families Party and Central Labor Council oppose the legislation, which also has the support of Council Speaker Melissa Mark-Viverito. Mr. de Blasio promised to ban the carriages, an alleged hazard to horses and also a source of steady income for 300 drivers, on "day one" of his administration. Legislation, lacking in support from many council members, failed to appear, however.
"Three hundred carriage drivers–men and women who have devoted their lives to caring for horses–will be unemployed if this bill is passed," said George Miranda, president of Teamsters Joint Council 16, the union representing the drivers. "The administration wrote this bill without input from the union that represents these drivers. Without visiting the stables where the horses live. Without listening to the 63 percent of New Yorkers who have voiced their support for the Central Park carriages."
The Teamsters targeted Mr. Dromm this summer, hoping to sway the otherwise labor-friendly lawmaker to back away from the cause. Carriage drivers passed out English and Spanish-language fliers in Mr. Dromm's Jackson Heights district calling out Mr. Dromm for attacking an industry that employs many immigrants and less-educated workers.
Mr. Dromm, in a statement, said horses "don't belong" on the city's streets.
"The morality of a nation can be judged by the way society treats its animals," Mr. Dromm said, quoting from Gandhi. "There have been too many crashes and too many horse deaths and injuries to justify the continuation of this industry."