Walk west on Central Park South from Fifth Avenue and you might feel yourself whisked to an earlier era. See the checkered walk overlaying the pavement on the avenue's south side as you approach the Plaza Hotel's storied Oak Room. Drink in the lantern light illuminating the local subway station, for which no mere fluorescents will do. Enjoy the manure of the carriage horses that nod in their bridles, patient and steam-breathing. And now, as the air turns bracing, hear their bells.
In the dark, from the north-facing living room terrace off the penthouse at 22 Central Park South—a seven-unit boutique condo whose 2,943-square-foot duplex cake-topper recently reentered the market for $19.8 million, down from a $26.5 million high in May—the park lies still and timeless, all pond shimmer and arboreal shadow.
The dwelling, however, is very much of the moment.
"The people who have bought here have homes all over the world," said Samantha Sax, an executive vice president at the Elad Group, which re-developed the 1907 building in conjunction with its overhaul of the adjacent Plaza. Indeed, the inlays underfoot in the marbled lobby suggest navigation: globes and orbital arcs, the nomenclature of celestial map makers.
But buyers who don't use 22 Central Park South as a primary residence, Ms. Sax assured us, still tend to spend a fair amount of time there. "It's not like people just come in for the weekend," she said. At a recent showing, it wasn't difficult to see why they might stick around.
Curated for modeling by the high-end glass maker Lalique, with accents in silver by Christofle, the penthouse veritably sparkled as Ms. Sax led us through its rooms. Small, pastel trees composed of Ladurée macarons had been erected for the picking and caterers toted silver trays bearing tiny bricks of pâté.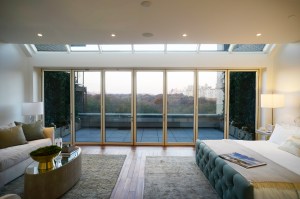 In the great room, a custom walnut bookcase looking rich and indestructible held aged French and Scandinavian titles, seemingly more an appeal to half-formed notions about urbanity than a warm welcome to international clientele. A decorative fireplace, Ms. Sax said, could be outfitted with an ethanol fixture. Floor-to-ceiling casement windows opened onto the terrace, a near facsimile of which lurked above, off the master bedroom.
The evening sky could be seen through a large tented skylight over the staircase, at the top of which stood a cozy library with a bar and an egress onto a third, more generous terrace. The floors were herringbone, of solid walnut. In the master bathroom stood a six-foot soaking tub. Proportions in the master bedroom dwarfed the California king with which it had been appointed.
In a hallway on the entry level, a large framed photograph showed a bald Asian monk negotiating a rickety wooden bridge amid precipitous elevations. The man and his world could not have seemed farther away.