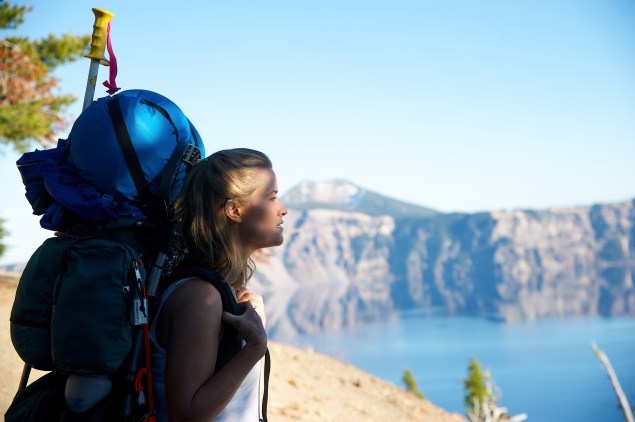 'Tis the season for career makeovers. Everybody's doing it, from Sly Stallone to Jennifer Aniston. But Reese Witherspoon has done it better than just about everyone else, in both The Good Lie and now in Wild, Montreal director Jean-Marc Vallee's rough, exhausting and exhilarating follow-up to his Oscar-winning Dallas Buyer's Club. Fueled by the centrifugal force of Ms. Witherspoon's dynamic, award-worthy centerpiece performance, it's one of the year's most galvanizing cinematic experiences.
---

WILD ★★★★
(4/4 stars)

Written by: Nick Hornby and Cheryl Strayed
Directed by: Jean-Marc Vallée
Starring: Reese Witherspoon, Laura Dern and Gaby Hoffman
Running time: 115 min.

---
Adapted by Nick Hornby from the raw, compelling mixture of honesty, humor and horror that propelled the book to the best-seller lists, Wild is the harrowing memoir by Cheryl Strayed, a recovering heroin addict who was 26 when she made the decision to reinvent herself by hiking 1,100 miles across the Mojave from the Mexican border to the mountains of Oregon near Canada. The trip took three months and nearly killed her. By the time the movie ends, you'll feel like you've survived a marathon of your own, but the adventure will leave you gasping with both fatigue and excitement.
Inexperienced and over-prepared with a backpack that weighs more than she does, Ms. Strayed sets out with everything from a flashlight and books to condoms and a respirator. Before long she's ripping nails from her toes, living on cold mush and raw nuts, climbing giant boulders and confronting rattlesnakes. Her boots are too small, her skin cracks and splits in the blaring sun, and Ms. Witherspoon meets every challenge full force, de-glazed of every vestige of Hollywood glamour. One man gives her a hot meal and a shower in his trailer. Another group of hikers deceptively pretend to be sympathetic to the challenging rigors of the trail while luring her into a near-gang rape. When an ambitious journalist corners Ms. Strayed on the path and tries to interview her as a genuine combination of hobo and feminist, it says a lot about the film's protagonist that this is a theory that has never occurred to her.
Punishing shifts in temperature from boiling heat to a sub-zero snowstorm in inadequate shoes are relieved only by the inspiring quotes from Emily Dickinson and Robert Frost she records in her journal to keep her sane. Every few hundred miles, she arrives at a designated rest stop where care packages await her, shipped by her conflicted ex-husband (Thomas Sadoski). One of the strengths in Mr. Hornby's uplifting screenplay is the way he juggles two parallel plot trajectories with equally astute focus and intensity, without a trace of sentimentality. In both past and present tenses, Ms. Strayed comes close to tragedy so many times that her final victory in Wild seems doubly profound.
The encounters with wild animals and tertiary characters on the journey are juxtaposed with flashbacks into her real-life journey through a self-destructive past plagued by sex, drugs, a disintegrating marriage and the love, devotion and death by cancer of her valiant mother, beautifully played by Laura Dern. One particularly moving interlude shows the mother, herself a sunny survivor of an abusive marriage who raised two kids on her own, defying the odds by returning to school to earn a bachelor's degree and embarrassing her self-centered daughter by enrolling in the same Minneapolis university Ms. Strayed attends. Out of their conflicts came a positive talisman to live by that played a big part in Ms. Strayed's own personal survival mantra: in the worst of times, "find your best, and hang onto it for all it's worth."
Ultimately, Wild is a testament to Cheryl Strayed's grit, determination and willpower, as well as to the stunning spunk, concentration and introspective craftsmanship of Reese Witherspoon in one of the most awesome acting triumphs of 2014.