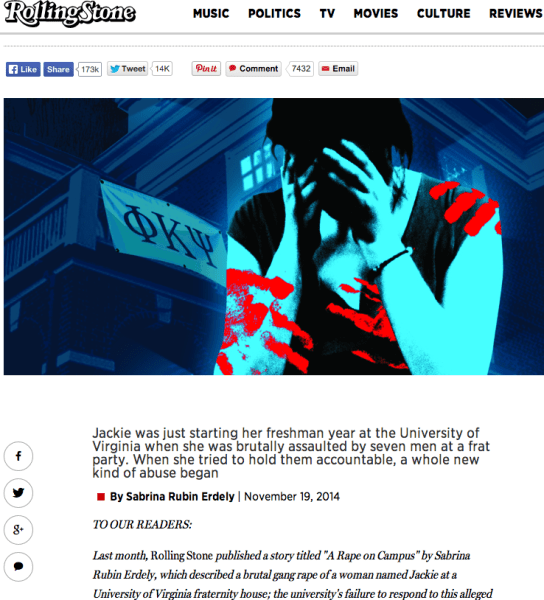 Rolling Stone issued an apology this afternoon for aspects of its controversial story about rape at the University of Virginia that the magazine published online last month. "A Rape on Campus," by Sabrina Rubin Erdely, told the story of Jackie, a UVA freshman who said she was gang raped by members of the Phi Kappa Psi fraternity, and the University's tepid response.
The long piece set off a criminal investigation, and furthered a larger, ongoing conversation about rape culture and the way that schools and universities handle reports of sexual crimes.
But the story came under scrutiny for its reporting when Ms. Erdely was interviewed on a Slate podcast and said that, at Jackie's request, neither she nor the magazine talked to any of the alleged perpetrators. The Washington Post followed up, interviewing the writer, the Rolling Stone editor who worked on the piece, Jackie, and many of the other characters in the story.
"In the face of new information, there now appear to be discrepancies in Jackie's account, and we have come to the conclusion that our trust in her was misplaced," Mr. Dana wrote in a note to readers. "We were trying to be sensitive to the unfair shame and humiliation many women feel after a sexual assault and now regret the decision to not contact the alleged assaulters to get their account. We are taking this seriously and apologize to anyone who was affected by the story."
"I think I did my due diligence in reporting this story; RS's excellent editors, fact-checkers, and lawyers all agreed," Ms. Erdely told The Washington Post earlier this week. The magazine's note to readers today clearly contradicts that claim.
The fraternity released a statement refuting many aspects of the story this afternoon. And other parts are being reevaluated as well. "In an in-person interview Thursday, Jackie said that Rolling Stone account of her attack was truthful but also acknowledged that some details in the article might not be accurate," The Washington Post reported today.