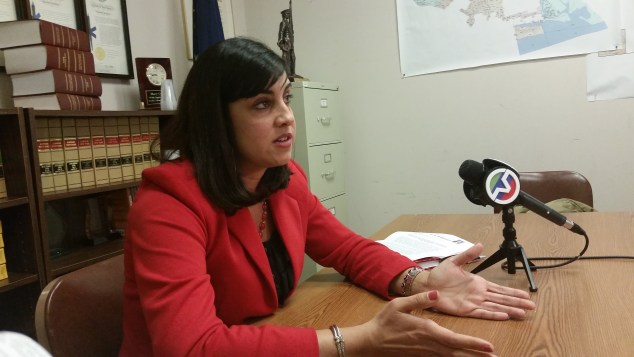 She's a top candidate to replace Congressman Michael Grimm if the ex-marine does eventually resign–and she doesn't want to talk about his guilty plea.
Assemblywoman Nicole Malliotakis, a Republican who represents a chunk of Staten Island and Brooklyn like Mr. Grimm, declined to comment on Mr. Grimm pleading guilty to a single count of felony tax evasion today.
Ms. Malliotakis didn't offer a full-throated endorsement of the GOP congressman, either.
"I have no comment for today. I'm going to take a look at what occurred today because I've been out running, delivering toys," Ms. Malliotakis told the Observer at an event in Brooklyn.
When pressed on whether Mr. Grimm should step aside, Ms. Malliotakis wouldn't say one way or the other.
"I'm going to catch up on that now. I'm staying on topic today. We'll have a future conversation," she said.
After claiming for months that he was innocent, Mr. Grimm pleaded guilty to a charge related to his management of a Manhattan restaurant before he was elected to Congress. Mr. Grimm said the guilty plea would not keep him from performing his duties as a congressman.
"As I said before, as long as I'm able to serve, I'm going to serve. As of right now I'm still in a capacity to serve," Mr. Grimm said today.
Mr. Grimm does not legally have to resign. The Republican-controlled House can strip him of his ability to vote on bills or vote to expel him from Congress; House Speaker John Boehner has not indicated how he would want to proceed, though with the GOP looking to take advantage of their midterm gains, Mr. Boehner doesn't have much incentive to keep Mr. Grimm in the fold.
For Ms. Malliotakis, who is just 34, Mr. Grimm's demise could mean her promotion to the national stage. She aggressively supported his successful re-election bid but never ruled out a future run for Congress herself.
After Mr. Grimm sailed to re-election in November, Ms. Malliotakis, along with Republican Staten Island District Attorney Daniel Donovan, was floated as a possible GOP nominee to run for the seat if Mr. Grimm stepped aside. In the event of a special election, the Staten Island Republican Party would nominate a candidate to take on a nominee from the borough's Democratic establishment.
Two Democrats, Staten Island Assemblyman Michael Cusick and ex-Staten Island Congressman Michael McMahon, are both considering runs for the district.