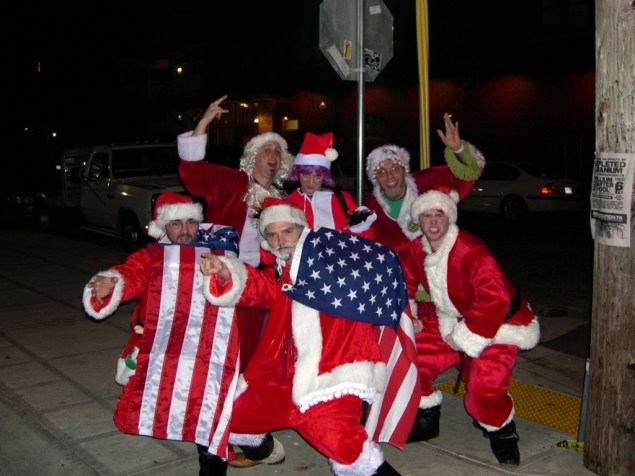 In a sign of the times, SantaCon, the annual Christmas bacchanal, is downsizing this year because the celebration falls on the same day as a march against police brutality.
Both SantaCon and Millions March NYC, a rally advocating for federal charges against Officer Daniel Pantaleo, who killed Eric Garner, are scheduled for Saturday afternoon. In light of this, the holiday celebration will confine itself to a select few bars.
"Santacon has respect and compassion for the hard-working municipal organizations of NYC, as well as for the important civil rights demonstrations currently shaping our city's future," organizers said in a statement.
The festival will post a list of participating bars on their website tonight.
"If a venue isn't on this list, it means they don't want you there," organizers said. "Spend most of your time inside, not on the streets."
An anonymous Santa told Gothamist that the revised plans were a show of respect for the NYPD.
"This is a stressful time for New York City, and we are in the midst of a protest that is spreading the NYPD thin," the source said.
SantaCon ended its statement with the reassuring thought that "If Santa doesn't Scrooge Santacon, we have even bigger plans for next year!"
So never fear, New Yorkers–St. Nick will be urinating in the street once again come 2015.