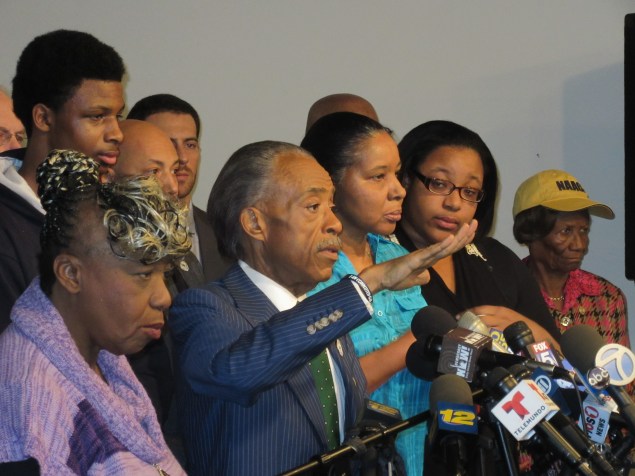 Rev. Al Sharpton announced tonight that he will hold a march on Washington, D.C. on December 13 to protest the deaths of Eric Garner of Staten lsland, Akai Gurley of Brooklyn, Michael Brown of Ferguson, Mo. and Tamir Rice of Cleveland, Ohio at the hands of law enforcement.
Speaking from the podium at the Harlem headquarters of his National Action Network, and surrounded by the family of Garner, Mr. Sharpton said that Attorney General Eric Holder's plan to investigate Mr. Garner's death is not enough to combat what he described as an epidemic of police killings of blacks. Mr. Sharpton's remarks came just hours after a grand jury decided not to indict NYPD Officer Daniel Pantaleo, who applied an apparently lethal and prohibited chokehold to Garner. The news also comes just days after Cleveland police shot and killed the 12-year-old Rice in a park, roughly a week after a Missouri grand jury decided against pressing charges against Officer Darren Wilson for shooting Brown, and less than two weeks after NYPD Officer Peter Liang fatally shot the unarmed Gurley in the unlit stairwell of a public housing development.
"It is time for a national march to deal with a national crisis," Mr. Sharpton said. "We're going to bring Ferguson, Cleveland and all of New York to the nation's capital, and say enough is enough!"
Mr. Sharpton cast aspersions on the grand jury process, which he argued relies on the efforts of district attorneys like Daniel Donovan of Staten Island and Robert McCullough of Ferguson, who are close to local law enforcement.
"We have no confidence in local, state prosecution. None. Because they that prosecute work hand in hand with the local police. They do not have the independence and lack of conflict," Mr. Sharpton said.
He also lashed out at Mr. Pantaleo for using a neck restraint in violation of NYPD protocol and failing to heed Garner's repeated "I can't breathe."
"If you are choking a man who is down, who has other police helping and hovering over him, and even if the police guidelines don't kick in your mind, even if the law don't kick in your mind, after 11 times of 'I can't breathe' does your humanity kick in?" he said to applause.
Mr. Sharpton said the Brown and Garner families would lead the march, and that he is in the process of coordinating with Sean Combs—known for his work as a rapper and producer under the names Puff Daddy and Diddy—to organize entertainment figures. Mr. Sharpton insisted, however, that there be no violence or law-breaking at the march later this month.
"There are some that take advantage of protests. They are not the protesters. There's a difference between activists and anarchists. Anarchists want to prove that the system can't work. Activists are what make the system change to work," he said. "We changed America, from the back of the bus to the White House. And we're going to change America to where police serve the community, and not above the law but enforce the law!"
Joining Mr. Sharpton and the family onstage were a number of politicians, including Manhattan State Senator Adriano Espaillat, Manhattan Councilman Ydanis Rodriguez, Manhattan Councilwoman Inez Dickens, Brooklyn Assemblyman Karim Camara, Brooklyn Assemblyman Walter Mosley, Brooklyn Assemblywoman-elect Latrice Walker and Bronx Assemblyman-elect Michael Blake.
The often controversial black activist led a peaceful, thousands-strong march in Staten Island over Mr. Garner's death in August.