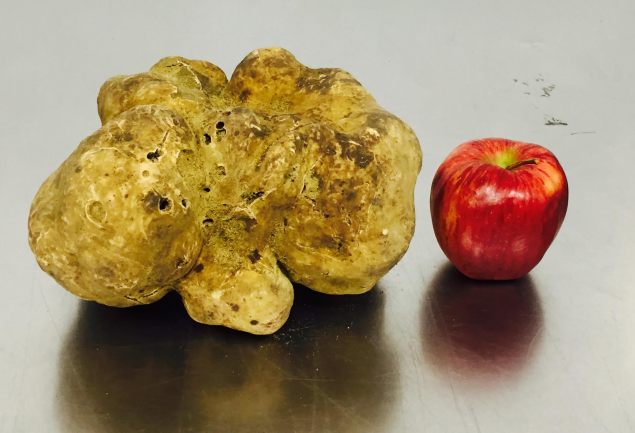 Sabatino Tartufi, the luxury truffle company in Umbria, Italy that recently hosted Oprah Winfrey on a truffle hunting excursion in October 2014, has just unearthed the world's largest white truffle. And though the Italian company has received offers of up to $1 million from buyers in China, it chose to auction off the gargantuan delicacy in New York. Set to go on sale at Sotheby's this Saturday, the tuber weighs in at 4.16 pounds, nearly twice as large as the previous Guinness record holder.
For some perspective, according to Jane Walsh, a representative from Sabatino Tartufi, the truffles they harvest are "usually around a couple ounces, or about the size of a walnut."
While truffle expert Ken Frank, the chef and owner of La Toque in Napa, California and the host of the Napa Truffle Festival told the Observer, "I was in Alba, Italy for the Alba Truffle Fair this year, and they were showing the best truffle of the week. The Truffle Fair Queen was parading it on a red velvet pillow and that one was less than one pound." He went on to say that finding a four pound truffle is "like catching a trout that is over five feet long–almost unimaginable."
Mr. Frank broke down the math for those of us not affluent enough to grasp the concept of a million dollar truffle: The Sabatino Tartufi truffle weighs 1886 grams. At a million dollars, that is around $530 per gram, and the very best truffles in the world cost about $3 per gram. He assures readers that there is no guarantee that the world's largest truffle is the world's most delicious truffle.
One would think that the best thing to do with a record breaking truffle is to preserve it, but Mr. Frank says that there is absolutely no way to stop a truffle from rotting. "It has been out of the ground for days, and I am sure they are taking good care of it, but the clock is ticking. It is going to go bad really soon."
It seems that the only thing to do for whomever buys the monstrous tuber is to organize a dinner for 377 of their closest friends as soon as possible, as Mr. Frank reports that a "nice portion in a good restaurant is five grams of shaved truffle over your risotto or fettuccine."
This truffle season is apparently the best in a generation in terms of number and quality–prices have dropped because the rainy Italian weather has produced a bumper crop this year. Since one cannot have the truffle and eat it too, Mr. Frank says the only reason one should spend so much money on a truffle doomed to rot is for charity.
Sabatino Tartufi seems to agree. Having turned down one million dollar offers already, the company has opted to donate some of the profit from the auction to New York City's Meals on Wheels and the Children Glaucoma Foundation.